Gig review: Marty Friedman in Yokohama
Marty Friedman, quite possibly the best guitarist in the world, always has a few tricks up his sleeve when he's performing. He always delivers and he always pushes the limit. What a guy! What an artist!
Marty Friedman at Motion Blue in Yokohama on 26th November 2019
I shouldn't be surprised anymore. But I still am. Surprised and in awe of a master artist. There is nothing that Marty Friedman can't do with his guitar. Every time I see him perform he comes up with something new. This evening in Yokohama, in a beautiful venue inside the Red Brick Warehouse down by the water, Marty Friedman manages to give us plenty of emotional ballads but he also gives us some full-on metal and, most surprisingly, Argentine tango. And he pulls it off like the world-class guitarist and artist that he is. Having made his name as a heavy metal guitarist with Cacophony and Megadeth, since relocating to Japan, Marty has been active in a wide variety of musical styles, both as a solo artist and as part of various projects. In recent years, Marty has put on some very special intimate gigs for Japanese fans with setlists that vary quite a lot from what he plays when he's on tour in other parts of the world. The entire show is instrumental (it's billed as an orchestral concert) with Marty and his guitars at the centre of it all. He plays both electric and acoustic guitars and manages to give us a great and very varied show. The audience largely consists of diehard Marty fans who know every song and every note.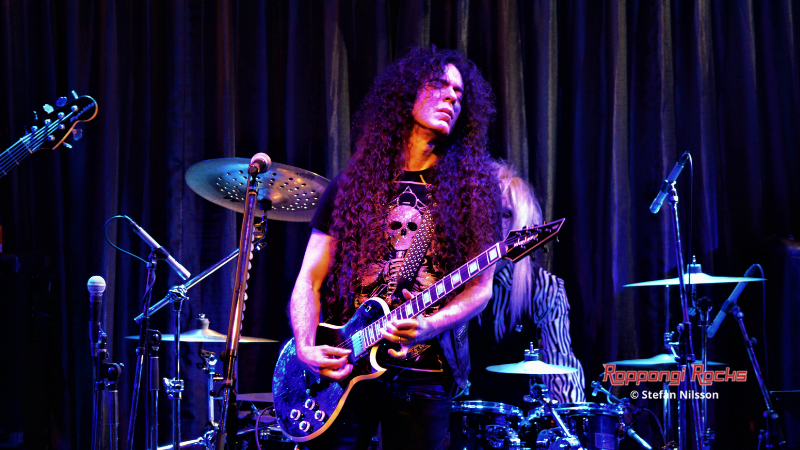 He opens the evening with the beautiful song "Lovesorrow", from his 2003 album "Music for Speeding", followed by his splendid cover of Yutaka Ozaki's "I Love You". One of most beautiful pieces of music I have ever heard, the song "Night" from Marty's 1992 solo album "Scenes", gets an outing here and it is one of the highlights of the evening for me. Another one is when Marty treats us to some Argentine tango with the song "Adios Nonino". Different, but very good. Marty isn't afraid of taking his skills and his guitars into for him new territories. He also gets closer to his metal roots with some serious heaviness on the exquisite "Whiteworm" from his 2017 solo album "Wall of Sound", before he ends the evening with "Dragon Mistress" and, of course, "Thunder March".
Throughout the show Marty is using hilarious self-deprecating comments between the songs – all of it delivered in Japanese. He also picks out an audience member who gets to come up on stage and play a song with Marty and his terrific band. While Marty frequently rotates members of his backing band, he is always backed up by world-class musicians. This evening in Yokohama, he has a backing band consisting of drums, rhythm guitar, keyboards, cello and violin, all of them played by ridiculously good musicians. For me, bassist Toshiki Oomomo is the standout performer and a rock-solid bassist. He's a very different bassist from Kiyoshi (Marty's regular bassist), but he's equally good. In addition to occasionally playing with Marty's solo band, he has played with Marty in the fab metal band Metal Clone X and he also played on several tracks on Marty's "Inferno" album.
What a night! What a band! What a collection of songs! Ladies and gentlemen – Marty Friedman! What a privilege it is to experience him in concert up close and personal.
Marty Friedman will tour Australia in December with shows in Sydney, Brisbane, Melbourne and Canberra. Get your tickets here: www.overdrivetouring.com/marty
www.facebook.com/martyfriedman.official