Album review: Iron Fire "Among the Dead"
Iron Fire gives us European power metal on its new album, "Among the Dead".
Iron Fire is a power metal band from Copenhagen, Denmark. Musically they mostly live in the same metal landscape as Helloween, Pretty Maids and other European power metal bands.
This album is very melodic, with plenty of guitar solos and some great melodies. At times it becomes heavier and darker – we even get the odd bit of growling – but for the most part this is good-natured and melodic power metal.
There are some promising things here. The absolute best thing that Iron Fire has is an ability to write great songs. Most of the songs on this album are good and some are great. The faster, heavier tracks are the best.
The title track, "Among the Dead", kicks off in a great way, almost sounding like a track from Amorphis, before morphing into more of a 90s power metal song. "Hammer of the Gods" is great power metal and perhaps the album's best track. "Tornado of Sickness" is also great and could be a modern Helloween track. "Higher Ground" is another favourite of mine.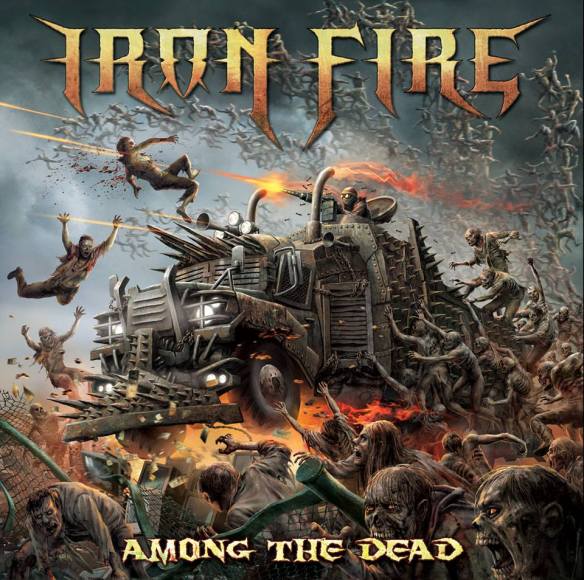 Vocals in Iron Fire are handled by founder and mainman Martin Steene, who is also playing bass. For the most part the vocals work well with the music. But I think that they do fall a bit short on a few songs which I think could have gotten a bit of a lift if a world-class melodic metal singer, say Joey Tempest of Europe or Andi Deris of Helloween, would have been on vocal duty.
"No Sign of Life" has a few thrash metal and death metal touches but without being out of place on this power metal album. The power ballad "When the Lights Go Out" is a very syrupy late 80s throwback (and, no, that is not a good thing) which rounds off an otherwise rockier album. It also sounds as if the production on this album partly lets the band down. In some places on the album, the sound mix does not do the music justice. But for the most part it is fine.
As a bonus track on the CD and cassette (oh, yes!) formats of this album, Iron Fire has recorded a cover of Metallica's "For Whom the Bell Tolls". I don't know why. It doesn't work. It just sounds like some local cover band playing Metallica down the pub. It has no place on an album like this.
This is a good album from a promising band. Unfortunately the album is not quite as good as I had hoped as my expectations were set very high. But I have no doubt that these Danish lads can get the job done as they certainly have the potential.
Iron Fire's "Among the Dead" is out on Crime Records on 16th September.
Iron Fire – band members
Martin Steene – vocals and bass
Kirk Backarach – guitar
Gunnar Olsen – drums
www.ironfire.dk / www.facebook.com/ironfiredk