Album review: Plastic Tears "Angels with Attitude"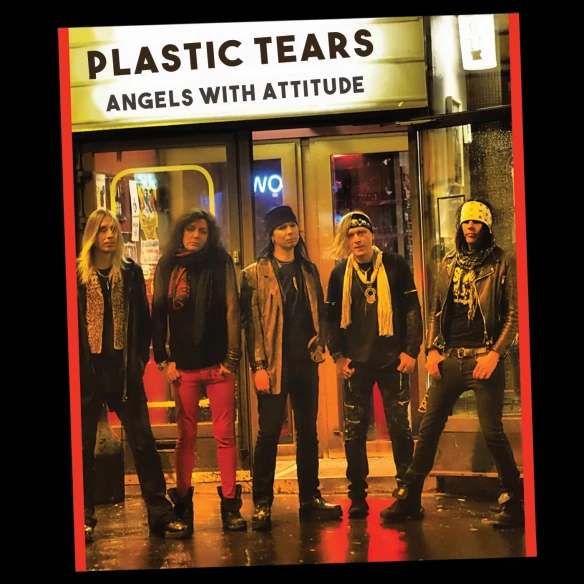 Finnish rockers Plastic Tears are back with "Angels with Attitude", a new album filled with Hanoi Rocks-influenced rock'n'roll.
Finland's Plastic Tears plays rock music that lives in the same suburb as Hanoi Rocks, The Quireboys and Dogs D'Amour. It is dirty party rock'n'roll with some sleaze and glam rock touches, Rolling Stones-inspired blues-based hard rock with catchy melodies. The band calls it "Finnish street rock" and I can agree with that. It's straightforward rock music without too high ambitions and that is perhaps why this works. Plastic Tears' music takes me back to the 80s and early 90s music scene of my youth. A point in time when we listened to Finland's Hanoi Rocks, Sweden's Easy Action and England's Horse London (remember 1989's terrific "Screwed Blued & Tattooed"?) and discovered Guns N' Roses' debut album.
The band formed in Helsinki, Finland in 1992 and their sound is very much rooted in the rock'n'roll of the 80s and early 90s. Over the years they have been through many line-ups changes. Currently, the band consists of Miqu December on vocals, Eco Xtasy on drums, Andy Whitewine and Juha Pietiläinen on guitars and Edu Kettunen on bass. The single "Secret Society" stands out. "Dark Passenger" and "Rhythm Rider" are immediate favourite songs. "Nuclear Nights" is another. "Iris Kick" is a shout-along song that will be a live favourite. "Miss Stumbling Legs" kicks off sounding like KISS classic "Let Me Go Rock 'N Roll", before becoming another great Hanoi Rocks-sounding party rocker, the type of song that dominates this album.
Plastic Tears' album "Angels with Attitude" is out now via City of Lights Records.