Album review: Witchery "Nightside"
Sweden's Witchery serves up a stenchy blackened thrash soup on its new concept album.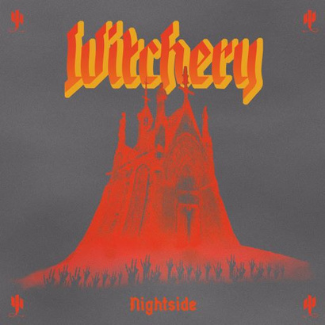 Swedish band Witchery plays an extreme metal that is perhaps best described as blackened thrash metal. Witchery debuted with 1998's "Restless & Dead" and "Nightside", a concept album, is the band's eighth full-length studio album. The current line-up of Witchery consists of Patrik Jensen on guitar (also in The Haunted), Rickard Rimfält on guitar, Angus Norder on vocals (also in Nekrokraft) and Chris Barkensjö on drums (also in LIK and Mefisto). Bassist Sharlee D'Angelo (Arch Enemy, Black Earth, The Night Flight Orchestra, Spiritual Beggars, ex-Mercyful Fate, King Diamond) has recently left the band he has been in since it was founded in 1997. A big loss, but not to worry, Witchery has replaced him with the very able Victor Brandt, who currently also plays in Totalt Jävla Mörker and Dimmu Borgir and formerly with Entombed, Entombed A.D. and Firespawn. That's a quality replacement, I'd say. Victor has in recent years done quite a few gigs with Witchery as a fill-in live bassist. The new concept album takes its listeners on a dramatic journey that features witches and witchfinders, curses and charms and, of course, religious brutality. The band has always had an anti-religious part to it. Here that is evident in songs such as "Popecrusher", "Crucifix and Candle" and "Churchburner" ("Each and all who believe in the lie / Stand before him begging for their lives / Dispel the flock and disperse His people / Torch the altar and burn the steeple"). The gloriously relentless and pummelling track "A Forest of Burning Coffins" is the album's best song. Like many of the best thrash metal songs in history, it has its feet firmly in punk valley and seasons it all with buckets of speed metal. Very tasty!
The new album features some very cool guest appearances such as Jeff Walker of Carcass, Hank Shermann of Mercyful Fate, Maciek Ofstad of Kvelertak and Simon Johansson of Wolf.
"Nightside" is a wonderful album for those of us that like our metal dirty, stenchy, raw and a tad bit dangerous.
Witchery's new album "Nightside" will be released on 22nd July via Century Media Records.