Interview: Amaranthe to the max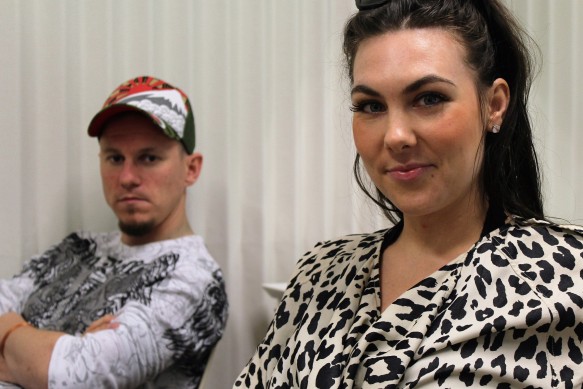 Catchy melodic metal band Amaranthe is back with a great new album. Roppongi Rocks sat down with vocalists Jake E and Elize Ryd for a chat when they recently visited Tokyo as special guests on Helloween's Japan tour.
This was Amaranthe's sixth time doing gigs in Japan, having first come here in 2011. Roppongi Rocks has closely followed their career since the start and interviewed them on multiple occasions. This time we sit down with Jake E and Elize Ryd backstage at EX Theater Roppongi a few hours before they are due on stage to open for German power metal band Helloween.
Amaranthe's trademark modern mix of metal, rock and pop with plenty of tasty hooks, guitar riffs and growling, has divided music lovers across the globe. Metal purists reject this as not "proper" metal. I don't care. It is good music and I like it. It is indeed a melting pot of different genres but it is a mix that works. The new album, "Maximalism", has more of everything.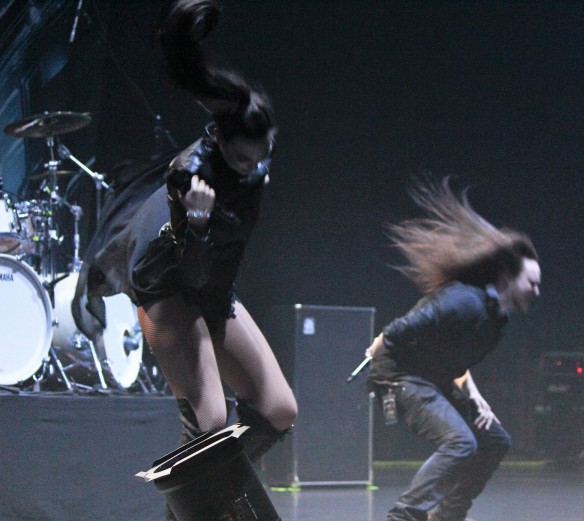 "To the max this way and to the max that way, hence 'Maximalism'. If you just follow the same pattern as before, it would be very easy to write music like we have in the past. The big challenge this time was to find out how things would turn out if we maximised this way and that way. It's great if we have now extended our borders. Next album will be even more interesting," explains Elize Ryd about the band expanding their musical horizons and taking things further with the new album.
The album sounds as if the band has deliberately pushed the limits. "Yes, it was done very much on purpose," says Elize. "We wanted to feel ourselves how it would be to maximise the different elements and make them very obvious. People who have asked 'What is this? Is it pop or rock or is it metal?' Listen: if we get rid of the keyboards and the growling, you can hear what's left, right? It's the same with 'Fury' which is all growl. He's growling with us in the chorus. All three of us are singing at the same time, something which has never happened before. It's like having a cake where the different pieces of the cake have been enhanced on this album. As this is our fourth album it felt as it was time to do this. However, this doesn't mean we have chosen a specific path. The next album might be even more power metal and faster. Currently I am very inspired by Babymetal. Thus, perhaps we might do something similar."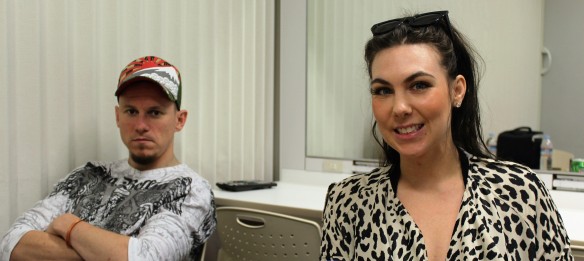 "That Song", the first single from the new album, immediately created a lot of debate and publicity. It's a modern pop song with quite a bit of R&B feeling to it but also with some fine guitar riffs. Most of the other songs on the new album are within what has become known as Amaranthe's signature sound. To release "That Song" as the first single from the album was not the band's decision. "It was entirely the record company who chose which single should be first," explains Jake. "We were very surprised when they chose that one in every single country," says Elize. "Personally, I wanted to release 'Fury' first, the heaviest track," says Jake. Elize continues: "But that could have scared off a lot of people who like, for example, 'True' and such type of songs. But I guess everybody understands that on a twelve-track album there will be some variation."
All the debate around "That Song" has given Amaranthe some great publicity ahead of the album release. "I didn't think it was going to be this extreme, but it means that perhaps people can't avoid to learn that we will release a new album," says Elize with a big smile.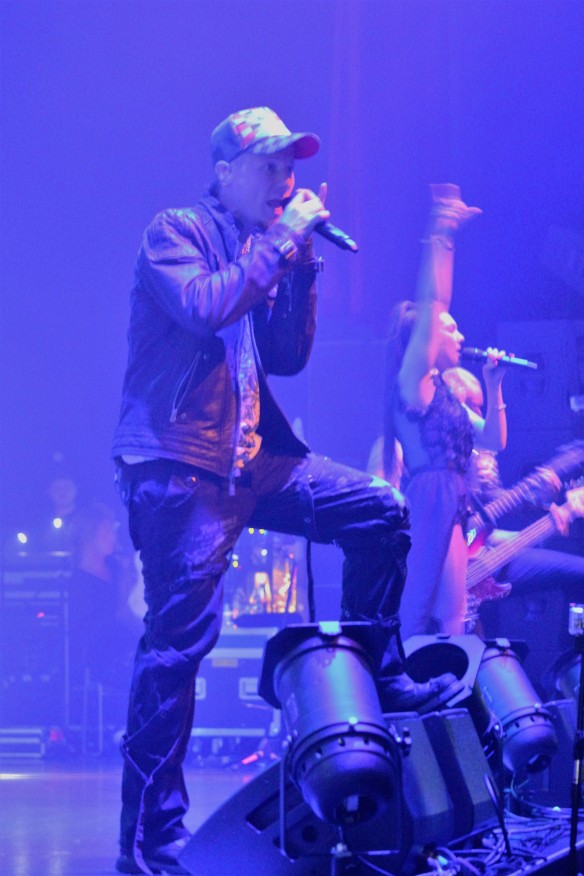 All three of Amaranthe's vocalists – in addition to Jake E and Elize Ryd there's also growler Henrik Englund Wilhelmsson – seem to have taken a few steps and developed their voices on the new album. "New microphone!" jokes Jake who thinks he hasn't done anything differently on this album.
Elize continues: "Personally I like a lot of different kinds of music and different singing styles. I think that we have been somewhat one-sided on the earlier albums. Thus I wanted to write melodies where the voice gets to play around a bit more. It is something I have missed, especially when we perform so often live. It is especially then that I think about it. I have started to vary a lot of my singing live. On the old songs I am adding a lot of small things. It would be great to add more songs in the live set where I get to be free and not just follow a backing track perfectly straight. Our vocals are not dubbed at all, nothing. It really is organic. Something that I as a vocalist really enjoy is to get it to sound as it does live but in the studio. That was our goal with the new album and perhaps why it sounds a bit different."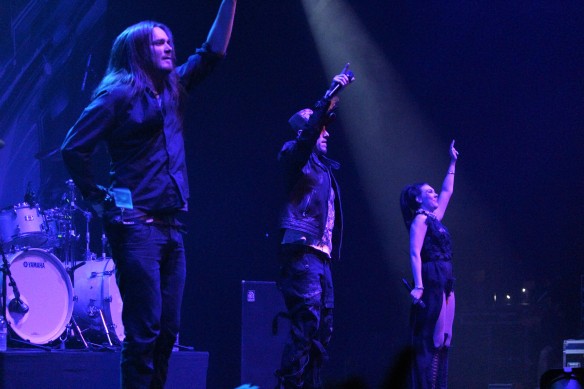 With the "That Song" video, Amaranthe continues a five-year tradition of making eye-catching videos for its singles. An Amaranthe video is typically something like a mini Hollywood blockbuster with a lot of humour and plenty of action. Since the very first video, 2011's "Hunger", the band has worked with film maker Patric Ullaeus. Jake has taken the lead on this in the band and worked on the video concepts. "It is fun when we start to discuss how we can top our old videos," says Elize. "The song somewhat dictates what we should do, but we have to decide if we should follow the story of the lyrics and highlight what the song is about, or do something different with more action. Sometimes we have decided on a theme for a video first before we even know which song the video is for." Jake continues: "I take a lot of pride in making music videos. I am usually the one who works on locations, coming up with the overall ideas and such. Then Elize might add an idea, as in 'Drop Dead', where we added a dance part following a fight part. In 'That Song', we also have such a dance part. We give Patric our ideas and then it is up to him to glue them together in a good way. That is his strong side, editing things in order to make it into a great video." Elize adds: "We can tell Patric Ullaeus anything and then he makes it happen."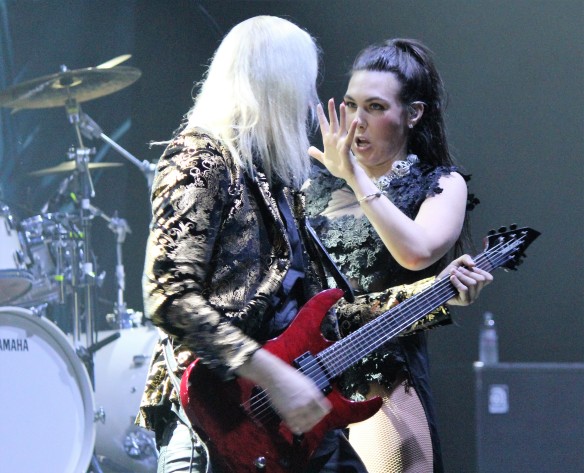 Amaranthe now has a back catalogue of songs from its four albums. One can imagine that it might start to get more difficult to choose set lists. "We've been quite lazy. Since we've played so much live we have not had time to rehearse new songs. Thus, we still have four or five songs from both 'The Nexus' and 'Massive Addictive' that we have never played live," explains Jake. "For the past year and a half we have, more or less, had the same set list. We could probably change all songs we're playing now, apart from the hit singles. We could change the set list completely, really." Elize continues: "It is difficult with a limited set duration to decide which songs should be cut. It's really hard." Jake adds: "On a gig like this, when we're an opening act, it's 'hits for kids' sort of. We're playing the obvious songs."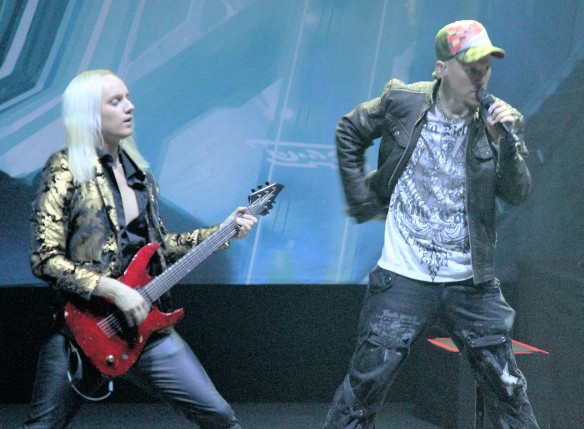 "It is easy to see which the most popular songs are nowadays. Via Spotify for example, where one can see how many times every song has been played," says Elize. "Of our top ten songs on Spotify, four of them we have never played live, like 'Skyline' and 'Stardust'. It's quite interesting," says Jake.
Elize continues: "We can choose to play just the singles and then have a part of the show where we can play some more rare songs that people are not expecting". Jake adds: "Just because 'The Nexus' is really popular in Sweden, that is not necessarily the case in Austria. Now you can make a set list where you can see that in, say, Belgium, the most played song is this one and then it should obviously be included in the set list in the gigs there. 15 years ago we couldn't see this type of information. Then you could just see record sales figures and you had to guess which songs people wanted to hear."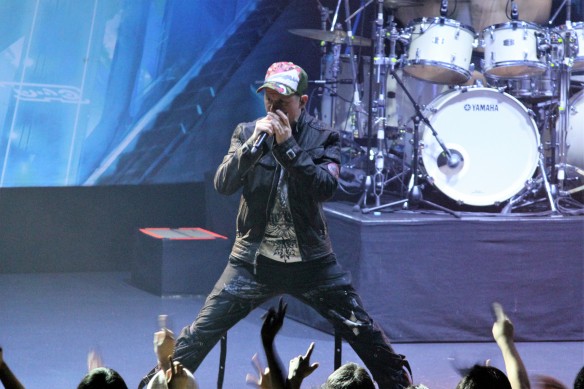 Amaranthe is a six-piece band and its members have busy lives, both professionally and personally. Being in their thirties, several of the members have become parents and that has meant that the band has been forced to, relatively frequently, make use of replacement musicians during some gigs and tours. On this Japan tour with Helloween, for example, they have Henric Liljesand from The Unguided on bass. A few days later when they tour Russia, bassist Johan Andreassen is back but then Jake E is substituted by vocalist Chris Adam from Smash Into Pieces. Unlike many other bands who face a lot of criticism when they use stand-ins, Amaranthe seems to "get away it". "When we started the band we decided that whatever happens, the band can't stand still. The most important thing is that the machine keeps running. I believe that since we made this decision very early – it wasn't even a year before we had our first replacements – it's been accepted as people know it's how we normally do things," explains Jake.
Jake recently signed a new management contract with European Concerts. "Yes, I will be doing a lot of films and other things and I felt that I can't do it all on my own. When we have time off from Amaranthe, we need do other things. We can't afford to sit still. It's not 1986 any more. Also, we want to develop ourselves further by doing many different things. I produced an album with a new band called Ember Falls. That was the first time I have been a producer and it was very, very fun. We also get a lot of offers to write songs with others. Elize has done a lot of that." Elize adds: "Yes, it's been many songwriting sessions, which is really fun. Then there really are no limits as it is not for my own album. We are workaholics, all of us. I panic when I have time off from the band. I don't want to have time off. When that happens I make sure I can do other things. And, if the band at some point decides to take a year off, then I'll immediately make a solo album. No fucking question about it. Haha!"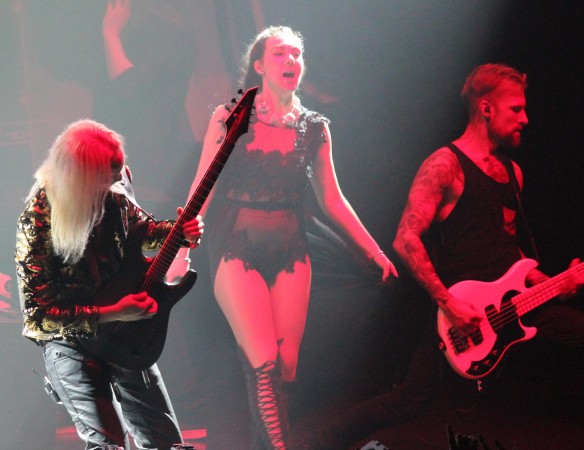 Following completed tours in Japan and Russia, the never-ending touring continues for Amaranthe. They have festivals such as 70,000 Tons of Metal and ProgPower already booked as well as tours in Europe and North America. They are also hoping to get to Australia and South America. Amaranthe to the max, indeed.
"Maximalism" will be released on 21st October by Spinefarm Records. Read our review of the new Amaranthe album here.
Read our Amaranthe and Helloween gig review here.