EP review: Heavy Temple "Chassit" | Groovy and doomy stoner rock
Heavy Temple invites us on a groovy rock ride away from Philadelphia.
Heavy Temple has a doom label plastered on them, and sure, this is rather doomy. But it is also quite stoner rock-ish with psychedelic parts to it. This is more distorted stoner rock than doom metal. Call it doom rock, stoner doom or whatever you want, it's good music. There is clearly some kind of trip going on here, but it is more about music than substances. I think that more people than me will want to get on this magical carpet ride together with Heavy Temple to some far away musical soundscape. There is a foundation of sorts in blues rock here and plenty of fantastic distortion. The four tracks on the album shoot off in different directions, largely as a result of what sounds like uncontrolled jam sessions. Bloody gorgeous.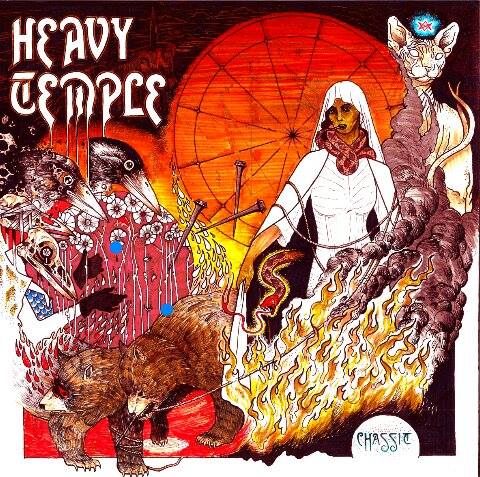 The band formed in 2012 by High Priestess Nighthawk on bass and vocals. Its current line-up features drummer Siren Tempestas and Archbishop Barghest on guitar. With "Chassit" this Philadelphia band has created a great soundtrack for the Roppongi Rocks headquarters and probably for your after parties too. The EP grooves along nicely throughout its less than half-hour length. The length of the EP is no coincidence. Great music should finish before the listener gets bored. It should leave you wanting more. That is very much the case here.
The band's music seems to be created and delivered so effortlessly, as if the band members were born to play this music. That is all probably rubbish, as I am sure that these musicians practice their craft like crazy in some rehearsal studio. But the end result is fabulously fuzzy yet natural. They are jamming away like it's nobody's business. "Chassit" feels and sounds like someone has cross-bred Glenn Hughes' Trapeze with Candlemass via Electric Boys and Monster Magnet. Sort of. As if Jon Lord were a guitarist. Love it. Great stuff. I want more.
Heavy Temple's "Chassit" is out now via Van Records/Tridroid Records.