Album review: Besvärjelsen "Atlas"
Terrific Swedish band Besvärjelsen is back with its dreamy, fuzzy and groove-doomy haze rock.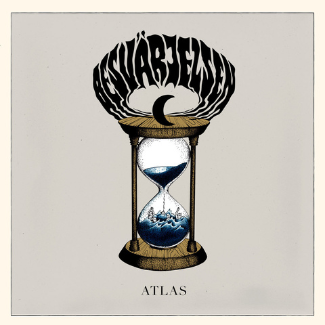 On Besvärjelsen's previous album, its debut full-length studio album "Vallmo" from 2018, we got served a feast of psychedelic stoner rock mixed with progressive rock, doom metal and Nordic folk music. The band showed us already then that this is a terrific melancholic haze rock band. Four years on and they are more seasoned. The battle scars have done them good and the band keeps delivering smashing music. The valleys are still foggy but the folk influences have now taken a step back in the world of Besvärjelsen and we get more fuzz. The music on the album is confident. Lead vocalist Lea Amling has a distinctive voice that adds a layer of swagger and awesomeness to the excellent fuzzy music. Much of it is doom-heavy but still has hooks and plenty of catchiness. Besvärjelsen is an excellent and eclectic stew of musical influences from Opeth, Whipped Cream, Soundtrack of Our Lives, Candlemass, Lucifer, Blues Pills, Monster Magnet and much more. But most of all, this is Besvärjelsen. A bloody fantastic band formed in Sweden in 2014. Some of the best songs on the new album include the dreamy yet fuzz-heavy "Acheron", "Clouds" with its excellent guitar work, the catchy "House of the Burning Light" and "Obscured by Darkness" which showcases the band is at its fuzzy best. Haze rock is alive and well in Sweden.
Besvärjelsen's new album "Atlas" is out now via Magnetic Eye Records.