Loud Park gig report: Slayer
The mighty thrash metal veterans Slayer once again slayed Loud Park, writes Caroline Misokane.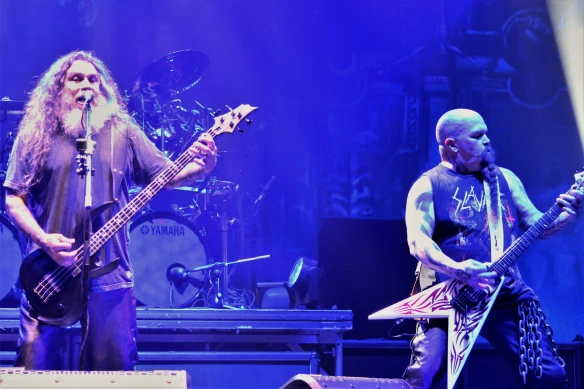 At 8:00pm, at the end of a long and busy day of heavy metal, many festivalgoers are tired. But there is still one attraction that almost everybody who has bought tickets for the Loud Park festival wants to see: I am of course talking about the mighty Slayer, one of the Big Four American thrash metal bands.
Slayer performed at the very first edition of Loud Park in 2006 and this evening it is their fifth time playing this festival. They are seen by me and many others as an integral part of Loud Park. They always put on a great show for their fans at Loud Park.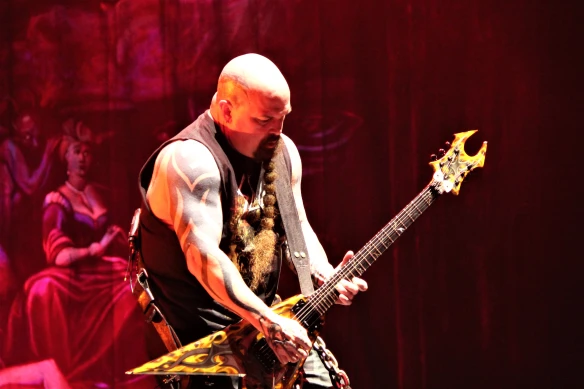 Before the band's festival set on Saturday 14th October starts, a huge curtain is covering the stage. As the house lights turn off we see illustrations in the form of pentagrams, crosses and the Slayer logo. Then the curtain falls to reveal the powerful thrash metal quartet from California.
Opening with "Repentless" from their latest album of the same name, these four guys show that age is just a number when it comes to slaying a stage. Continuing with "The Antichrist" and "Disciple", Saitama Super Arena opens up in a huge circle pit where tired fans seem to forget their tiredness from a long festival day as Slayer gives them renewed energy. Alternating old classics with more recent songs, brutality and technique dominate the show. Kerry King is, without doubt, one of the best guitarists of all time. When his riffs are combined with Gary Holt's, the only thing I can think is that Gary was shaped for Slayer and his predecessor, the late Jeff Hanneman, is probably really proud of the team.
During the set vocalist and bassist Tom Araya talks about the love relationship between the band and the fans and then announce the song "Dead Skin Mask". They play the song as if it were a romantic love song. Definitely dark, weird and beautiful at the same time.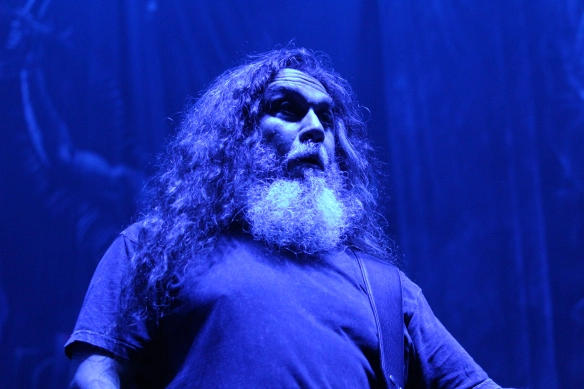 Continuing the spectacle, the set keeps crossing their entire career. Building a set list for a band with 12 studio albums to their name and 36 years on the road is not an easy thing to do, but they do it very well. As a tradition, the last few songs at a Slayer gig are always the anthems. Thus, songs like "Hell Awaits" and "South of Heaven" are played with mastery, preparing the audience for the two best known and most awaited Slayer classics of all time: "Raining Blood" and "Angel of Death". It does not matter if you are a new or an old-school fan, when it comes to Slayer these two songs are the ones you were waiting for since the moment you bought your ticket to see the band live.
"Angel of Death" is a strong, brutal and bloody song. Its lyrics are about the Holocaust and the band's interpretation is no less than magnificent. However, I have to confess that since drummer Dave Lombardo left the band in 2013, this song has not sounded the same. There is a powerful drum solo in it, which Paul Bostaph plays in a spectacular way. But there is something missing and I just can't find it. Nevertheless it is still my favourite Slayer song and the best one to close another killer set. Slayer once again leaves the Japanese audience amazed and wanting more from one of the truly great thrash metal bands.