Album review: Abbath "Dread Reaver"
Norwegian black metal icon Abbath is back! The new album is less immediate, less accessible and very good.
Norwegian black metal artist Abbath has overcome many challenges in his life and career. It has been far from a straightforward path to success. His initial success with the Norwegian black metal band Immortal ended with a fallout with the other members in 2015. Abbath moved on and the other members of Immortal reformed without him. Abbath had to rebuild his career with a new band named after him. Abbath's first self-titled album was released in 2016 and the follow-up, "Outstrider", came out in 2019. In the first few years, Abbath the band had a bit of coming and going of members and fill-in musicians. King ov Hell (of Gorgoroth and Audrey Horne fame) played bass for a few years with Abbath but has in recent years been replaced by Mia Wallace, the Italian bassist who also plays with Nervosa. The rest of the band consists of Ole André Farstad on lead guitar and Finnish drummer Ukri Suvilehto (also in Whispered). The line-up is the same as on the previous album. Thus, perhaps this is now being cemented as a proper band rather than a solo project (although the cover and promo photos only feature Abbath himself).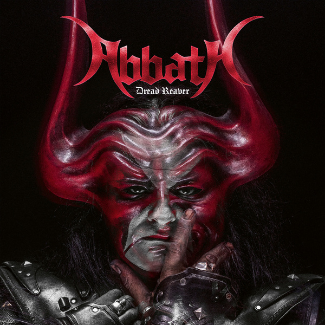 I once met Abbath backstage in Japan after he had done a terrific gig. It was obvious – from the way he talked, what he said and with his whole face smiling as he sat there with his black and white stage make-up all smudged from the sweaty performance – that he had perhaps surprised even himself by bouncing back so convincingly as an artist. Now Abbath releases his third album under his own name and it is excellent. It is less direct than his previous solo albums, less accessible but that makes it even better. The frozen and lonely path that Abbath walks on does not follow or lead to any trends. He is following his own mind. On "Dread Reaver" we get nine excellent tracks, all sounding very much like Abbath, but with a fair bit of variation within his musical style. The title track is fab, but my immediate favourite is the fierce cover of Metallica's "Trapped Under Ice" with its excellent speed metal guitars. Of the album's eight original songs, the chaotic "The Book of Breath" stands out and the relentless and demonic "Acid Haze" certainly has its charm. The acoustic guitar intro of "Dream Cull" gives the listener a false sense of safety before the black metal mayhem kicks off. The track is distinctly Abbath – combining black metal with other influences from across the metal world. Fantastic! "The Deep Unbound" is another splendid track combining black metal with NWOBHM guitars. It's a solid album from start to finish. Welcome back Abbath and thank you for the music!
Abbath's "Dread Reaver" will be released on 25th March via Season of Mist.