Interview with Lord Ahriman of Dark Funeral: "I wanted it to be harder, more brutal and darker"
Earlier this year, Swedish black metal veterans Dark Funeral released "Where Shadows Forever Reign", one of the best albums of their career. When they recently visited Japan to perform at the Loud Park festival, Roppongi Rocks walked into the Temple of Ahriman for a chat with Dark Funeral's mainman Lord Ahriman backstage.
Swedish black metal veterans Dark Funeral are out on tour in support of their first full-length studio album in seven years. "Where Shadows Forever Reign" is bordering on sensational.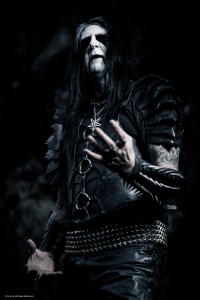 Founded in 1993, guitarist Lord Ahriman is now the only remaining original member of Dark Funeral. During the 1990s, the band set new standards in terms of fury and extremity and became one of the leading bands in the second wave of black metal. Following quite a few line-up changes over the years, it now seems as if the band has a stable line-up. Vocalist Heljarmadr Is a great addition to the band who appears for the first time on the latest album. Guitarist Chaq Mol and drummer Dominator have been in the band for quite a few years now and on this tour they have Gustaf Hielm (Meshuggah, Pain of Salvation, Tiamat) in the band as a session bass player. On the album, Lord Ahriman plays bass himself ("There wasn't any money left to get someone in").
On the latest album they continue with the same extreme black metal which they have played since the band was formed. "It was a period when all the bands started to become soft. That's not what I wanted to do. I wanted it to be harder, more brutal and darker," explains Lord Ahriman how the trademark Dark Funeral sound was created. "There was very little black metal music at the time, almost no one was playing it. Everybody was into death metal. I didn't think that was anything for me. I was more focused on the dark side. That was where I had interest and where I was at. I just got on with it.  I started writing and did it in my own way."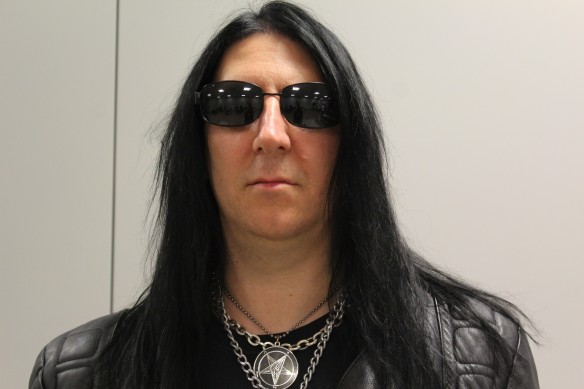 While Dark Funeral's music is extreme and brutal, great melodies have always been central to their music. "I have always tried to find a good balance. Music without melodies or without certain hooks and such is rather pointless. There has to be something that grabs you. Sure, there is some punk music which is good and is only a lot of riffing, but I like a bit more balance."
There have been many changes in the band's line-up over the years, but the band has still been able to keep producing new music and performing live with a consistent quality. "As I have been leading most efforts, I have never felt that we are dependent on certain people being there or not. It is the same with life itself, generally speaking. I have always taken care of myself. I trust myself the most. I have been lucky and have had some incredible musicians during all these years. I haven't had any fuckups in the band. They have been incredible musicians. It's the same with the current line-up, they are really good musicians."
Vocalist Heljarmadr, who joined in 2014, comes from the same area in northern Sweden as Lord Ahriman. "Both I and Nils (Dominator), who also comes from northern Sweden, felt from the beginning that 'Yes, he's from the north like us, that's a good thing'. Things get done properly that way. We felt it was a really good sign already from the start."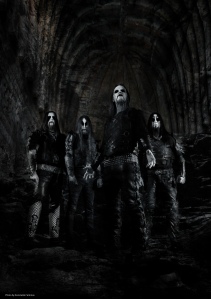 The new album is beyond great and has had a very good response from critics and fans alike since it was released in June. "It turned into an incredibly great album. Much better than what I had expected when I started to write for it. It's always like that when I start writing for a new album: I think that everything sucks and that I am completely worthless. Haha!! Everything is just fucking darkness. Sure, in the end things will materialise in musical form. I don't think too much about things around me. I don't have any musical heroes. It's the same thing with going to a guitar shop. I am totally uninterested in looking at guitars. It doesn't do anything for me. I just sit and write to get a lot of shit out of me that I need to get rid of. I don't think too much about it. On the latest album I just let things go with the flow a bit more in a natural way than earlier."
While Ahriman says he has no musical heroes, he seems to have been inspired by Swedish black metal pioneers Bathory. Early in Dark Funeral's career, the band recorded their versions of Bathory's "Call from the Grave" and "Equimanthorn" for a Bathory tribute album. These two songs were also later included on "In the Sign…" which was a re-release of Dark Funeral's debut EP. "I listened to 'Under the Sign of the Black Mark' a lot during the first few years. It's a band and albums I have liked. When they later had that Viking era, that wasn't for me. I liked the earlier, darker stuff more. If I do something I have to be able to defend it to 100%. For me personally, this was more about paying respect to a band that I think deserves respect, a band that has done something for the scene, more than them being musical heroes of mine. They deserve my respect and that's why we did our versions of their songs."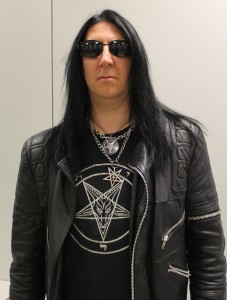 The latest album was produced by Daniel Bergstrand (Behemoth, In Flames, Meshuggah, Soilwork, Dimmu Borgir). It is the second time Dark Funeral works with him. He also produced 2005's "Attera Totus Sanctus". Ahriman and Bergstrand seem to work well together in the studio. "I had most things done on demos which I sent him and he said 'I have a really good feeling about this. This will be a really great album'. He's a guy who speaks his mind and wouldn't just say that it'll probably be alright."
Lord Ahriman takes his songwriting very seriously and does not cut any corners, something which may explain why it has taken seven years to release a new album. "I know many bands who write a lot of songs before they enter the studio. The songs that I write, I don't release anything until I am fully satisfied with a song. Even if I have a song arrangement ready from start to finish, but I somehow feel that there is something that doesn't feel right, then I will continue to work on it until it feels right. I never leave a song as a B side or something like that. Sure, if I succeed or not, that's up to the listener to judge. I don't let anything pass as a B side type of song. I could never live with myself like that."
Following some serious issues with earlier record companies, Dark Funeral signed with Century Media (and with Ward Records in Japan). "It feels as if things are a bit more structured now with forward planning. We've been in contact for a long time before we did this deal and have built up a relationship of trust. I have quite a bit of experience and, thus, I put them against the wall and said 'Here's what I have gone through, here's my experience' and I told them I wanted none of that with them. They thought that I was tough but fair. They understood where I was coming from. As long as you act in a decent way, everything's fine. Many people think they can fool me, but I have a good understanding of things. I am in control".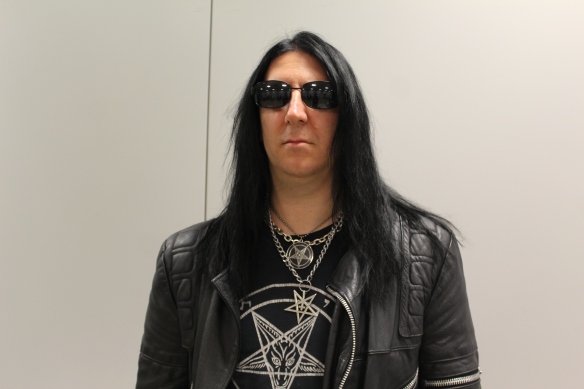 With six full-length albums below their belt, Dark Funeral now has a decent back catalogue to choose from when they put their set lists together. "It takes a lot of time to discuss set lists. It's really hard and it is getting harder. With a new album out, our first in a long time, we put a lot of emphasise on that of course. Partly because it is fun to play new songs. Also, because the response to the new album has been great, I assume people would be really disappointed if we don't play a lot of songs from the new album. During an hour-long set it is really tricky to get a good mix from all the albums, but we just got to do our best with what we have. When we play as headliner and get up to 90 minutes to do what we want, we always try to fit in at least one song from each album. With a 45-minute gig it is almost impossible. That would be one song from each album and it would be a rather boring set. 60 minutes is also pretty tight. But I rarely hear any complaints about our set lists. I assume we do alright. Sure, sometimes you hear that someone missed this or that song, but I have never heard that anyone thought the whole set list was crap."
Following the Asian dates in October, Dark Funeral are now touring in Europe through December. "Next year, we'll continue to tour. We obviously hope to take over the world," says Lord Ahriman as he walks off to prepare for the gig.
Dark Funeral – studio albums
"The Secrets Of The Black Arts" (1996)
"Vobiscum Satanas" (1998)
"Diabolis Interium" (2001)
"Attera Totus Sanctus" (2005)
"Angelus Exuro Pro Eternus" (2009)
"Where Shadows Forever Reign" (2016)
Read Roppongi Rocks' album review of "Where Shadows Forever Reign" here.