EP review: Extrema – Old school thrash metal from Italy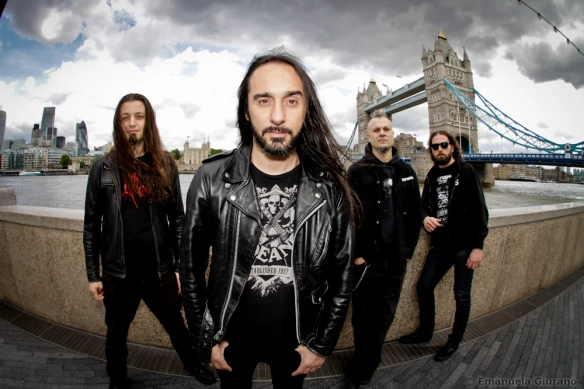 Extrema, veterans of Italian thrash metal, are back with re-recordings of some of their earliest songs.
Italian thrash metal veterans Extrema have re-recorded some recently rediscovered old and rare tracks and released them on "The Old School EP". This is no-nonsense, old-school thrash metal. Great for those of us who like 80s-style thrash metal. It is very old school but without sounding out of date. This is timeless thrash metal with some fine guitar work by Tommy Massara.
Extrema, formed in Milan in the mid-80s, has seen some line-up changes over the years but guitarist Tommy Massara and GL Perotti on vocals are still in the band. The current members of the rhythm section – Gabri Giovanna on bass and Francesco La Rosa on drums – are more recent additions.
The EP features five tracks originally written and performed by the band back in 1987. Additionally, the EP features two live bonus tracks: "Life" and a cover of Motörhead's "Ace of Spades", both recorded in Rome. "Tribal Scream" and "Child Abuse" are the EP's best tracks. The great instrumental "M.A.S.S.A.C.R.O." is bordering on speed metal and nicely showcases what these musicians can do. "Life" is the only track on this EP that has previously been released on an album by the band (it appeared on 1993's "Tension at the Seams").
The five tracks from the 80s were uncovered by Tommy Massara when he listened to some old demos and he thought it would be great idea to re-record them and release them properly. He was right and the EP's title is also right. This is great old school thrash metal.
"The Old School EP".is out now on Punishment 18 Records.
"The Old School EP" track list
Life
Carcasses (featuring Ralph Salati of Destrage)
Tribal Scream
Child Abuse
M.A.S.S.A.C.R.O. (featuring Bob Capka, formerly of Vicious Rumours)
Life (Live in Rome)
Ace of Spades (Live in Rome)