Interview: Two Wise Ones from Amorphis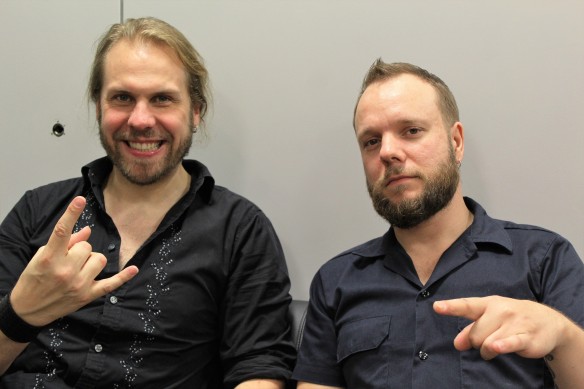 When one of our favourite Finnish heavy metal bands, Amorphis, returned to Japan for a second time this year to play at the Loud Park festival for a third time, Roppongi Rocks sat down backstage with drummer Jan Rechberger and keyboardist Santeri Kallio. 
Having already interviewed the band earlier this year, we focused this follow-up conversation on what the future holds for the band when it comes to touring and the next album. This is the third time Amorphis plays at Loud Park, one of Japan's major heavy metal festivals. This festival has been instrumental in opening the Japanese market for many foreign bands.
"I think it is very important," says Jan Rechberger. "Our first time in Japan was actually at Loud Park, back in the days. Then we played at like 11:30 in the morning as perhaps the second band or so. Almost right after that we got our first tour in Japan with Children of Bodom which gained us a lot of new fans. After that we had our own tour and then a second Loud Park. It's been growing pretty good."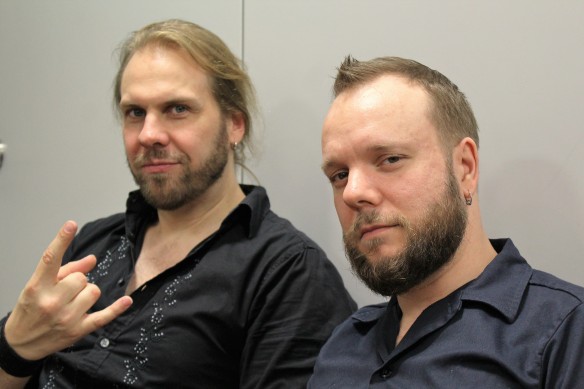 Children of Bodom – who also played at this year's Loud Park festival – seems to have been a big help for Amorphis, not only in Japan but also in other markets. Occasionally the two Finnish metal bands still do things together. "We did South America," says Santeri Kallio. "Every now and then we play with them somewhere in the world. Like last time in Mexico, we had a shared show in Mexico City when we were touring at the same time. There are some people who follow Finnish metal so there's a little bit of a shared audience."
The latest Amorphis album, the phenomenal  "Under the Red Cloud", came out in 2015 and the band has been on the road since then. How much more touring will they do in support of this album? "We have an American tour coming up in March-April, I guess," says Rechberger. "That follows this tour. But we'll also do some 'Eclipse' tenth anniversary shows in Finland and Europe. Not a lot of shows, but several shows to celebrate the album. That's kind of disconnected from this tour in a way, but then we'll continue in America and probably do festivals next summer." Kallio continues: "We'll hit the studio at the earliest in the fall of 2017. We will do the seven-week US tour, then we'll do some Russian shows and then we will do another festival summer. Hopefully more European festivals, because this summer it was a lot shows in Finland, which is kind of nice. Finnish summer is great and it is very close. We had eight or nine shows in Finland, we even supported Black Sabbath in Helsinki. We, a little bit, overplayed Finland, but next summer we'll try to play more in Europe or anywhere basically, outside of Finland."
The spring 2017 North American tour will be the band's first proper North American tour in quite a few years. "Yes, I think the last tour we did was in 2008 with the 'Silent Waters' album. It's economically hard to tour America, it's so expensive. Now we have a pretty good package with Swallow the Sun and I am really looking forward to it," says Rechberger and continues: "These guys have been touring a lot in America and they will have one American tour now, so probably we will end up supporting them. Haha!! The package is good and they have built a really good reputation. Compared to the last tour, or the one before that, we have a really strong line-up now. Hopefully it is going to bring more people and make more sense in every possible way." Kallio adds: "And we've released four or five albums after that, maybe that helps too."
Rechberger continues: "There's been a lot of fans and people asking for an American tour, so it's great we'll finally make it happen." Touring in America though is notoriously difficult for foreign bands. "In America the problem is that – the big cities are always good for us. But then it's a huge country and you have to travel from a big city to another big city…and find a date which is suitable, so there are a lot of small places. That's why it is always such a big challenge to come back home and not end up paying a lot of money. You have to make a living out of it. But we're positive now. This time it is going to be doable, "says Kallio. This North American tour will not only tour the US explains Rechberger: "A lot of shows in Canada also. That's going to be interesting. We've only played in Toronto and Montreal before, now it's going to be Vancouver, Ottawa, Winnipeg.." Kallio adds: "Edmonton All the hockey cities! And Quebec City."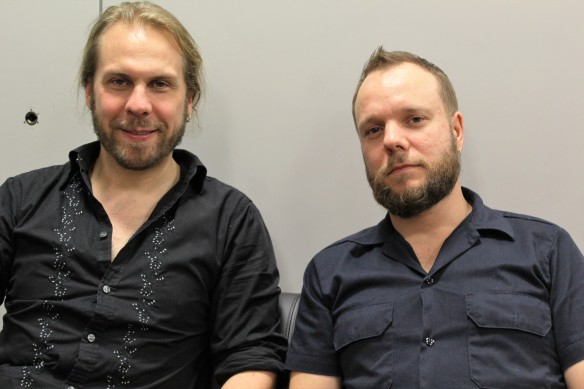 With "Under the Red Cloud" being such a great and successful album, does the band feel pressure to live up to the expectations as they start thinking about the next album? "Not really, " says Rechberger. "A lot of the albums have been pretty highly acclaimed, like 'Eclipse' and 'Skyforger' and so on. I don't think we put pressure on ourselves because we don't really think that way." Kallio adds: "I don't think it is even close to be the best one we can do. Sure, maybe it is the best one we've put together so far. I don't think we are even close to what the real possibilities with this band are. In that way, I don't think there is any pressure in the band right now. Of course, you never know, when you start composing the material, you start rehearsing and nothing comes out." Rechberger adds: "But it has never happened to us!" Kallio continues: "It never happened, but of course it might happen. If everything went wrong, if some producer got cancelled, the studio changes, somebody gets sick, you know? Then there might be a bad situation. I think we can easily do as good of an album. We just have to try to not copy ourselves. That's when the shit happens, when you think 'Hey, this was a great album. Everyone seems to like it. Let's make another one!' That's when the shit happens. You really have to forget that and just give yourself the freedom to do something "
With 12 studio albums below their belt and an established signature sound, there are some people, not least in their native Finland, who think they are repetitive. "We've kind of been accused of 'You guys are repeating yourselves and doing the same over and over again and using the same personnel recording and the same producer, blah, blah…' I never actually myself saw it that way and I don't agree. I don't think they are the same kind of albums," explains Rechberger. "I don't think that any band should change too much," says Kallio. "Because If you start making different sounding music, then the real shit happens when all the fans disappear. Different people are complaining that our song structures are too similar  Those are things we really don't think about that much. We concentrate more on the melodies, the atmosphere, good songs, good melodies, good rhythms. We don't want to just make more complex songs, start complexing shit that actually works." Rechberger continues: "For us it might be a little bit of a different situation, because the variety of styles we cover is more wide than for other metal bands that do only brutal stuff. But we do both: we do melodic stuff, radio-friendly songs and also really brutal songs. Some fans want us to do more brutal stuff and some want us to do more radio-friendly melodic stuff. It's hard to please everyone."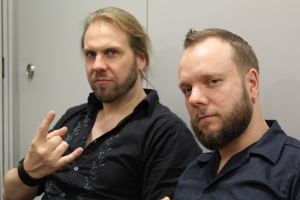 While there will be some European gigs that will be 'Eclipse' anniversary gigs, this will not be the case on the North American tour. "North America will be a 'Under the Red Cloud' tour plus some stuff from the past," says Rechberger and Kallio adds: "Probably some 'Best of' because we haven't been there for almost ten years. We have to try to please those who come to see the shows." 
But for fans in North America there is another chance for some special Amorphis performance. In early February, the band will perform twice on the 70000 Tons of Metal cruise that will depart Fort Lauderdale in Florida, go to Haiti and come back. This is the third time the band will play on that cruise. "It's a good place to pull out something special. Most of them have probably already seen us 20 times," says Kallio.
It is bands such as Amorphis that sometimes make me want to pack a bag, move to Finland and start a little fanzine focused purely on Finnish heavy metal.
Read Roppongi Rocks' earlier Amorphis interview from January here.