Interview: The Babes – entertaining underdog rock from Australia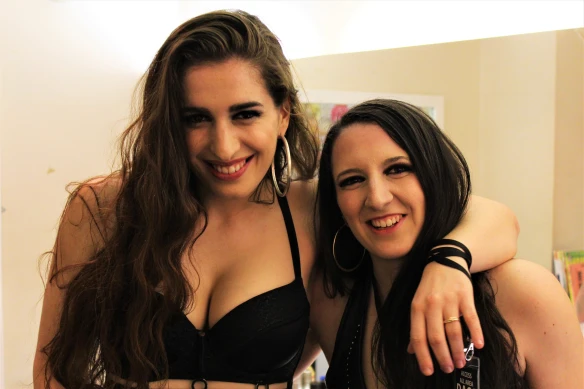 Aussie rockers The Babes recently toured Japan for the first time. Roppongi Rocks met the band after their first show in Tokyo to have a chat about being a family band, touring internationally and their forthcoming studio album "Dive Bars and Muscle Cars".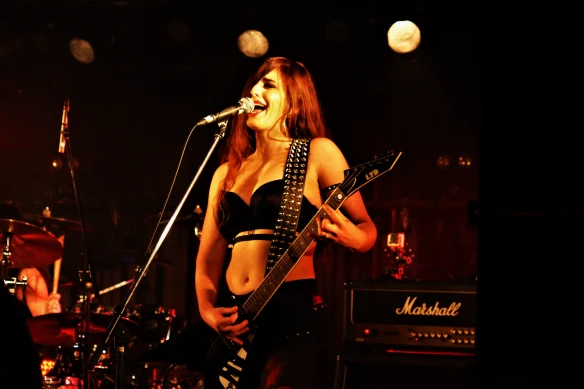 When Australian band The Babes' terrific EP "It Ain't Easy" arrived at Roppongi Rocks headquarters, it was obvious that there's still hope for Australian rock. I immediately took a liking to this great rock'n'roll gang. This summer they toured Japan for the very first time, kicking off the tour with an opening slot for Girlschool and Venom Inc in Tokyo. Shortly after they have finished their high-energy opening set at Club Seata in Tokyo, I sit down with sisters Moni Lashes (drums) and Donna Dimasi (guitar) in Girlschool's dressing room. 
How do you feel being on your first-ever Japan tour? "It's an absolute dream!" says Moni. Donna adds: "It's incredible. We love Japan!" The sisters are on a high after a successful debut show in Japan. "I'm sure we're gonna wake up tomorrow in our homes in Adelaide: Yeah, that was a dream. It didn't happen!" says Moni. Donna continues: "It's just so beautiful. Obviously, we're from Australia. Australia is beautiful too, but totally different." Moni adds: "A different kind of beautiful. A city and more industrial buildings, to me, appeal so much more. And the people, they're so respectful and friendly. Everyone is courteous and stays in their lane and that's why this is such a great country. People respect each other and love rock'n'roll!"
We call it common sense here in Japan. "It's so foreign to see it as widespread because common sense is just rare in other places," explains Moni. "I think the crowd in Japan just wants to have a really good time," says Donna. "They're here for a reason. They're actually here for rock'n'roll!" comments Moni. Donna continues: "I think that sometimes in Australia, people get a bit worried about what other people think of them." 
The Babes is a band, formed in Adelaide in 2011, but it's also a family – with three siblings in the same band. The sisters' baby brother Corey Stone is the band's bassist. Only singer JD Ryan is not a blood relative. "He's adopted whether he likes it or not," says Moni. "He's a good singer and a fun guy on and off stage. Whether we're related or not, we are genuinely like a family, as lame and cliché as it is. We know that we've got each other's backs. We all want the same thing, which is what the most important part is, to stay long term."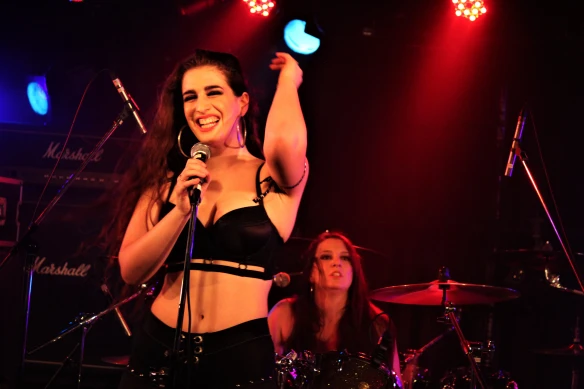 Moni explains that the family band in the early days was also managed by their dad. "He was our manager for most of the early establishing years. He got diagnosed with multiple sclerosis so took a bit of a back seat. I kind of stepped forward and taking over, getting some advice from him. He's a drummer. I started drumming lessons from him. Our family is very musical. Mum loves music too, but dad used to be in bands in the 80s." 
You are a family and a band. Do you get caught up in sibling rivalry and other family dramas? "No!" says Donna quickly with a big smile across her face. Moni continues: "We are a very close bunch of siblings. Donna and I, even though we are not twins, we can look at each other and know what the other is thinking. We can read each other really well. If there's something on someone's mind, we can get it out of the way so it doesn't fester like other bands when you're not siblings. Just say it and get it over and done with. You can't do that with strangers, because everyone's got, you know, feelings!"
You have released a great EP, "It Ain't Easy". When will we see a full-length album from The Babes? "We're aiming to release it in Australia in mid-August," says Moni proudly. "We have a national tour lined-up in Australia for it. We're in talks right now to do a Japanese special release with a bonus track and do, maybe a promo tour over here. But it's in very early stages of that with a local Japanese label and also a tour manager to book some shows to promote it as well as do some media stuff when we're here next. It's very early stages but we want to do that. When we get back, we will work on the bonus track because the rest of the album's done now. I'm just so impatient to release it. We're really proud of it. It's a 12-track CD and the bonus Japanese track – so it's a full value for money album!"
The Babes is a very hands-on band, not afraid of working hard, while at the same time being a bunch of nice people who get help when needed. "Everyone we have met so far has been so helpful. This can't be real!" says Donna. Moni explains: "We've always been a do-it-yourself band from the very start. We do our own artwork, we do our own videos. Obviously, the CD gets produced and engineered by the same people that actually know what they're doing, because we don't know that. But when it comes to promotion in Japan, we're so lucky to have the backing of people who know what they're doing, because we are not in our element here."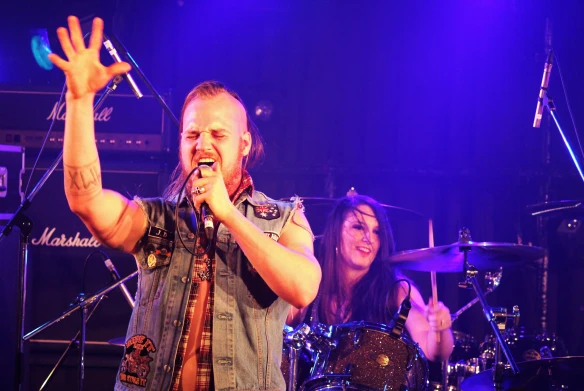 You describe your music as "underdog rock" and "music for the working class". I hear meat-and-potatoes rock'n'roll meant to entertain. It's dirty rock with some echoes of AC/DC, a bit of Motörhead with a dash of Girlschool. But you have hair-metal ballads in the mix as well. It shows that you're more than just one thing. "Haha!!" laughs Donna before Moni attempts to explain: "We have so many different influences. JD, our singer, he loves early Pantera. He's influenced hugely by that. Even just like the cock rock like Bon Jovi – we were listening to heaps of their ballads at the time we wrote that one. So, you go from Judas Priest to Bon Jovi. And Donna listens to 50s and 60s bebop and girl groups. I'm glad that you mentioned Girlschool because I love Girlschool." 
You've already toured at home in Australia, you've in America and now you're here in Japan. As a newer band, how do manage to get so many gigs booked? Do you work harder than other up-and-coming bands? "I think it is just working smarter and not harder," says Moni. "I think we work hard, but… I don't know how to describe it. I think we are more direct. When we know what we want, we just figure out how to get it and go and get it. We wanted to tour America so… We actually got approached for America, so that was like: OK, well, if we've got two shows there, we can't go there for two shows, it's a very long trip. So, then, where else do you wanna go? You wanna go to Vegas? OK, let's try to get a show in Vegas. Where else you wanna go? Play LA? OK, let's see if we can get some shows in LA. We wanted to do Japan for a very long time, but American opportunities came up first, so we had to do that. We had to – it was like a dream come true! When we know what we want and we're on the same page, there's nothing that's going to stop us! It's lame but it's true! I know how we can get where we want to get. Then we need some help, like in Japan where these people that have offered us help with label stuff, that's 100% welcome to me, because it's not my element. I play drums. I write songs. But I'm not a Japanese promoter." Donna continues: "I think it is every band's dream to get out there and play to as many different demographics as you can. So far, it's been such a journey. Obviously, playing in America compared to an Australian crowd was totally different."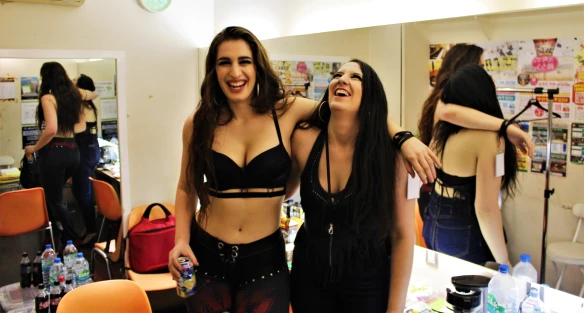 The Japanese fans seem to have made an immediate impact on the band. "I'm still on a buzz from playing here. Oh my God! They were so nice! They were smiling at us!" says Donna. Moni adds: "That's true rock'n'roll. That's what rock'n'roll was in Australia a long time ago, but it still is here. And that's just normal to them! Unbelievable! We've almost sold out on our merch and our CDs. I was like: That will last us for the whole tour. Oh no, we have nothing for the other two shows. But it is a good problem to have!"
Following a very successful Japan tour, the band is now touring in Australia and has other exciting things being planned in addition to the release of the full-length studio album, "Dive Bars and Muscle Cars". "We're playing with Chris Holmes from W.A.S.P.," says Donna. "We also got approached by the defence force back home. They deploy entertainers out to the troops, to the war zones." Moni continues: "They fly us in the actual defence force plane and we get accommodation in the barracks. It's full-on! We're really excited about that." 
This band is winning. They've got the talent, the energy, the work ethic and they are also bloody nice people. Soon enough they will have to drop the "underdog rock" tag line. We hope to see them back here in Japan soon.