Album review: Stagman "Moder Jord" | Zinny Zan continues his singer-songwriter solo career

Bosse Stagman, better known as Zinny Zan of Easy Action and Shotgun Messiah fame, has grown up and become a singer-songwriter.
In the early 1980s, Bosse Stagman, under his Zinny Zan stage name, was one of Sweden's first proper rock stars who fronted sleaze rock band Easy Action, a band which also featured guitarist Kee Marcello. Marcello moved on to bigger stages when he joined Europe, while Stagman became frontman of Shotgun Messiah, a Swedish band which saw some decent success in the US for a few years and also included future Marilyn Manson member Tim Sköld.
Now Stagman has grown up and long gone are his sleaze rock days. He now continues his journey as a solo artist on the same road he went down on last year's "Är ni kvar där ute?" album. Stagman the solo artist has dropped the brash image of yesteryear. Now he is focused on scaled down singer-songwriter kind of music sung in his native Swedish. Stagman has sort of followed in the footsteps of Tommy Nilsson, a well-known mainstream pop/rock singer who replaced Zinny Zan as frontman of Easy Action in the mid-80s when the band dropped both the image and the sleaze music and became a melodic rock band. Nilsson later became a household name as a solo artist. Stagman covers a relatively wide area of musical styles on this new solo album. Thankfully he's chosen to just write and perform music that he wants to do, ignoring all trends and expectations along the way. There's some fine guitar work on several of the songs that reminds us of Stagman's past as a rock star. We get some blues influences as well as touches of more contemporary rock and pop music, including a few ballads. It is a very personal album, something which is very noticeable in songs like "Stockholm är min stad" ("Stockholm is my city"). He writes lyrics about his life and experiences, not some abstract or made up stories. My favourite track on this album is "Den rätta vägen", a song which partly sounds like a Squeeze-inspired song.
Easy Action fans will enjoy the fact that Nalle Påhlsson is on bass duty on this album and Björn "Grizzly" Höglund plays drums. While not original members, both of them were part of later line-ups of Easy Action.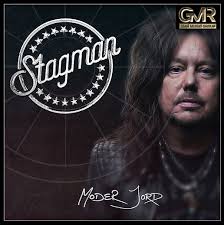 Stagman's "Moder Jord" album is out now via GMR Music.