Interview: James Michael of Sixx:A.M. "This is us being a band"
California rock band Sixx:A.M. – featuring Nikki Sixx, DJ Ashba and James Michael – has a new album out and are on the road on a successful tour to back it up. Roppongi Rocks met the band backstage after a gig during their recent Japan visit for a conversation with vocalist James Michael about the evolution of Sixx:A.M. – from being a soundtrack, to becoming a side project, to now emerge as a real band touring the world. "We're just getting started!" says James Michael with a big smile.
One thing that stands out with Sixx:A.M. in 2016, both live and on the new album, "Prayers for the Blessed, Vol 2", is DJ Ashba's guitar playing. It seems that his six years of service in Guns N' Roses have seen him develop. Now that he is no longer in Guns, he can focus on Sixx:A.M. and help the band stand out from other bands by having a guitarist that is above and beyond what most of the other bands have. "Thanks for noticing!" says Ashba backstage when I congratulate him on his fine guitar playing. "We're a real band now," says Ashba of the fact that he and bassist Nikki Sixx now can concentrate on this band as they are no longer touring with Guns N' Roses and Mötley Crüe. "DJ was always a great guitar player, but, boy, after his six years with Guns N' Roses, it's a joy to record him! He is one of the most underrated phenomenal guitar players out there. I can't wait for the day that the world really get the chance to understand how great he is," says Sixx:A.M.'s vocalist and producer James Michael as we sit down backstage after their gig at the packed Saitama Super Arena outside of Tokyo.
On parts of the new album and certainly during the band's live shows, we are treated to a heavier-sounding Sixx:A.M. "I think it was something that happened right around the 'Modern Vintage' tour. Because obviously 'Modern Vintage' was a little bit of a departure for us. It was a lighter record, I think in a lot of ways. It didn't have the weight of a heavy rock record. So, when we went on and did that tour, we really got a sense of what songs worked well live and what songs didn't. It typically tended to be the ones that had a heavier, more weighted feel to them. So, as soon as we got off the road, which was in April of 2015, we immediately started writing both 'Prayers for the Damned' and 'Prayers for the Blessed'. The first thing that we decided was let's make this a record that will translate well to live arenas, to big live rock shows. Also, because we knew we were gonna be out touring, doing a bunch of festivals with a lot of heavy metal bands. We didn't want to show up there and kind of be the lightweights! So we really intentionally did that. We really made a very guitar heavy record, very drum heavy, very bass heavy record. It's served us well. Now we have a nice collection of songs that we can go either open up for Disturbed or Korn, play on the same stage with those guys, or more of the melodic type of bands. I think what we are doing is starting to shape this thing into something that could potentially have multiple formats that it would work at. Fingers crossed! We're loving the heaviness of it. It's just so nice to be able to come out to rock shows and really deliver!"
Sixx:A.M. has appeared at many rock festivals (such as Loud Park during this Japan visit), where there is a mix of all kinds of hard rock and heavy metal acts performing. "That's what I love about things like this. I think bands quite often will underestimate their fans. Fans like a lot of different stuff. They can palate a lot of different stuff in one night. It's exciting! For as much time as we all spend in this business, I'm sure that you do all the time too, hearing that rock is dead. Well, record sales are dead, but rock isn't dead. When you come to a show like this, OK, I get it. These people get it."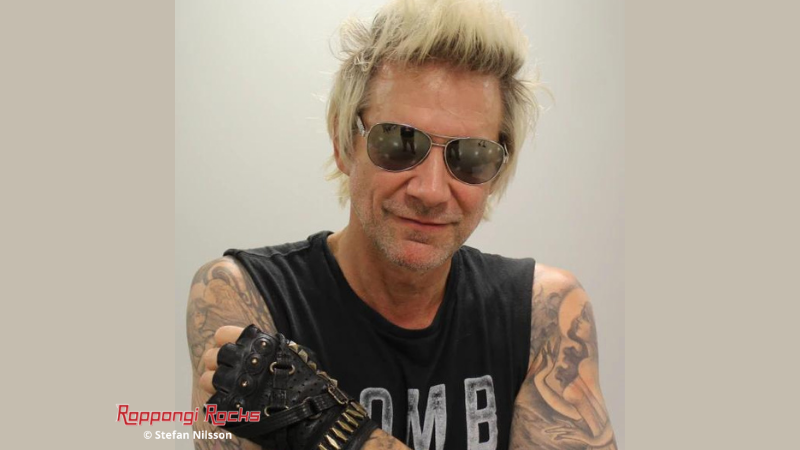 With Sixx and Ashba no longer in Mötley Crüe and GNR, Sixx:A.M. has become more of a proper band than just a project. "For the three of us, we are incredibly inspired now, so it's exciting. We really felt we had our hands tied for so many years and it still is a labour of love for us. But now we are seeing the fact that this is a real band, this has a real future. We're just glad now that the three of us can bring it to the forefront of our lives and really give it the energy and the passion and the time that it needs. Next year is the ten-year anniversary of 'The Heroin Diaries' soundtrack which is kind of crazy to even think of. For a band that has done very little touring in that ten years, we have such a loyal fan base. It surprises me because fans also need to know that you support your own project. Are they gonna dedicate themselves to a band if they're not sure if the band itself is dedicated to the band? It's kind of amazing that we've got this far with the loyal support of our fans. Because they could have easily turned their backs: 'You guys don't tour. You're not really a band.' Because at the beginning we weren't really a band. It has definitely evolved. We are very, very grateful for the fact that fans have stuck with us. All three of us feel like we are just getting started. In a way we are a baby band. We're just getting started, but we have now five studio albums and a string of hits to kick start this thing."
Sixx:A.M. is focused around its three founders but they now have a proper touring band (Michael refers to them as Sixx:A.M.'s "extended family") consisting of drummer Dustin Steinke and back-up vocalists Amber VanBuskirk and Melissa Harding. "We actually brought them into the studio for these two records. Because we wanted these records to feel live and sound the way that we sound live. Nikki, DJ and myself have put in ten years of blood, sweat and tears into this project that we are incredibly passionate about. We birthed this band. We will always be the parents. It excites us to bring in new members and get that new energy and get that new thing, but at its core, the core family is the three of us and always will be."
In 2016, the band has released two albums, "Prayers for the Damned, Vol 1" in April and "Prayers for the Blessed, Vol 2" in November. They are related but were not released as a double album. "In our minds it is a double album. I think that arguably over the years double albums have gotten kind of a bad reputation. We could list a few where you just get a sense that they went into the studio to record a record, they had a couple of extra songs left over and they figured, fuck it, if we polish these up and put a few more together, we can have a double album and charge twice as much and all that. That was obviously not what we wanted. We went into the studio and said: 'Let's write two records.' There's a reason for this. We wanted to have two full albums that were related to one another. But we didn't want to release them at the same time because 24 songs is a lot of music. Especially when you're dealing with Sixx:A.M. music which is very heavy. The subject matter is very heavy, there's a lot to absorb in a Sixx:A.M. record. I would say that with any one of our records, it's a good one-listen record, it's a better two-listen record and it's a fantastic hundred-listen record. So, if you live with the record for ten years, now you're really getting a sense of what this record was intended to be. We want these songs to be so important in a person's life that they kind of become part of the soundtrack. When we got off the road from the 'Modern Vintage' tour, we made the decision: we're gonna tour a lot, we're gonna treat this like a real band now. What better way to do that then give our fans a lot of music to start? Here's the other thing about it – as I was producing this record, my mindset was this: hopefully more people are going to learn about Sixx:A.M. with volume one and volume two – these two new records – than what we've done in the past, because now we are gonna be touring, no we're gonna be doing what bands do, really working these records hard. Getting around the world, playing these shows, doing a lot of shows. If the theory was then that more people are going to be introduced to Sixx:A.M. now, then we need these two records to really, really reflect who we have become as a band, really reflect the best of us. Then what we hope will happen as people – like all the people we just played for – hopefully for everyone who maybe have heard Sixx:A.M.'s name or knew of us because of maybe one song or two songs. Now they will be able to go back and binge listen to all of our records if they're streaming. I approached these two records as a starting point for us. This is who Sixx:A.M. is now. Then people can go back and listen to the other ones and moving forward hopefully we'll bring them with us. That was really the mindset of these records. Everything up until now was us getting to know each other, it was us becoming a band. This is us being a band. Does that make sense?"
On the new album, lyrically it is a mix of standard rock themes and some more serious, existentialist themes. "Messaging has been incredibly important to Sixx:A.M. from the very beginning. We've always spent a lot of time writing the lyrics. We have evolved as songwriters to a point where we are now taking on global issues. We will never be a political band! But right now there's so much shit going on in the world."
James Michael is evidently very proud of the band's latest album. "We really love it. As a band I feel like it represents what we've become. Because I've produced and mixed the records as well, for me as a producer I feel like I've finally accomplished a few things on this record that I just wasn't skilled to do in previous records. So for me personally, it was a bit of a landmark for me. I'm very, very proud of it for many reasons that probably no one will ever be able to hear."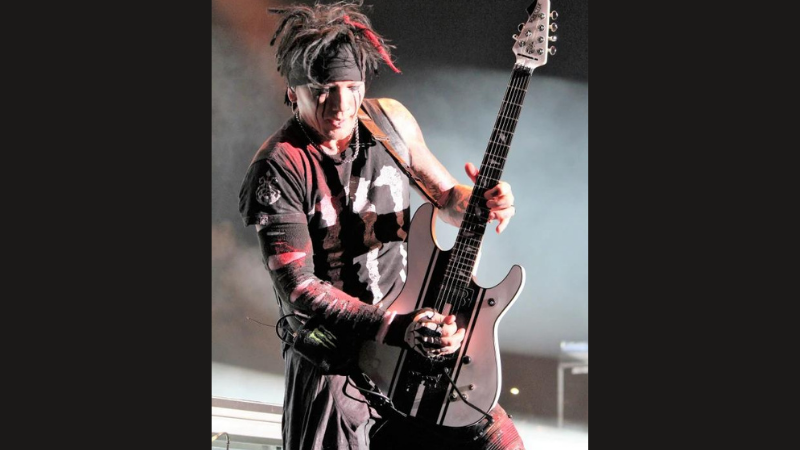 Sixx, Ashba and Michael are very hands-on with everything to do with the band, from production to album cover art. They're a bit of a deluxe DIY band. Are they perhaps control freaks? "I thought it was because we just kind of complemented each other, but now that you've mentioned it, maybe we are complete control freaks! No, both! Actually, at the end of recording and mixing these records, I made the decision that I'm not gonna produce any more Sixx:A.M. records. I really want to bring in a new producer. I want to bring in an outside thing. Part of that is because I want to test that theory that you just proposed. I'm excited, we're all excited about the idea of bringing in another producer. We're also probably very terrified about it. Because we are all to a degree control freaks and we've established this process that works so well. Nikki and I have had a lot of conversations about it and I think he's apprehensive about it as well because I have developed such a good, solid production working relationship with DJ and with Nikki. We've just figured out how to do this. To dump that task on somebody else, it's gonna be tough. I'm just excited about being able to come into the studio as the artist only and not having to work two hats."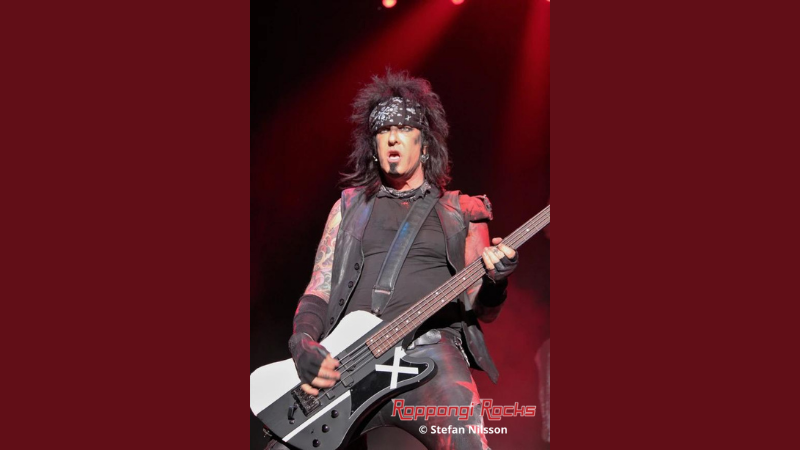 James Michael has not only produced himself – something he finds easy to do as he has established a routine where he records himself all alone in the studio – he has also produced other major artists during his career. "I love the record I produced for Papa Roach. I love the connection so much. I spent around nine months living with them, making that record. They are my dear friends. They are family to me, they are my brothers. We went through so much turmoil personally during the making of that record, that it can't help but to be a very dominant memory in my life. When I get to the end of my career and look back, that will just be one of those beacon times. I love the work I have done with Mötley Crüe, I love the work that I have done with the Scorpions. Each project is so different. I have been so blessed with the fact that almost every band that I have ever produced, I am still friends with. That is a rare thing in this business. It's a thankless job sometimes, but I have been very blessed to consider almost everyone I have produced as a friend still to this day."
Sixx:A.M. has already toured Canada and Asia and they are currently on a big US arena tour in support of the new album. "Beginning of next year we have a couple special surprises. We're gonna go into the studio to do something cool. We're also going to start writing the next record. So next year, 2017, we will probably spend a couple of months on the road, but we're going to be off the road, in the studio for the rest of it."
James Michael and his bandmates are busy but they are clearly enjoying themselves. "We're having the time of our lives! Nikki and I was just talking about it, the fact that sometimes we're so happy, we all love each other, the whole band, the whole crew. Sometimes it just feels like the dream vacation. We get to come to these amazing places, go up on stage, have a freaking blast and just experience all of these incredible people and cities and countries. It's hard to find anything negative about it. We've toured with bands that just obviously can't get along. I don't know if it's the case but sometimes it starts to feel like they just don't appreciate the opportunity they've been given."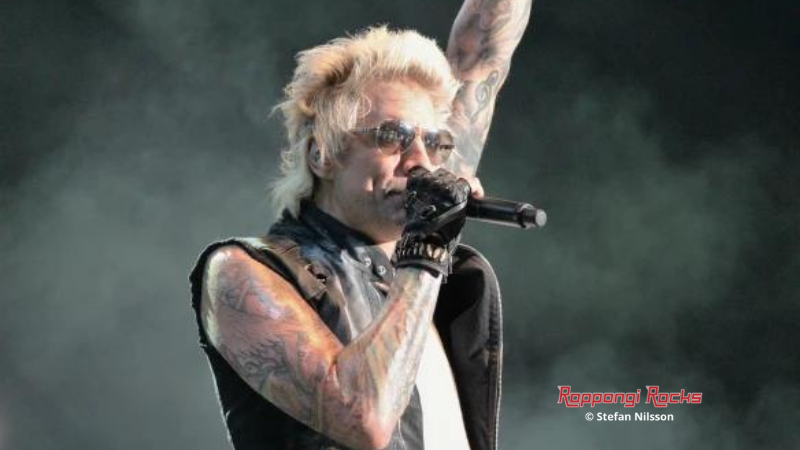 Read Roppongi Rocks Sixx:A.M. album review here.