Album review: Grafvitnir "Obeisance to a Witch Moon"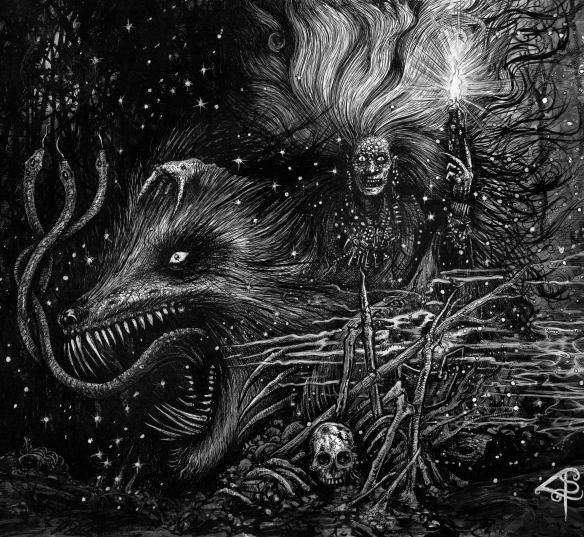 Grafvitnir is back with a its fourth riff-heavy studio album with haunted, possessed and pissed-off vocals.
"Obeisance to a Witch Moon" is the fourth studio album by Swedish occult black metal band Grafvitnir. The band, formed in Sweden in 2007, debuted in 2012 with "Nâhásh", a limited edition vinyl picture disc.
"Obeisance to a Witch Moon" is a very, very good, riff-heavy album. Great guitar-work coupled with haunted, possessed and pissed-off vocals. This all sounds like someone woke a great beast who is now roaming the deep, dark Nordic forests accompanied by some fantastic guitars.
Grafvitnir's music combines two of the best dark things of recent years: Dark Funeral and Tribulation. Like those two Swedish extreme metal bands, Grafvitnir too has great melodies. Part of this album sounds a bit similar to Dark Funeral's latest album, "Where Shadows Forever Reign". And make no mistake about it: as Dark Funeral quite possibly has released the album of the year, anything that reminds me of it clearly has something good going on. But Grafvitnir's new album is no copycat. This is a great original album which reminds me of Dark Funeral mixed with some Dissection and spiced up with some Tribulation-like melodies. The end result is stunning.
It is not only the band's music that lives in the shadows, the band too is a rather secretive bunch. Not much information is provided about who they are. Guitarist Niantiel has previously played guitar for Gra and Cursed 13 as well as apparently done some work with Candlemass mainman Leif Edling. Not much else is known to me about the members of this band.
"Lightbringer" opens the album in style and the band just continues from there. "Children of the Void" is a clear winner of a song. There is so much good stuff packed into this song. "Serpent's Blood" is fast and fantastic. The album's title track, which closes out the album, is also one of the highlights on a very even album. Witchcraft practiced with electric guitars.
"Obeisance to a Witch Moon" will be released on 16th December on Carnal Records and Daemon Worship Productions.