Mona "DeMona" Lindgren on life after Thundermother
Mona "DeMona" Lindgren talks with Roppongi Rocks about what's next for her after the dramatic implosion of Thundermother.
Swedish artist Mona "DeMona" Lindgren is perhaps best known as the former bassist for Thundermother. But she is much more than that. As a solo artist, she is known as DeMona and she is now embarking on a new journey with the band The Gems, consisting of her former Thundermother bandmates Guernica Mancini on vocals and Emilie "Emlee" Johansson on drums. She's currently touring with Donna Cannone and got much more on her plate.
Following a successful North American tour as support to the mighty Scorpions, you had a rather abrupt exit from Thundermother. I understand that you, Guernica and Emlee have decided to continue to play together in a new band. Tell us about your plans! "First of all, thank you for having me on Roppongi Rocks! It's always a pleasure to talk to you! All we wanted was to play in a band, creating music and art together on equal terms. We didn't want to waste time and decided to start on a new, fresh page right away. Our new band name is The Gems, it's our initials. We are going into the studio now, to record our first single which is very exciting. We are overwhelmed by the many people that have contacted us from all over the place to show support. A lot of good has come out of this tragic situation. We have a lot of things planned that we will probably be able to announce soon."
Is it correct that you will switch back to being a guitarist again after a few years of playing bass in Thundermother? If so, do you have a bassist lined up for the new band? "Actually, I never switched to being just one of them, guitarist or bassist. During my time as a bassist in Thundermother, I also played shows as a freelance guitarist and with my solo project DeMona. I've also been a singer all along and played small shows with different vocal ensembles. So, I didn't really switch to bass, I added a new instrument to my repertoire. With The Gems, I will play both guitar and bass on our recordings and we will keep the band that way, with the three of us. I will play the guitar live since I'm a much stronger guitarist than bassist so that would make more sense. We will hire a bassist for our live shows."
For a number of years, you have done some fab music as a solo artist. You recently released a terrific new DeMona single. Will there be room for both the new band and DeMona? "Thank you, that makes me happy to hear! Yes, of course. I also played in the blues band Ladies Got the Blues the whole time I played with Thundermother, as well as the freelance stuff I mentioned earlier. I also work part-time as a programming teacher at KTH Royal Institute of Technology in Stockholm. At times I worked around 50% with that and that was a bit too much as being in a band takes a lot of time. Now I work fewer hours there and focus more on starting up the new band and writing more material for DeMona. I also spend some time on nonsense and checking out memes and funny video clips with parrots and budgies on Instagram. I love it when they jump and scream."
During March you are filling in on guitar and vocals with Donna Cannone for their Scandinavian tour. That band includes guitarist Giorgia Carteri and drummer Tilda Nilke Nordlund, both former Thundermother members. How did this come about? "It was thanks to Guernica that I was considered for the gig. She had met Giorgia at the Rockklassiker cruise where she sang with the Rockklassiker Allstars band. It was mentioned that Donna Cannone was looking for a fill-in musician for their upcoming tour. Guernica warmly recommended me which was nice. Giorgia then contacted me. We met, talked and it felt really great. That's how I started on that journey. It's going to be great to tour with them! They are great people and good musicians and we are going to have a great time!"
You have a side project which is less than politically correct called Velinga Püssy Rockers. Listening to the – shall we say "colourful" – songs released so far reminds me a bit of the late Swedish artist Eddie Meduza. Was Eddie an inspiration for this or what made you start this project? "Eddie Meduza was Sweden's own Elvis Presley. He was the king of the countryside backwaters. Velinga Püssy Rockers is a humble tribute to him, the king. It is a fun and undemanding project that I and Emelie have been working on in the tour van during all our journeys around Germany. We work on someone's laptop without any charger and thus we only have two and a half hours to write and record a song, make a cover image and publish it via DistroKid. Often, we create the lyrics while we are recording the vocals, something we do with Emelie's mobile headset. You always hear noises from the van in the vocal tracks, especially when we have added phaser on a track. It whizzes like hell and makes us nauseous. We record the song backgrounds with MIDI instruments. Occasionally, when we have wanted to create a fat production, we've added guitars and vocals with a proper microphone in our hotel room. We have made many songs but it is always problematic between the aggregator and the streaming services. Sometimes we get stuck already at the DistroKid level. We have gotten into trouble because of our lyrics or because we use the German letter "ü" or write in capitals. We end up having to use suspect websites to resize our 150px record covers to the 3,000px that is apparently a requirement. Then we have to tick a box to confirm that we haven't done what we have just done and that our image is sharp and of high quality. The streaming services are very sensitive and whiny."
I understand that you quite often make casual appearances at various jam nights in Stockholm. Is it more fun to just jam away with musical friends at local clubs than performing more formal and structured shows? "I enjoy both! In a more structured show, one can rely on the prepared and rehearsed setlist and focus on the stage show and doing a good performance, to rock out, which is fun. At the same time, it is very structured musically and thus there is not so much room for creativity. Thus, jam sessions can be more fun where anything can happen musically. But it can also be a bit scary. As I don't feel 100% comfortable when improvising in all different styles and keys, when a certain key comes up that I am not all that sure about, I end up standing there like a stiff and really feel like I'm struggling, with my performance suffering as a result."
Musically, you're all over the place – hard rock, blues rock, jazz, pop and so on. Is it all just about creating and performing good music or do prefer certain genres? "I really love music and many different genres. When I play the guitar or bass, seven out of ten times it is rock or blues. Most of my freelance gigs and with bands have been in those genres, even if I have also played a bit of pop too. When I am sitting at home and playing, it is jazz standards because it's fun and I want to learn. When I sing, I often most enjoy singing pop and soul, but also jazz."
It looks like DeMona will be on double duty in Gothenburg, Sweden on the 22nd of March when both The Gems and Donna Cannone will perform in support of The Night Flight Orchestra.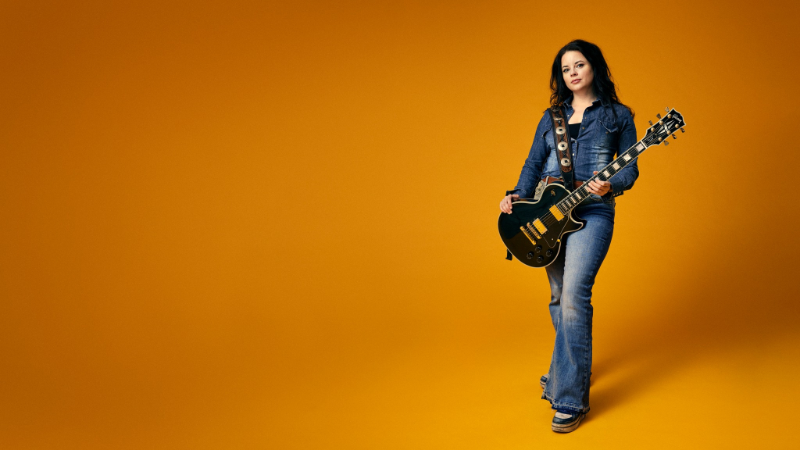 Photos by Albin Händig.
www.facebook.com/thegemsbandswe