Interview: Mark Jansen on how Epica's sound has evolved
It took Dutch symphonic metal masters Epica some 15 years to get to Japan, but when they did show up they got a warm welcome by their Japanese fans. Roppongi Rocks' Stefan Nilsson met with Epica mastermind Mark Jansen before their sold out show in Tokyo.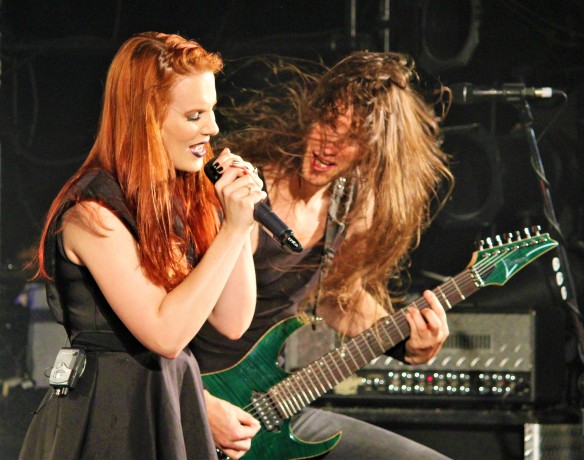 Mark Jansen founded a new symphonic metal band when he left After Forever in 2002 over "musical and personal differences". As we sit down backstage before Epica's Tokyo gig Mark explains: "In After Forever there were two captains on the ship. All the time we had different opinions. It was taking a lot of energy. Yeah, I like to be a bit more in control. I am not a control freak but I need to have some control of things to feel happy."
The new band Mark assembled was originally called Sahara Dust, but as they entered the studio to record they stumbled upon a much better name, Epica, which was the name of a Kamelot album. "We were recording in the same studio where they were recording the album 'Epica'. We saw the cover. We were called Sahara Dust at the time. The name we weren't completely satisfied about and we couldn't find a better name. Then we saw that album cover of 'Epica'. We already liked the music of Kamelot a lot. We sent them an email: 'Are you OK with that?' and they were fine. Not right away but after a while. They said themselves already that Epica would be a great name for a band. But I think it fits really well to us. I think not many bands who have a band name that fits their music so well as we do," says Mark while looking very satisfied.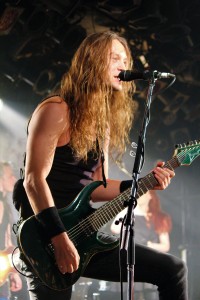 Epica debuted in 2003 with "The Phantom Agony" and rapidly won a loyal fan base globally, including in Japan. In 2016 they released their seventh album, the fabulous "The Holographic Principle". So why did it take the band some 15 years to come and play for their Japanese fans? "Several reasons. Every time when we tried to come over, the promoters said 'Look at your CD sales. It's not high enough in Japan to bring you over. Probably we're not gonna sell enough tickets' and that kind of story. We kept trying and then two years ago there was finally one promoter who wanted to get us, but then our management said we should not go yet because if we worked with that promoter we could not play Loud Park, for example. You have these kind of things. Then we said, next opportunity, we go. We can't wait forever to go to Japan," says Mark who is very pleased that they managed to come to Japan for a three-city tour and that the band's first ever Tokyo gig is sold out. "Sold out! To be able to do three shows is already amazing. I've never been so relaxed on a tour in a country like here. Strictly on time, everything is well organised. It's sometimes different in other countries."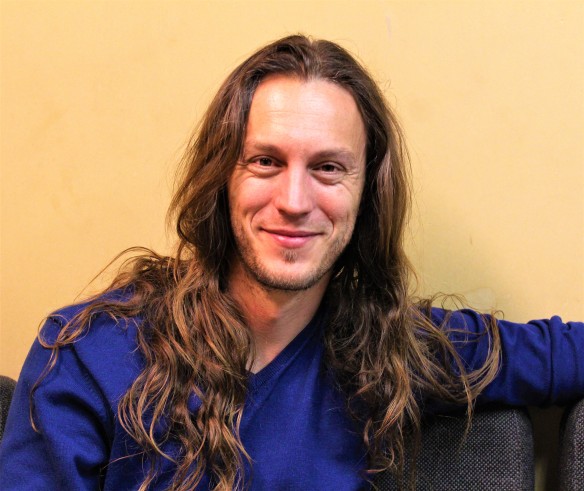 Epica has arrived at a signature sound which means that nowadays it is rather easy to spot an Epica song. But with such success also comes expectations when new music is created and some artists feel that they become constrained to create music that fits into what is expected of them. "Usually I just start and then whatever feels right, I do it. I learnt to not think inside the box, but to just do whatever feels good. In the end, there is always something happening that makes it sound Epica. Even if you have a piece of music that in the beginning doesn't fit well, something happens and it always fit in the end. And if it really doesn't fit I use it for another project. So, whatever I write fits somewhere," explains Mark his creative process.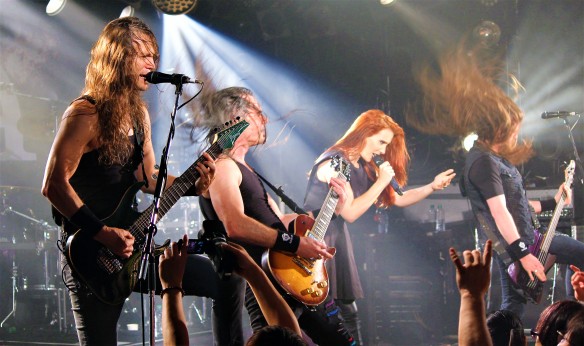 One part of the Epica sound that sets it apart from some of the other symphonic metal bands, is that they use death metal-like growling or grunting in addition to clean singing. "It's a funny story how it happened. When I started to listen to metal music, I ran into an album of Amorphis. I was listening to it and as soon as the guy started singing: 'Oh, fuck! It's grunts, I hate it!' Still, I bought the album because the music was so amazing and I slowly got into it. Then with my first band, we started as a melodic band with a grunter as a singer because we couldn't find a clean vocalist. We were also looking for a background singer. Floor Jansen came to do an audition. We heard, instantly, this is not a background singer. This is somebody who has to be the front. But the grunter didn't like the idea, so there was some competition going on… He left. Then we decided to do some of the grunts ourselves in After Forever. I kept doing it with Epica ever since. That's how it started," explains Mark about how Amorphis has helped shaping the Epica sound and continues: "With the new singer they were back on track. Now I love them again!"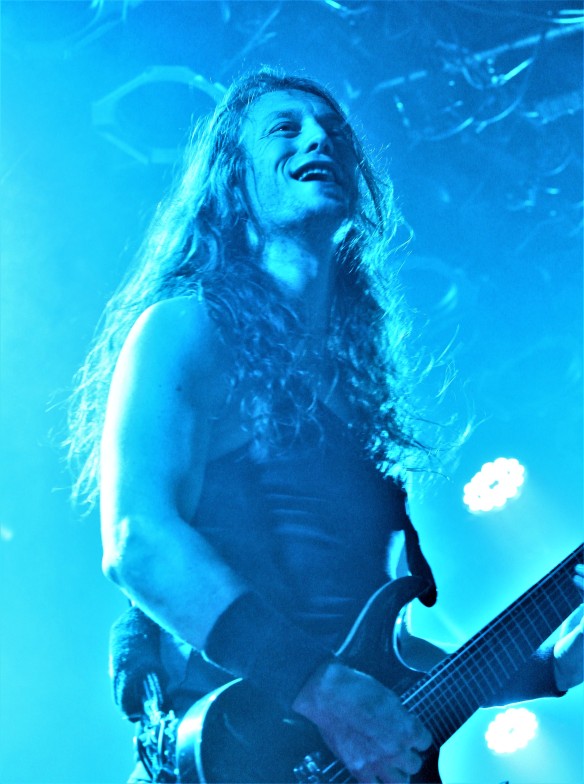 Mark is clearly the mastermind behind Epica's music and he pays attention to all the details. On recent albums the Epica guitarist is not even playing guitar on the tracks because he's too busy with other things. The band's other guitarist Isaac Delahaye handles all guitars in the studio. "I prefer to focus on the lyrics. That is already so much work. It would take me twice as long as Isaac to record it, so I prefer him doing it, rather than me working my ass off doing all these riffs. When he is done with the songs, I have two-three months' time to study all his riffs for the tour. In the studio, if I have to work on the lyrics and to study these licks and to record them, I would go nuts!"
On the last couple of albums, Epica has used Joost van den Broek as a producer. Like Mark, Joost too has a past in After Forever, although they didn't play in the band at the same time. "So I knew the guy and ever since we started working together, we became friends," says mark about the close relationship. Joost is very involved in Epica's creative process. "Definitely more than a technician. During the recording process and demo phase, he's like a seventh band member. He's travelling with his equipment separately to everybody's home studios. He asks: 'What have you got? What did you write? Let me listen to it. Let us work on it.' Then, when he has the overview of all the music written… Is it enough material or even too much? Then we bring it together and start working on each other's tracks. Because in the beginning we like to work on our own. There are a lot of opinions in Epica, a lot of strong opinions. When you feel like you cannot bring it any further, then we start working on it together. Then it is also easier to accept criticism."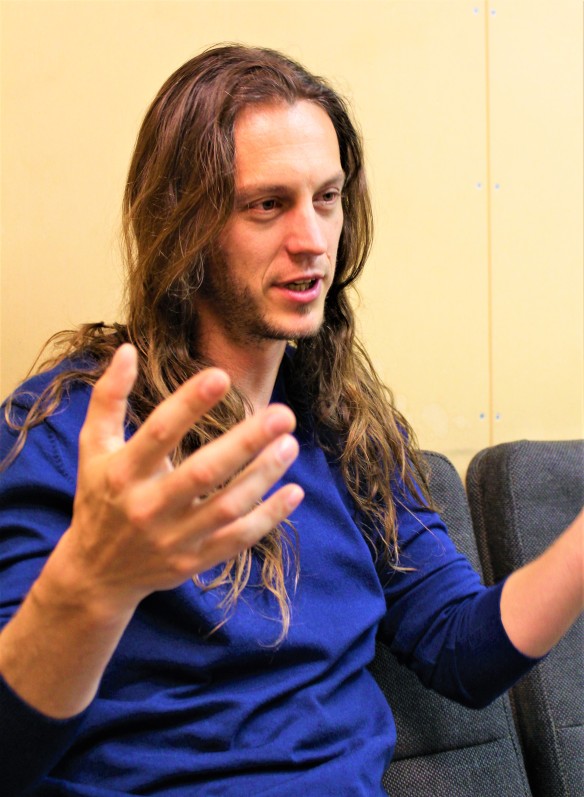 With a firmly established signature sound, is the Epica sound still evolving? "I started writing music for the next album about two months ago. But it is too early yet to know what direction will evolve. Because I don't know the music yet of any of the other guys. I know that some other guys have recorded some ideas. So, everybody is already doing something, but it is too early to know where it will go to. But we always try to make things better. There is always something on an album that we think 'Let's try it in a different way next time'. That is also how you keep the stuff fresh. When I listen to all the past albums…at that time it was the best we could do then. If we would make it now, we would do it differently. But it wouldn't necessarily be better. These albums have to be like they are, they have to stay like they are. That's also why I am still very happy with them."
With seven studio albums below their belt there is plenty of music to choose from for their gigs. Set lists can't be easy to compile at this stage. "It depends on where we play. For a show in Japan, we try a little bit of an alternative set list then what we do in Europe. The first was doing well, the second show we were changing some things and now in Tokyo I think we found the right balance between the new album and other songs." In Tokyo the band performs "Unleashed", a track no longer featured at most gigs, but a favourite among Japanese fans. "It's one of the songs people love here. So we decided to put it in the set. So tonight has a very balanced set to keep everybody happy."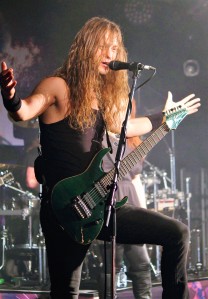 In all of his bands and projects, including Epica, After Forever and MaYaN, Mark has been fortunate enough to be able to work with some very fine vocalists. Current Nightwish vocalist Floor Jansen is one of them. She sang in After Forever and also brought in Mark for some cooperation in ReVamp. "She also sings with my other band MaYaN. In the beginning she did even some touring but when she got asked to do Nightwish of course she 'flew away'! And that was completely understandable, because that was the big chance and I would have done exactly the same. But she sang on some songs with MaYaN and it sounds fantastic. Then she said 'I want you to sing on my band's album, ReVamp'. So I did as well. Also with ReVamp, she has no time for that any more for the same reason. Nightwish takes all the time and that is also completely understandable. But it was really fun. It's always nice to work with her. I'm pretty sure in the future, maybe it can take quite some years, I am sure in the future there will be some collaboration.'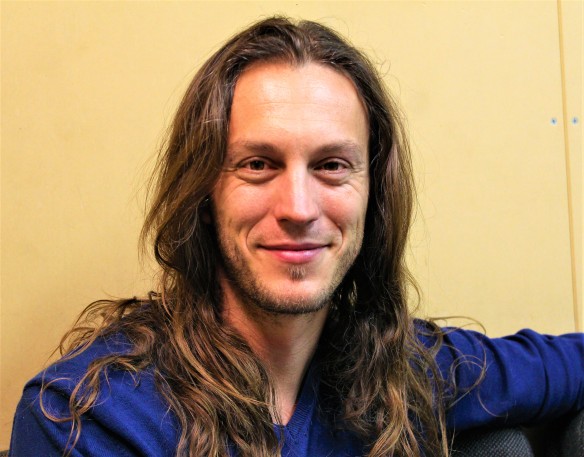 German power singer Henning Basse (Gus G, Firewind, Gamma Ray) is also someone Mark has worked with in MaYaN. "He's an amazing singer. He's a singer of world class. With his qualities he could be singing in any huge band who needs a big singer. But for some reason it didn't happen yet. So, he's still in relatively small bands with all respect. I think if Firewind or MaYaN or Gus G is becoming big in the next couple of years, then he goes fully for them then. But at this moment he's not yet fully attached to one band because they are all too small to make a living from. I've been saying that for years already because when I heard him sing for the first time, it was with Sons of Seasons, I thought 'This singer is really world-class'. I've had the honour to work with so many great singers, like Floor Jansen. It took some years but now she's the singer of Nightwish. And when I heard Simone Simons for the first time, I knew that was going to be good. In MaYaN we work also with Laura Macrì, who is also my girlfriend. When I heard her voice I also knew that this was top, top quality. I'm in such a lucky position to have worked with all these great singers."
"There are two things that are extremely important: the singer and the drummer. When there is a shitty drummer the whole band sounds like shit. And when the singer is shit, everybody hears it right away. When there's like one of the other musicians is not 100%, it still blends into the music. But the drummer and singer they have to be top quality. We're also in a lucky position with Ariën van Weesenbeek, who is also a machine! Now that we became a big band ourselves…otherwise some band would have taken him, stolen him from us, I'm sure," says Mark proudly of the drummer of both Epica and MaYaN.