Interview: Dirk Verbeuren reflects on his first year in Megadeth
Megadeth are better than ever and new drummer Dirk Verbeuren has certainly been a great addition for the band. Roppongi Rocks' Stefan Nilsson met up with Dirk backstage at a recent Megadeth/Anthrax show in Tokyo to talk about the former Soilwork drummer's first year in Megadeth.
Megadeth has had quite a few terrific drummers in the band's long career. In 2016, they recruited then Soilwork member Dirk Verbeuren as its new drummer to complement the fantastic line-up of Dave Mustaine, David Ellefson and Kiko Loureiro. Originally it was a fill-in gig as live drummer on part of the "Dystopia" world tour. But after a few months, Dirk was offered a permanent place in the band. A year after Dirk joining Megadeth it is obvious that the Belgian-born and US-based drummer gels very well with the band and has lifted them a level or two.
"It's been a lot of fun! It's been, obviously, an unexpected change but a great experience. Like many people who are in this kind of music, I grew up listening to Megadeth, so now to be a part of Megadeth is still kind of unreal at times! Sometimes I'm on stage and I am like: 'This is really happening!' Hahaha!" says a very happy Dirk Verbeuren as we meet backstage in Tokyo before Megadeth and Anthrax rock the sold-out venue.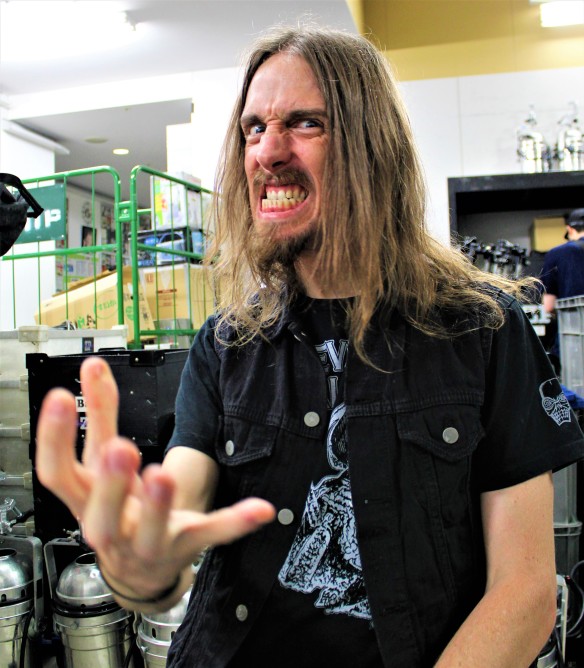 Megadeth's fans seem to have warmly welcomed Dirk without any of the drama that many other metal bands face when they replace some members. "They've definitely been very kind to me, they've embraced me. The shoes to fill are big, you know what I mean? People like Gar Samuelson, Nick Menza… Even all the other drummers that played in the band, like Jimmy DeGrasso, Shawn Drover, Chris Adler from Lamb of God who recommended me to the band. Those are all top notch people, so it's… Yeah, I'm doing my best! Haha!"
Stepping into a legendary band with a vast back catalogue of fantastic songs originally played by some rather fabulous musicians can't be the easiest task. Do you try to copy the original drumming on the classic Megadeth songs or add your own style to the songs when you perform?
"Well, here's the thing: the goal for me and what the band expects from me, is to be as true to the songs as I can. It's a song by song case. Sometimes even a section by section case where I try to figure out what I can do, maybe what I would do, maybe what I can do differently. In other parts I am sticking to the original, pure and simple. A lot of the flair comes from the way one person plays compared to the next. And I play the way I play. I can't sound like… Even though my groove is kind of similar to Nick Menza's in a way. I grew up listening to a lot of his stuff too, so it probably kind of influenced me in that sense. In the end, I can't sound like him. Only he can sound like him. Same with Gar and same with all the other guys. I don't focus too much, I don't think too much about that, I just try to honour the songs."
When the offer came to join Megadeth came out of nowhere, was it an obvious thing to accept? "At the beginning it was supposed to be just a fill-in gig. That's how I was approached. It only overlapped with, at the time I think it was five or six Soilwork shows that I was missing. I talked to the guys: 'Are you guys OK with me doing this?' I'm just filling in.' 'Yeah, cool, no problem! Of course you should go and do that'. Then as I was on the road, it turned into 'Hey, do you wanna join?' So by that time I had already had some time to sit and think about it. What would I do if they asked me? Because you never know. By that time I had had some thoughts, some conversations with my wife and stuff. Then I was like "Yeah! Haha!"
Soilwork mainman Björn "Speed" Strid early on expected that Megadeth would ask Dirk to stay permanently and told Dirk: "When I heard you play with them at Sweden Rock, I knew he was going to ask you to stay."
Dirk was a long-term drummer with Soilwork and leaving that band was not easy but he remains on good terms with his former bandmates, not least because he pointed them in the direction of finding his replacement. "The Soilwork guys have been super supportive about it. That's cool. No bad blood whatsoever. Bastian Thusgaard recently became full-time, so I'm very happy that all worked out. He's a great kid, great drummer, very motivated, hardworking. I discovered him because he put on some Soilwork covers online where I was very impressed with his playing. When this happened, I thought of him. I showed the guys a few videos and they were like: 'Yeah, man. Put us in touch with that guy!'"
In a way it is similar to how Chris Adler recommended Dirk to Megadeth when it became clear he wasn't going to be able to do that much touring with Megadeth because of his Lamb of God commitments. "Very similar. Also, Kiko as well. I had met him some years ago. I actually saw an Angra show in '96. At the time I didn't know him personally. Then he came to see a Soilwork show some years ago in Finland where he was living at the time. We talked a little bit and stuff. So he also, when names came up and stuff, he was like: 'Dirk is great!' Yeah, I was warmly recommended. It worked out good," says a very pleased Dirk.
In my opinion you're the best extreme metal drummer in the business. Obviously you have the talent and capability to be he drummer in Megadeth, but was there ever any doubt in your mind about your ability to do this with such a big band? Do you feel any pressure in this new role? "Well, thank you very much. That's very kind of you. Yeah, the first two shows, definitely. There was a lot of stuff going on in your mind. But in the end all you can do is rely on your experience and if something happens, sometimes crazy stuff happens, you trust the fact that you'll make the right call. Sometimes you have to make a really quick decision: what do I do here? And so far I've done pretty good. In the end it's rock'n'roll, it's all about having fun and that is still the way I approach it. Actually, it's even more now than in the past. It's kind of like I realise how lucky I am to be here doing this, playing music that I like in front of lots of people who are coming to see it. I mean, there really is nothing to worry about, right? It's not like we're trying to solve hunger in the world or something. We're playing music for people to have a good time."
With a great, and what seems like a stable, line-up of Megadeth, this band can really do something fantastic with the next album. Do you expect to be part of the songwriting from now on? "I don't know. Obviously I haven't been in that spot, so I haven't experienced that. We'll see how it goes. I'm definitely open to anything. I've started recording some ideas, you know, just having stuff in my phone. I look forward to spending time with the guys working on ideas. Obviously a lot of it is centred round Dave. He's been the main songwriter for the whole time pretty much. Kind of from there we'll see how it goes. It's good that I have this period of time, unlike Chris who came in and it was pretty much straight to recording. I think that's difficult, because you have certain ways of doing things and then all of a sudden there is this band with this whole past. That's quick adaption. That can be tricky. Whereas with me, I'm probably going to spend at least two years, if not more, playing the songs live. That gives me some time to see the different areas of the band, see the different styles. For example, Gar has a very different style than Jimmy, than Nick, than Shawn and Chris and all the different people. And Chuck! I forgot Chuck Behler earlier. Great drummer too. Actually, I met him. He came to one of our shows last year, on the US tour. Super cool guy. That gives me a chance to take that information in and all these different grooves. Then when it is time to create something, I will definitely tap into that. Because it is a very different way of playing for me than, obviously, Soilwork or any other stuff I've done."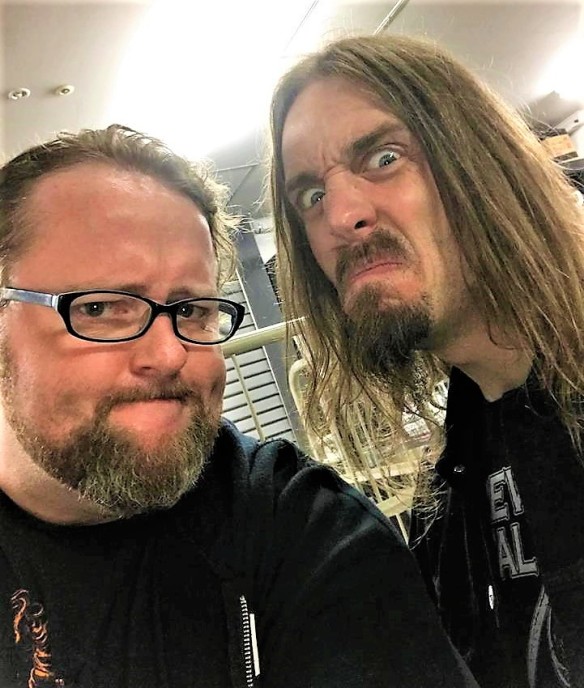 Megadeth has an interesting history of the band's drum techs stepping up to become the band's drummer. Clearly you thus have ensured that you now have a rubbish drum tech who is not threatening your position behind the kit, correct? "Haha! Well, I have Tony Laureano, so he's not exactly a rubbish guy. He was Dimmu Borgir and he has played with Nile. I was actually on tour with Tony back in 2002 when my old band Scarve opened for Nile on a European tour. Tony was drumming then in Nile and I was very impressed with his playing. We've been kind of friends ever since. I can't say we were in touch all the time, but we would email ever now and then and I would see him at festivals. I saw him once with Dimmu. He loves teching. He's a great drummer and he still plays. He still has several projects that are in the works. But he just loves doing this, being on that side. Hey, it's cool. He's an awesome guy. Great tech." (Prior to Dirk joining Megadeth, Tony did a few shows as fill-in drummer for Megadeth, including their headline gig at the Japanese festival Loud Park in October 2015.)
So, what drummers have influenced you? Are you listening to drummer from different genres than metal? "Yeah, I listen to a lot of different things, but I do listen to a lot of metal. I don't know that I feel that I am the best metal drummer. I like that you think that, it's very kind, but you know I get a lot of inspiration from metal guys. Like I love Mario from Gojira, I love James from Vader, Tony was a big influence of mine for many years, especially around the Nile years. He was doing a lot of crazy stuff. Sean Reinert. I definitely listen to other styles of music as well. It's very diverse. If you look at my phone, there's everything from jazz to electronic to industrial to pop music to rock music, old-school punk. All kinds, even classical music. Sometimes when you come out of a tour or show or something, you just want something completely opposite. Kiko has been showing me a lot of Brazilian cool stuff. He's a great acoustic player too. Sometimes he'll sit after the show and just play beautiful things and I just sit there listening to him for an hour because it is so nice and a totally different vibe. The same with drummers. I like to keep things interesting. If you always listen to the same thing, especially as I get older, after a while… I need something else now. So I switch from Napalm Death to Squarepusher to Miles Davis within a few hours."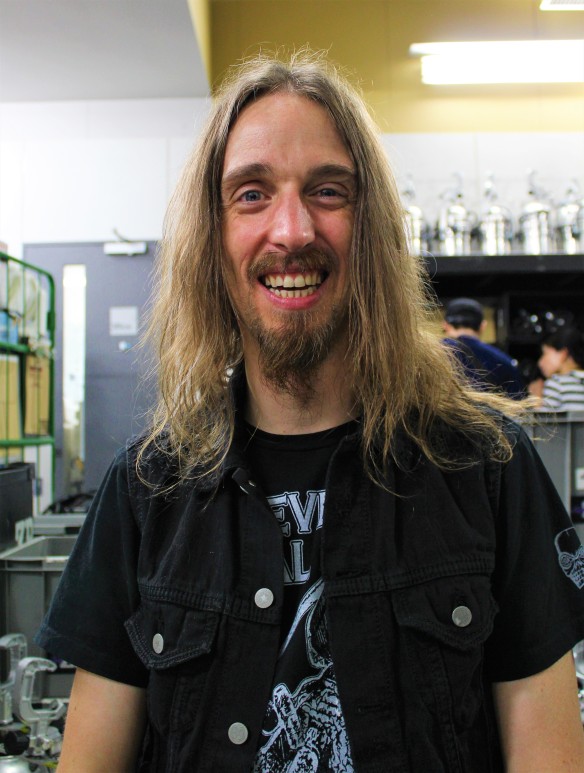 You have always had multiple projects and bands on the go throughout your career. Now that you're in Megadeth, do you have time for side projects and teaching drums and such? "The focus is Megadeth obviously, but I have been teaching quite a bit when I am not on tour. I have a few students locally and a few Skype students and I really like that part because I love when younger drummers ask questions and wanna learn stuff. I kind of make myself useful in a different way than entertaining people, passing on some stuff I've learned. I've been doing this pretty much since I was 18-19 years old, so it's been a while. And, yeah, some side projects. Pretty under the radar stuff, like Bent Sea. It's purely for fun. No ambition whatsoever, just making noise. I'm just kind of doing my own thing whenever I feel like it. There's no schedule or business plan, it's just the old-school way."
One of the talented and hardworking musicians that Dirk frequently plays with is Shane Embury of Napalm Death and Brujeria fame, who is also in Bent Sea with Dirk. He is in so many bands and projects that he recently ended up performing three sets in a row with three different bands every night. "That's Shane for you. Great guy. Super humble. Loves music, loves making music with people. We have several things in the works together. But my focus is on Megadeth. It's obviously where I put everything in right now."
Following a very successful Asian tour, more touring is coming up for Megadeth. "We first go to the US with Meshuggah. Really good friends of mine. Great band. Tomas Haake is another big drum influence of mine. We're going out with them for a month in the US and from that we pretty much go straight into the European dates. Then back to the US for the Scorpions tour. It's a pretty packed year this year."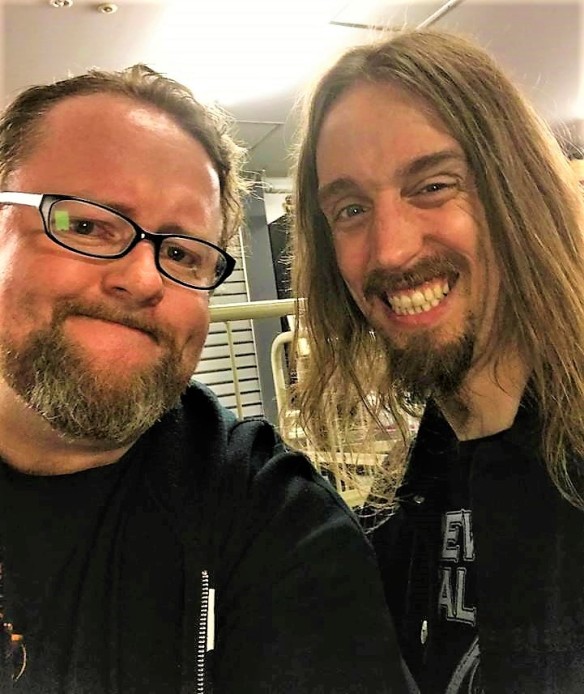 The much talked about Scorpions/Megadeth tour will bring Dirk together with another fab drummer, Sweden's Mikkey Dee, the former Motörhead, Don Dokken and King Diamond drummer who joined Scorpions last year. "I love watching that guy play. It's energising to see. He's still on fire, man. He plays maybe better than he did before."
Megadeth opening for Scorpions was a tour package that was rather unexpected. "Scorpions at the time was one of the biggest hard rock bands before thrash really existed. It's not often Megadeth will open for somebody. It's kind of like an interesting bill. I think it's going to be really cool. Big venues. It should be a really interesting tour."
It is time for Dirk to warm up for the first of two sold-out Tokyo shows with Megadeth. As he walks on stage a couple of hours later, he is a beast behind the drum kit proving that he was the right pick for the job.
www.facebook.com/dirkverbeurendrummer