Interview: Elize Ryd of Amaranthe
Amaranthe vocalist Elize Ryd caught up with Roppongi Rocks' Stefan Nilsson over an early morning coffee and talked about the "Helix" world tour, the current state of the band, how happy she's with the band's new manager Angela Gossow, possible side projects and what Japan means to the band.
The morning after Amaranthe's gig at the Download Japan festival, I meet frontwoman Elize Ryd for an early morning coffee. It's 7:30am but the hotel lobby is full of metal fans who want to get glimpses of Amaranthe and Anthrax members who are staying at the hotel. Elize smiles and greets all her fans and then sits down for a cappuccino and a chat before she will head to the airport with the rest of the band. Following the most recent leg of the "Helix" world tour – a Russian headline tour and a festival gig in Japan – the Swedish band gets a well-deserved two-and-a-half-month break from touring.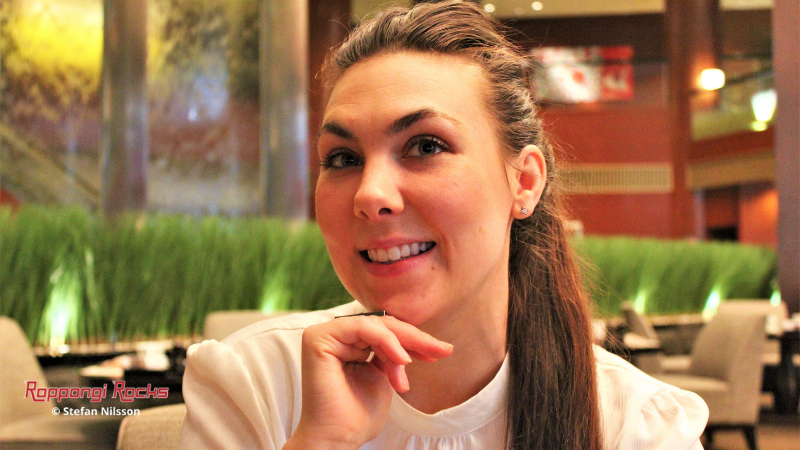 The world tour kicked off last autumn in conjunction with the release of the band's fifth studio album, "Helix". It's the first album featuring Nils Molin from Dynazty as one of the band's three vocalists. The band also features Olof Mörck on guitar and keyboards, bassist Johan Andreassen, drummer Morten Løwe Sørensen and singer Henrik Englund Wilhelmsson. "We started the tour as support for Powerwolf. It's been going great. This new album really feels like us. It's nice for Nils to tour an album he's singing on. Not that it should really matter, but, still, it is a feeling of completeness for the band. Earlier, there was a kind of interim period that was tough for all of us. Now we have emerged from that. We're having a lot of fun. We're all feeling much better, all of us."
Nils initially came in as one of several stand-in vocalists, before becoming a permanent member of the band. They have also had a few other stand-in musicians over the years in order to keep the band rolling. "Yes, that was a bit cumbersome. It feels like we have stabilised ourselves now. It feels like we have proven to ourselves and others that we are synced live. But the foundation of the band, it has always been Olof and me writing music together. If someone can't make it, then it's not the end of the world if we have to change that member. I know how sensitive it can be, especially when it comes to a voice. If people realise that we write music and use different instruments – and that a voice is one of those instruments – then it doesn't have to be the end of the world. We have become more mature and open after this process that we have gone through that was very tough. It felt as if many fans may give up on us and that we would never again get to come back to Japan! We were really worried. We felt really bad. Everything became a bit strange and wasn't handled properly. Psychologically it wasn't a great situation. Now the ball's back in our hands properly, without having to deal with all of that other stuff."
Amaranthe, famous for having three lead vocalists, has seen two of its three original vocalists depart the band. "It was just the other two singers that didn't think it was enjoyable any longer. We are still four founding members. That shouldn't be forgotten," explains Elize. "I've listened to Nightwish, for example, and they have changed vocalists. When a band has decided on something new it feels as if people accept their decision. It's nice to be able to still hear the songs and the band avoiding being forced to disband. That would be tragic."
Another major change for Amaranthe is new management. They now work with the mighty Angela Gossow as manager. Angela, the former lead singer of Arch Enemy, manages Arch Enemy and some of the band members' solo work and side projects. So far, Amaranthe is the only "outside" client she has taken on. "It works great with Angela. She has really been the person who has got the band together properly. I really have to give her cred for that. Without her, I don't… Then everything would have been much harder. She came in as an immense power and asked who's who, what do you do, what do you want to do, what should we do? She's really professional and I have the highest respect for her. It's fun working with her."
Can we expect a joint tour with Amaranthe and Arch Enemy in the future? "Yes, we hope so! It now feels like we are getting to know each other more and more. Having been independent for many years, we never understood how all other bands could know each other so well and have fun together, while we didn't know anyone! Now we get it. If you're under the same management you automatically become a family in a different way than just being on the same label." Elize is clearly very happy with Angela Gossow as Amaranthe's manager ("She's fantastic!"). Elize knew Arch Enemy's current vocalist Alissa White-Gluz from their time together as back-up singers in Kamelot. "I have always been speaking with Alissa and she has always been so pleased with her management. I remember I asked her who her manager is and she said: 'It's Angela.' Oh, yeah. One thing that's really cool is that she knows everything about the music business. I notice that myself now that I have been in this industry for ten years. I understand how everything is connected. But I don't have any education like Angela has. She got a marketing education even before she joined the band. She has a lot of knowledge and the ability to speak with people. She's not exactly shy. These really are skills a manager should have. She is on the band's side because she's been an artist herself. Many managers have never been artists and that's why they easily make the wrong decisions. Their artists get overworked. They sit in their offices and have never really properly experienced tour life themselves. I think it is really, really important for all artists to work with someone that understands what it means when you book a flight at five in the morning, via Russia, and you have a gig at eleven at night. If you keep doing that for a couple of weeks, you'll become ill. I was totally overworked and I almost thought I would die. I thought that my body would give up. It's because it's been planned by someone who doesn't really understand the lifestyle. That's how it is – your manager is basically planning your life."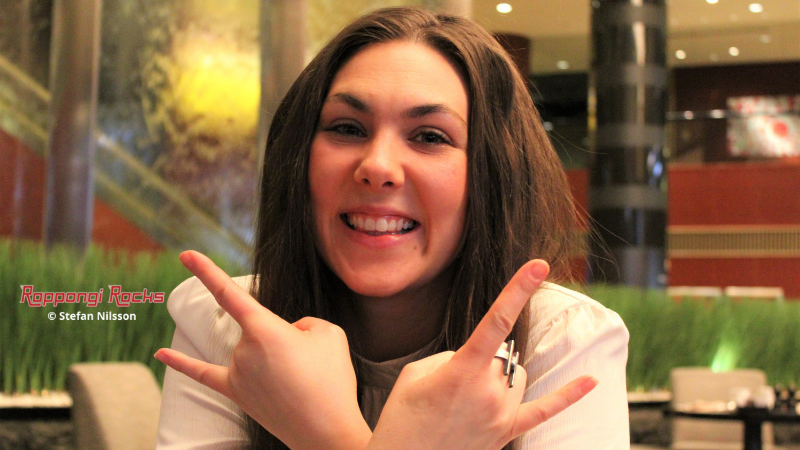 "I asked around if there were any managers. I know it is hard to find good managers. There are many managers or people who call themselves that. Managers, the ones who can manage for real, they're normally busy and not available. Also, I wanted to get another woman into the group. Not that it should really matter, but… I have always felt really lonely as a girl. It's fantastic to have someone that has toured, knows what it entails, who even don't see certain things as strange. Perhaps things one needs in life but that I have never found any understanding for in the past. Now that I have perhaps ten years left – or more, I would hope – then you want it to feel good. Otherwise, what's the point? It has to be fun!"
Elize has been very busy with Amaranthe for a decade now. Does she still have time for side projects, such as the guest spot she had with Gus G on his 2017 Japan tour? "That's the thing. I want to do things but never really had the time. But now that we have a manager you can talk to, then I can say, let's put aside some time to do other stuff because it would be fun. That's what Alissa does. But now we have so many cool things with the band. It's easy to get stuck with band stuff because that's where it's at. Side projects are for the sake of my own creativity. It would be fun to work with others. There are so many great people that it would be fun to share something creative with. Something that would be my own album but with other musicians. After ten years it feels as if it would be something fun to do. The thought is at the back of my head, but I haven't gotten that far yet. Writing songs, that's what is fun. What takes time is recording things properly."
All Amaranthe's five studio albums have been recorded at Jacob Hansen's studio in Denmark. "Yes, we have recorded all of them there. Should I do something on my own, I assume that I would do what many other artists are nowadays doing: sending around tracks that the musicians then add their respective bits to. Gus G, for example, has promised to play on my solo project. He has to, damn it!"
Japan has been supporting the band since the start, with Amaranthe performing in Tokyo for the first time in 2011, shortly after the debut album was released. "Yes, I know. I was very moved yesterday because it really felt like we got a great reception. It was really fun. I also think that perhaps there were a few new fans that have discovered the band recently, people we haven't had a chance yet to meet since we released the previous album."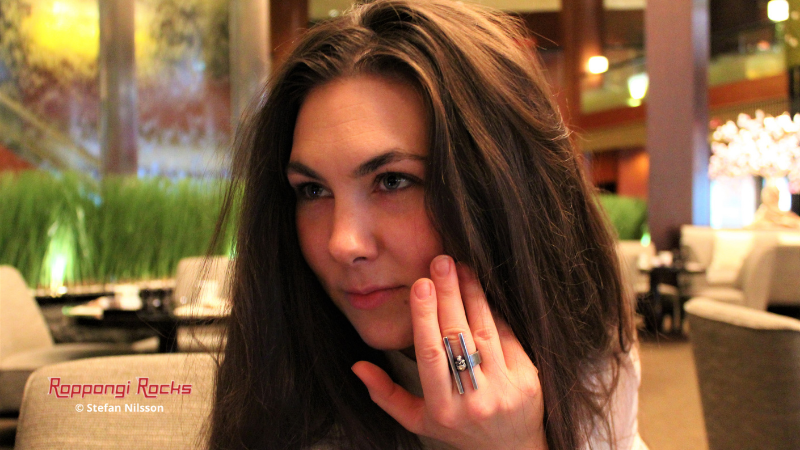 It's been about two and a half years since Amaranthe last toured Japan, as the opening act on Helloween's Japan tour in 2016, before they now came back for a set at the Download Japan festival. "Yes, a lot of things can have happened since then. We thought it was great and the fans' support has been absolutely wonderful. We felt that we need to come back ASAP because we love Japan! It's great that we still get the chance to come and play here. I think we got a bit of an upswing now that we played this festival. I remember we played Loud Park, for example, and then we got to do a headline tour after that. Then we also did another not so great set at Loud Park, unfortunately, when there were a lot of problems with the crew and technical issues. Now it's Angela that is in charge of the crew and thus there are no mishaps. Haha! Now everything is done properly, that's really how it is. It's fantastic! We don't need to stress over things now. Now we can perhaps return and just be artists and focus on that and not focus on all the other things like we had to in the past. If we get the opportunity to be here, then we will grab it! We are so grateful, really. Download was really fun. It was magical! It went well and the support was great. I was positively surprised, really. Especially at eleven in the morning. People were awake and dancing. We played a 40-minute set. If we come back here soon, if we get to do that, we will then perform more songs from the latest album. We played a bit of a best-of set and some new things. We managed to play 'Helix', at least, and 'GG6'. What else did we play? We obviously want to play longer sets. In 40 minutes, you can't fit in much."
As Elize departs Japan for this time, she has a chance to catch up on some sleep at home in Gothenburg, Sweden before the summer festival season kicks off. She might need it as well as a visit to a dentist. "I cracked my tooth in Russia. With the microphone! When I sang yesterday, I could feel the pulse in the tooth. Some nerve has been damaged. I went to a Russian dentist to do a filling. But that is just temporary so that the roots can start to heal. I can't eat properly." Well, Elize Ryd is not an artist that can be stopped by a cracked tooth. Soon she will be back on stage as the "Helix" world tour continues with European summer festival appearances.
www.facebook.com/amarantheband