Interview: W.A.S.P. lead guitarist Doug Blair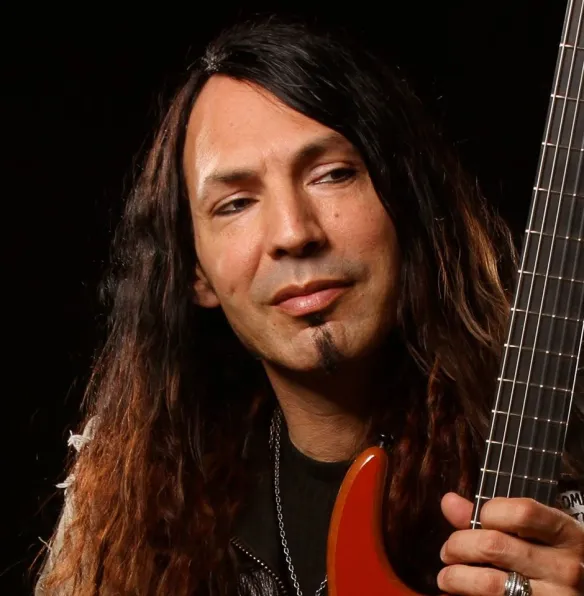 W.A.S.P.'s long-time lead guitarist Doug Blair talks to Roppongi Rocks' Stefan Nilsson about his creative work with the legendary heavy metal band but also about his many other musical projects and passion for teaching the next generation of guitarists.
With their combination of catchy and melodic heavy metal with a theatrical stage show, Los Angeles-based W.A.S.P. immediately got the world's attention when they released their debut album in 1984. The band, led by Blackie Lawless, has seen members come and go over the years but they still manage to put out some great records and rock many a stage around the world. Lead guitarist Doug Blair is not an original member of the band but he is a long-serving member who first joined W.A.S.P. in 1992.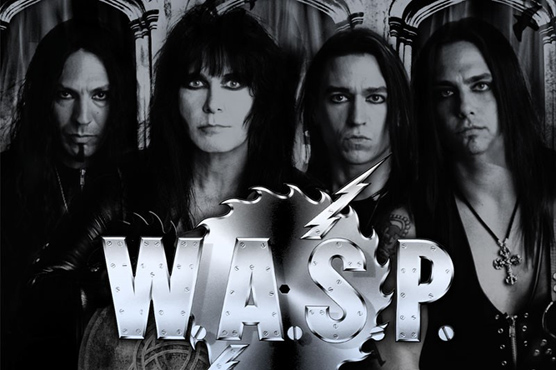 You've now been the lead guitarist in W.A.S.P. for a decade, but you have also had a couple of earlier stints with W.A.S.P. Can you tell us about how you first joined W.A.S.P. in 1992 and why you have kept coming back to the band?
"Well long story short, I met a drummer at my local rock club, David's in Manchester, Connecticut, when I was 16 and he was 18. Underage kids like me were only allowed in this club on holidays when alcohol was not served. Stet Howland, and his band Rockestra, played two Good Fridays in a row, and me and my buds just had to see the bands that came through town whenever we could! We'd sneak into the clubs with fake IDs and get caught. Our rock trio Foxx was already gigging, with a girl drummer even, and we invited Stet to come jam with us in my cellar practice room. During the first song we played there, 'Tie Your Mother Down' by Queen, he broke the drum set! But that began a long relationship with Stet, during which in 1982, he first recruited me into a regionally touring and popular cover/original/theatrical power trio called Run 21, which recorded several indie EPs and played 1,200 shows in 10 years. This was my musical university, where I 'learned the ropes', as they say. We had quite a live show and reputation, but never really showcased or tried to get 'signed' in the traditional sense. Yet, I developed my style, my confidence and my instruments during this time. And I'm so grateful for those guys taking me in."
"As a side note, I had come in second place in a New York City audition with Germany's Doro Pesch in 1990, a session arranged by Steve Stevens (Billy Idol) with his Atomic Playboys drummer. This served as my first career heartbreak and resolve-building experience, so I always thank Steve and Doro! I recall clearly standing next to her singing, and not believing my ears what I was hearing! It was God-like! It was insane, the way she sang, and still sings!"
"Back to the story, a decade later in 1992, after Stet had moved to the west coast initially to tour with guitar god Chris Impellitteri, also a Connecticut player, he'd ended up recording on the 'Crimson Idol' sessions with Blackie. He arranged an audition for me in LA for the impending tour, when a few local hotshot guitarists couldn't quite hack it for one reason or another, and this time I got it. Apparently, I'd replaced Love/Hate shredder Darren Housholder! My belief is that my Mutant Twin double neck somewhat secured the gig, because with it I was able to play the many acoustic sections on the new record very authentically. Apparently, that was an important criteria for the incoming guitarist. I was so psyched!"
"This first stint lasted about two years, including a 64-show US, Europe, Canada and Japan tour, a video shoot for 'First Blood, Last Cuts' and a lot of waiting. I moved on with my life and Run 21, and eventually the band reformed with Chris Holmes again, but I didn't follow very closely. I kept busy developing the Mutant Twin and the next inventions. In 2001, Chris wasn't able to go abroad for a couple of dates, so they called me in. After a week of rehearsals in LA, I was delighted to play with Stet and another Connecticut-native/LA transplant, Mike Duda, for the awesome Sweden Rock Festival, and the next day in Italy at Gods of Metal. These shows were insane. Then I predictably didn't hear from anyone for years. But, seeing the band's live show, with guitarist Darrell Roberts, and hearing some of the material from the interim period, honestly I wasn't interested in the direction they'd been moving. I had stayed in touch with Stet, but had relocated and kept busy developing signal2noise, the GuitarCross, and having a somewhat normal life in the Boston area – teaching guitar and mixing live sound for a living – and travelling to Europe for a German girlfriend."
"Then in May 2006, an old friend informed me that both Darrell and Stet had left the band! I thought about it and figured, 'why not? I contacted Mike and wrote to Blackie, offering them temporary assistance should they need it. I'd been down this road before, so when Blackie replied with 'thanks, but we've already got someone', I started preparing – because I knew what that really meant! Sure enough, the call came two days before the first show of a short spring US run and some European festivals: the guy they had didn't work out – the talented Mark Zavon, now with Kill Devil Hill – and could I join them at the last minute…again? So, onto the plane to LA, no rehearsals into the first show. No worries!"
"At the end of that segment of shows, and ironically in my favourite city of Tampere, Finland, I was asked if I'd like to stay on. The answer was yes, and that has since defined my life. A second marriage and other relationships were sacrificed and an intercontinental relocation was a result. But three great records and countless tours for the band's fans have been realised since then. This time the material and direction both seem to be meant for me. I wouldn't have it any other way – except to wish for more. I'm really proud of all that we've achieved together."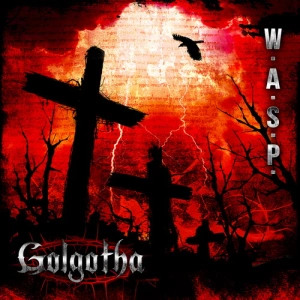 Did you ever find it difficult to fit in as a new guy in a legendary band like W.A.S.P.?
"Well, only a bit in '92. A great story – even though I was quite naive and oblivious to the fact that some fans resented my replacing Chris Holmes – took place the first time I played in Stockholm. In the first verse of 'Wild Child', presumably one of these fans threw a fork down off of the balcony and it stuck straight in my left arm — the outer bicep. I looked over, and watched it fall to the floor – still playing the song – and saw three drops of blood seep out and drip down my arm. At the same time I saw our stage manager JP, already scaling the balcony, and tackling the guy who threw it. They kicked him out and I got a big long needle from the 'Doctor Rockter' the next night in Copenhagen. Other than that, I never moved to Los Angeles. I stayed on the east coast and now even live in Europe. As the band originated and is still based in LA, sometimes there's a bit of disconnection between my, and the band's, professional profile which is slowly growing in Europe, and the legacy of the band, which a big part of still lies in its history in the USA. How to maintain that legacy in the aging rock scene of the US remains the big question."
Do you get to have any creative input, or does Blackie Lawless decide everything?
"Yes, we all get plenty of creative input. This common belief, the 'he decides all', comes from the past and the previous personnel line-ups. He simply approaches his songwriting like any true singer/songwriter. It's intensely personal and he uses various manners of demo recording to refine his many ideas. Once the rough sketch of a song is beginning to take shape, he'll show it to us and get our opinions on it. From there we'll break it down, experiment, modify keys, tempo, segues, etc., slowly crafting it into a full song together. But his lyrical work always stays separate and personal, even sometimes into the recording booth, where he may change lyrics on the spot."
"We've worked this way since 2006 on 'Dominator'. When it comes time for me to record my leads – which is usually very last with the vocals – Blackie will record/engineer me on the trusty 2" 24-track Studer machine, and also 'produce'. I am given only two main tracks to use. We cut as live as possible — sweaty and standing up – getting a good take on one track and then trying to 'out-do' it on the second track. Once we're happy with one of them, we'll move on. The idea is to stay fresh, not to get too bogged down or 'close' to any one performance – to stay objective and be able to come back to it and say, 'this rocks', or 'let's try it again'. Later, we'll clean it up a bit if needed – with accurate punches, not multiple digital tracks."
"We've discovered that we achieve much better results letting the song surprise us – so we attack it rather unprepared. If I come in with a bunch of stuff pre-demoed on my own, we start with them but usually find they don't quite cut it in the loud, full-energy environment of the spinning-reel studio. Instead, we try to elevate the session to a level of cutting tracks we'll be proud of forever. It's nerve-wracking, because you really feel that red record light – which should make anyone play better! We call it 'lighting a fire under your ass'! And this process has produced some killer leads: I'm really proud of 'Mercy', 'Heaven's Hung', 'Promised Land', 'Miss You' and 'Golgotha', among others."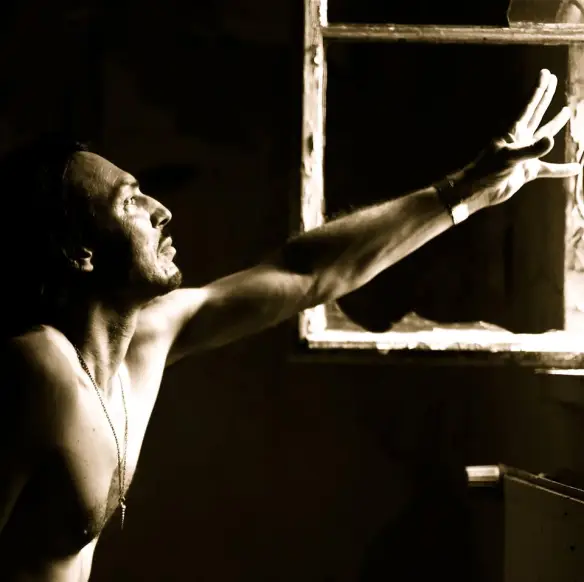 What can you tell us about your other band, signal2noise?
"I'm Aquarian. Nothing drives me more crazy than musicians copying what's already been done, usually better, over and over, instead of forging ahead and breaking new ground, like the real trend-setters do and always will. I'll never stop dreaming of ways to be different and start something truly new. People say nothing new can ever happen and that's just pure shit. It only takes thinking out of the box: look at Apocalyptica, Charlie Hunter or Prince, rest his soul."
"signal2noise: it's a two-piece power duo with several participating drummers in three countries. It's a predominantly live project, utilising a 'lead' drummer, a la Buddy Rich, in a progressive/classic rock context. Influenced by Rush, Tool, Porcupine Tree, etc., I'm not playing lead guitar, or even a normal guitar for that matter! I'm playing an eight-string bass/guitar hybrid instrument called the GuitarCross, upon which I can play three bass strings and five guitar strings through my full guitar and bass rigs. We also sing, use synths but no backing tracks or sequencing. It's all live. And we perform in 'reverse' – drums are set up in front and I'm up on a riser directly behind them. We employ visuals on LED screens to augment and support the mood and messages of the heavily-instrumental music."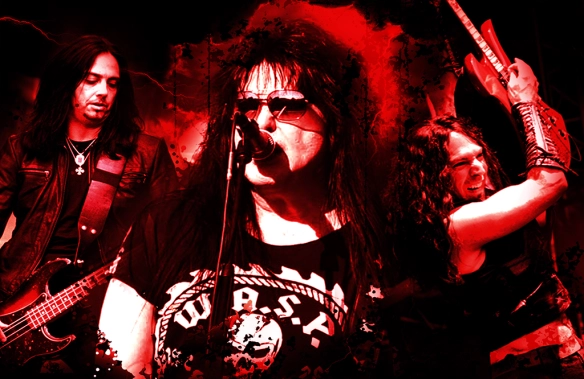 You have built some of your own guitars, including the rather innovative GuitarCross (GX). Is this something you plan on expanding or does it have to take a backseat to your W.A.S.P. duties?
"The development of the different instruments has been ongoing regardless of what else has been going on musically. It's some sort of nervous affliction. The Mutant Twin was a result of just trying to get my acoustic guitars off of weak, wobbly stands, and it ended up getting me my dream gig! I've always strived to advance the science of guitar design, even in tiny little ways. At one point I attempted to market the Mutant, but I realised that I'm a player, not a businessman, or a full-time builder. I'm content with designing, developing and playing the things and I need to find other ambitious, creative players to take these things to the next level. I'm kinda validated and proud that Slash came to the same conclusion in the early '90s and had Guild build him his own acoustic/electric double necks – the Crossroads Double E models – and to see him finally using them to their full potential – like the extended acoustic to electric solo at the end of 'Anastasia' live – is both amazing and gratifying! I wish more players would tackle this concept of mastering acoustic and electric more interchangeably."
"Further down the same line of thought, the GX was designed to allow my bassist to simply add a few additional guitar lines to what I was playing, a la Filter. But that has grown into an instrument all on its own, much like my absolute hero Charlie Hunter's seven-string guitar. Again, it's a matter of finding the players who can envision a new way of approaching the stringed guitar or bass – and there has been tons of progress in the extended-range field of course! I'll keep refining my version of the concept as better electronics and hardware become available and new design tweaks come to light. But it's sure a blast to play, for both guitarists and bassists!"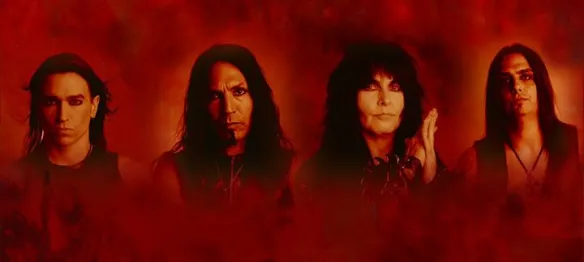 How did you end up leaving your native US to go and live in Finland where you are now based?
"W.A.S.P. has played Europe predominantly for a decade, mostly due to the dwindling rock touring market in the US and the aging of our audience there. In stark contrast: the burgeoning festival market, the bursting touring circuit, with so much traffic that we have to wait for the right time to tour, extensive city and government-supported music/band programs, and a lively guitar building scene with schools and many small companies. Not to mention the popularity of rock and metal to young people, who of course maintain the market and all the bands working within it. I am even involved with Metal Academia, which is the university-level study of metal music! Here there are Professors of Metal Music Study. Through contacts here in Finland and Stockholm, I've been able to visit and become involved in many of these cool scenes and programs. This has slowly evolved into basically being based here, but I still travel very consistently to other countries and back to US for family and W.A.S.P. work in LA. And of course, we're touring a bit, so the concept of 'home' for a guy like me has always been a rather vague and mutating factor. Home is merely kinda 'where you hang your hat'."
What can you tell us about your gig as a visiting instructor for Rock Academy Finland?
"This is an amazing country-funded and franchised band coaching/development/social services program. I'm one of several native Finnish and foreign instructors and players that visit the program's sites. We've had Dan Reed and Mikko von Hertzen as well. At this point I have two main goals in life: to further or contribute to the evolution of the guitar in its design and playing style, and to give back as much as I can from my fortunate life and experience in this field. I've been private teaching in the US since '86. I love it – always have, enjoying the energy of teaching a young player and watching them grow. One student turned me on to H.I.M., and that indirectly led to my particular interest in Finland. Festivals and shows in Turku serendipitously led me to the director of Rock Academy Finland and this ambitious program, right when I was habitually looking to move on to something and somewhere new. I'm doing a variety of things for them in efforts to assist the young bands in any way possible to prepare them for a life in music, if they choose it. From private lessons, performances, workshops, band contest judging, pre-producing, lecturing and just being around while the bands and the organisation grow – now to eight cities in the country! So, it's a valuable and gratifying activity to be involved in. I wish there had been something like it in the US. Sweden also has a wide and well-connected network of music and band programs that I work with as well."
Finland, as far as I am concerned, is one of the world's leading heavy metal nations. Is this something you as a musician living there notice?
"To a degree: Michael Monroe walks by, or he's in my favourite cafe. The guys from Apocalyptica are around town and many shows pass through our small city of Turku. I like to say that Finland is like Boston: You'll see people on the streets and the community is relatively small and tight. There is a strong network of medium-sized cities which makes nation-wide touring easy and profitable, so there are always a plethora of shows to catch. Yet, this is a carefully engineered and promoted image that has been quite successfully sold to foreign 'markets'. Personally, I don't agree with packaging and nationalising art or music. But it's a reality for many small countries, Finland being the one known for heavy metal. But there are strong traditions steeped in all kinds of music here – classical music is deep in the heritage, Sibelius for example. Jazz and folk music are both still very popular, sung in their native tongues."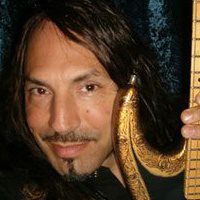 "An unavoidable downside however is its isolation: the 'big fish in a small pond' syndrome. A few 'gatekeepers' as we call them – major labels, radio stations, Live Nation, festival and management teams – have a grip on everything. So, it had been a long time since I had heard the phrase, 'if you're not in that clique, you can't get anywhere'. This type of lockout was thankfully ushered, or chased out, with the freedom of the internet or so it had promised. Yet to a degree it survives here, and is unfortunately suffocating potential talent if it doesn't happen to fit into the easily-marketed mould. Independent or college radio is seemingly non-existent, leaving commercial radio as the only broadcast outlet, creating a quite narrow exposure. So, I personally encourage musicians and groups to think and operate independently and become as fully self-sufficient as possible – as I and almost all of my colleagues, especially my boss, have had to, to find our way in this business."
What memories do you have of Japan?
"I had a great week there on the 'Crimson Idol' tour in 1992, walking through Roppongi to Johnny Rockets restaurant, enjoying the politeness of the crowds and doing my unaccompanied solo on my original Mutant Twin – the one and only time I ever did it! It seems like yesterday. And of course, the trip on the bullet train to Osaka was amazing, with our fans waiting with gifts when we arrived. I was also fortunate to have a few Young Guitar articles derived from both US and Japan interviews: one reporter even visited my home in Connecticut and we spent a great afternoon talking about and reviewing my guitars – most of which are still in use in the studio or here with me."
Is there any hope of seeing W.A.S.P. tour Japan again?
"I'd love to think so. I'd hope that there's an interest for W.A.S.P. there. I know that US guitar heroes can go and play to receptive crowds: I'd really love to come to Japan and do showcases and workshops for guitarists. That's what I'd love to do, but of course to tour there again also! But, we're not looking for nostalgic appearances. I'm not sure if fans in Japan are into the last three records – and especially 'Golgotha'. I'd hope so."
What's next for you?
"It's quite busy: I'll do two Swedish clinics, two Finnish clinics, visit US for a month, have a Tuska Festival/Modern Heavy Metal Convention lecture and a Helsinki Summer School lecture, metal academia. Then, two Swedish festivals in August with W.A.S.P. and an EP release from 'Witch House Rocks', including collaborations with Bruce Kulick (KISS), Mikkey Dee (Motorhead), Tina Guo on cello, among many others, as a continuation of the HP Lovecraft rock opera project 'Dreams In The Witch House' that I was very fortunate to become involved in. I'll also collaborate with American pianist/singer Melissa Van Fleet on a song called 'Ode To The Dark'. I'd really like to find a way to come to Japan and do workshop clinics, which focus on inspiration and motivation in the crowded modern environment. They also emphasise finding one's own distinct style: I'm demonstrating the Mutant double necks, the GuitarCross, an effective 'surround sound' presentation and the innovative 'A.S.I.A.' 12-string steel/nylon-paired string acoustic guitar. By showing these innovative sides of my playing, I hope to get players to think a bit 'out of the box' and inspire the next pioneering musicians."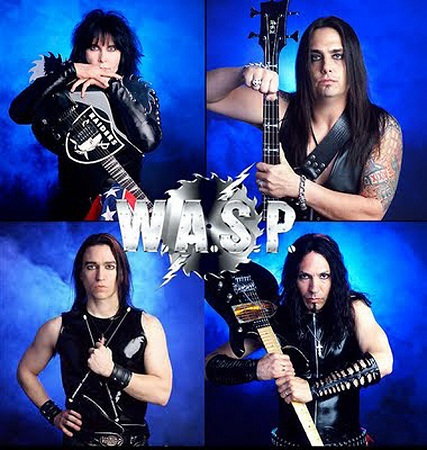 Doug Blair is clearly a busy musician, not just with W.A.S.P. but also with many other projects. His passion for teaching and inspiring the next generation of guitarists and musicians shines through his whole personality.
www.waspnation.com / www.s2nusa.com