Interview | Krisiun drummer Max Kolesne | "Speed and brutality is something natural for us"
When Brazilian extreme metal band Krisiun recently returned to Japan, Roppongi Rocks' Stefan Nilsson sat down with drummer Max Kolesne for a backstage chat before their Tokyo show.
Formed in Brazil in 1990, Krisiun released its debut album, "Black Force Domain", in 1995 and has been a hard touring band for the past couple of decades. They are currently touring in support of their latest album, 2015's fabulous "Forged in Fury". Krisiun consists of three brothers: Alex Camargo on vocals and bass, Moyses Kolesne on guitar and Max Kolesne on drums.
"It's a pleasure and honour to be back. It's our third time. We were here in 2002 and then 2014, three years ago now," says Max Kolesne as we sit down in the band's dressing room before their Tokyo gig.
You are three brothers in the band. Have you ever faced any issues in the band where being family has complicated things? "I think it is a really good thing. We're not just brothers, but we are best friends. Every time we might have some argument, some stupid fights here and there, it just takes a few minutes to be friends again. We never really fight against each other. We also say the truth to each other, right in the face. We are best friends so we never have this issue to get to the point where someone would say: 'Man, I wanna leave' or whatever. We always stay together, very united. Especially nowadays when we're older, more mature. We enjoy more to be on the road and just spending time together."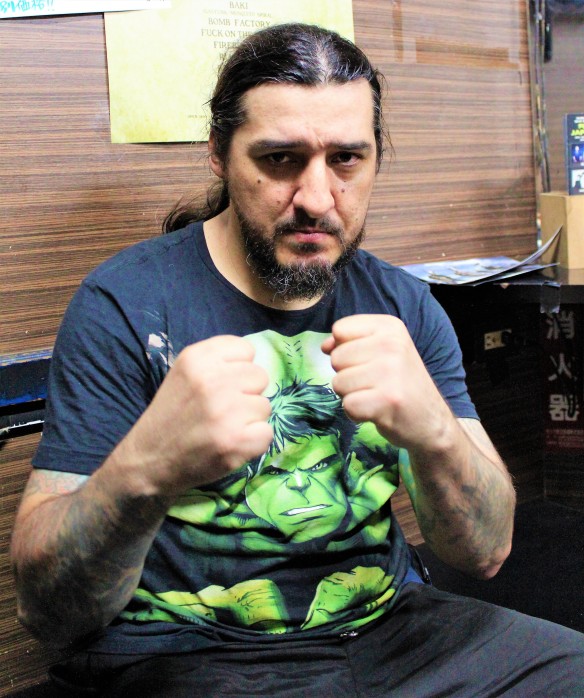 Krisiun seems to be touring all the time. 27 years after the band started, they are touring as much as ever. "Yeah. Real touring started in '97. We started the band in the beginning of the '90s, but it took some time for us to start touring a lot, like in Europe, the States and South America. 1997 was the first tour we did in Europe. From that point on we've been touring every year."
In order to cope with the tough schedule and to get time to produce studio albums as well, Krisiun takes time off from the road once in a while. "When it's time to start writing music and get focused, we take some time apart from touring. We have two more tours in Europe, after this one. Two summer tours, one in June, the other one in July. Then we're gonna have a break from touring just to get focused on new songs, start writing songs for the next album. We always do it like that. Of course, even during touring we have ideas, especially Moyses is always writing riffs and recording riffs. But when we get to this point, we have to get together and put the stuff together, start building the bones of the songs. That's when we take some time from touring."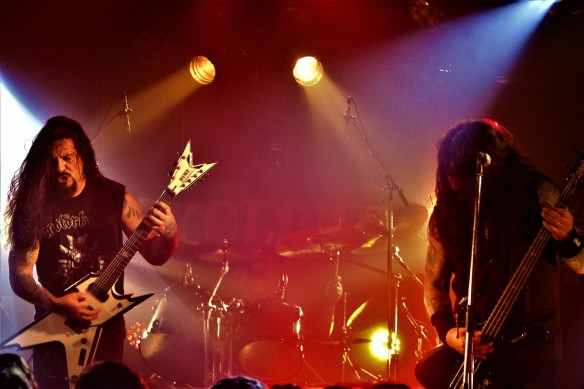 Your style of death metal is very fast. Do you feel that when you write new music you have to fit in with the past and what is expected of you? Or do you just write good music? "It's more about writing good music. Every time is different. When we were writing the latest one, 'Forged in Fury', we just followed our feelings. We wanted to do something, let's say, not so fast. More like a natural writing process. Playing songs and having a good time. Playing songs that make you feel like banging your head and enjoying the music. Speed and brutality is something natural for us. It's always gonna be there. Every album is going to be a little bit different. Like 'The Great Execution' I'd say it's more like…more epic than 'Forged in Fury'. 'Forged in Fury' is maybe more old school, more diverse, a little slower. There are more slower parts, more diversity. For the next one we are already thinking about it being faster and more brutal. It's just natural. We just follow the flow, the natural flow. We are already thinking like this: the next one is going to be more explosive, more brutal, faster."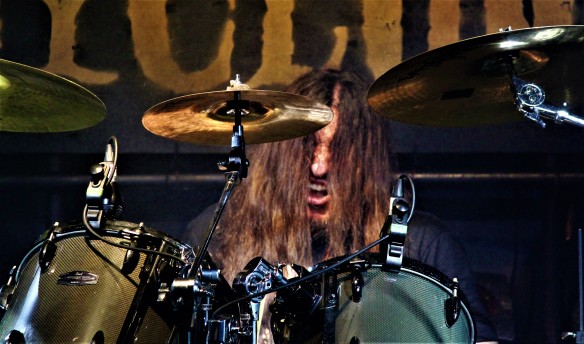 Krisiun is a riff-heavy band – but you've only had one guitarist for most of your career. Did you ever consider replacing Altemir Souza (who left the band in 1992) and Mauricio Nogueira (who left in 1994)? "No, I think we are good like this, man. Especially if you listen to 'Forged in Fury', the bass guitar is really loud in the mix, so I don't feel like we're missing one guitar. The chemistry between us three is great. We've been playing together for so long it would be weird to have somebody else in the band right now at this point. I think we should just stay like this."
I understand that you are currently working on the follow-up to your latest album, 2015's "Forged in Fury". When will the next album be released? "It's hard to say right now. But we're not gonna take too long to finish the writing process. Maybe in the beginning of the next year, maybe after March. For sure it is going to be before June or July."
Will it be produced by Morbid Angel legend Erik Rutan (Belphegor, Cannibal Corpse, Goatwhore) again? "We don't know yet. We're still thinking about it. He's the first option, I guess, but we still have to think more."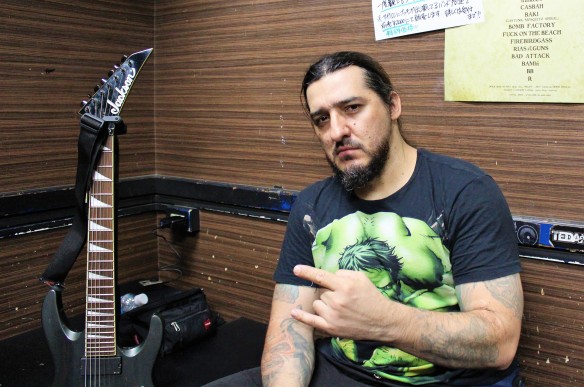 Just before coming to Japan, you were stopped by the authorities from performing at a sold-out show in Bangladesh. You were also detained at the airport and denied entry. Has this kind of extraordinary thing happened to Krisiun in other places in the world? "Not like that, man. I think that the worst experience we have ever had was in Bangladesh. I feel sorry for those guys, the metalheads that live there. They have to live under the shadow of all this extremism, religious bullshit, whatever. I feel sorry for those guys. We talked to some of the metalheads, like the promoter and the other guys. People like us. They like the same kind of music, they like to have fun, they like to have friends. They are open-minded people. But unfortunately, in their country, I think 80 percent of the people living there, they are not open minded like they are, like we are. It's kind of complicated. Hopefully, one day all this shit is going to change, but it's hard because people are going more crazy nowadays. They wanna conquer the world. It's really fucked up at this point. We've never had a problem like that. One time we had one show cancelled in the States, just right by the border of Mexico. The city was Corpus Christi in Texas. A lot of religious people and politicians, people there were like: 'This is not gonna happen!' It was us and Angelcorpse in, I don't remember, 2002 or 2003. Unfortunately we had to cancel the show because of religion and politics again."
This has been your third successful visit to Japan. Will you be back soon? "I hope so. If it was our choice, we would come here at least every two years, at least. It's kind of hard to bring us from Brazil all the way to here. It's very expensive so we always have to set up some kind of tour, try to book shows maybe in Australia or more shows in Asia, Right now, on this tour it is the first time we play in countries like Indonesia and Singapore, which was really good and really nice people and the crowds and the promoters. Everything went really smooth and nice. Probably for next time, it's gonna be like this tour. We are gonna set up some kind of tour of Asia. It's gonna be easier for promoters to bring us all the way from Brazil."
Krisiun always seems to be part of very cool tour packages. How do you decide on what bands you tour with? Is it coincidences or do plan carefully who you tour with? "Luckily, especially in Europe and North America, we have a good agent. They have good bands in their agencies too, that's how it goes. We have to have a good package to tour, especially in North America and Europe, because so many bands, so many tours are happening at the same time. If you go alone, by yourself, it's kind of hard. Not just for us, but for all bands. Even bigger bands, they need a strong package. For us, touring with NervoChaos is such a pleasure. We are friends for so long, for more than 20 years. It's a good time. We always have a good time and laughing and talk shit all the time."
www.facebook.com/krisiun.official