Interview: Edu Lane of NervoChaos talks about censorship and metal's fight for freedom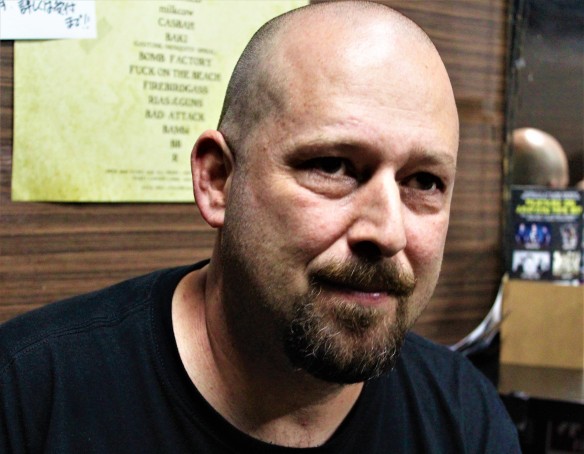 Censorship reared its ugly head in Bangladesh recently when extreme metal bands NervoChaos and Krisiun from Brazil were stopped from performing at an already sold-out show. When the bands shortly thereafter turned up in Japan, Roppongi Rocks' Stefan Nilsson sat down with NervoChaos' bandleader Edu Lane backstage before their gig in Tokyo.
Founded in Sao Paulo, Brazil in 1996, Brazilian extreme metal band NervoChaos recently recorded its latest and seventh studio album in Como, Italy at the Alpha Omega Studio. "Nyctophilia" was released in April and the band is now on a massive world tour to back up the album.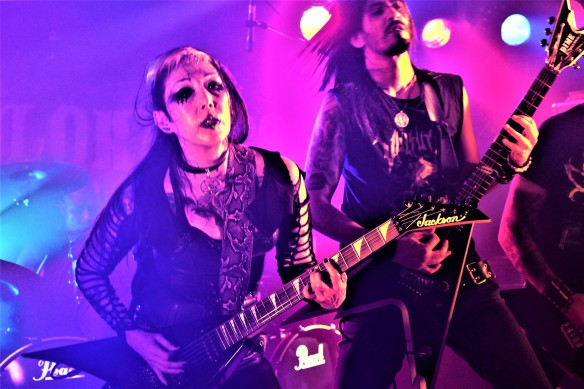 They play raw extreme metal and with the addition of Cherry Sickbeat on guitar, the band's sound has got a slightly punky hardcore edge to it which makes it stand out. "I would say extreme music" says Edu Lane when asked to describe the band's music. "It gets it all. I don't like to say death metal or thrash metal because it is kind of limited for what we do. We have some black metal-ish, and death and thrash and hardcore. We do what we like and for the people that we like. We don't think about this or that crowd. We have just a feeling, just a passion."
NervoChaos not only saw their sold-out show in Bangladesh cancelled by the authorities, they were also detained at the airport without explanation when they arrived in the country. "We were invited to play Bangladesh. As Brazilians we need visas. So we went to the Bangladesh embassy in Brazil, we got our visas, everything was working fine so far. The promoter was working on promotion. Ticket sales were very good. People were travelling from Nepal, India, from different places to the show. We arrived at the airport around one in the morning. We did the usual immigration deal, you know. I was let in. They stamped my passport and I went to the belt to get the cases." Then things went from normal to bizarre as all the members of NervoChaos and Krisiun were suddenly stopped and retained in a small room, had their passports taken away and no information provided about what was going on. "Luckily I have a friend, a very good friend of mine who went to school with me. He's the ambassador of Brazil. I called him," explains Edu. After some 11 or 12 hours they were eventually released. "Only because I called the ambassador and he called people in the Bangladesh government. The ambassador told me they were going to arrest us and send us to jail. Just because we look different. We couldn't believe it. We were shocked. We were not provoking or insulting their culture or anything. We thought: we have visas, the kids are there, the promoter is doing a proper job. It's an amazing thing in 2017 to still have such a country. I feel bad for the kids there. Now they are fighting for their rights, they're rioting. They are trying to do something which we support. It is freedom," explains Edu about his feelings about the sad situation.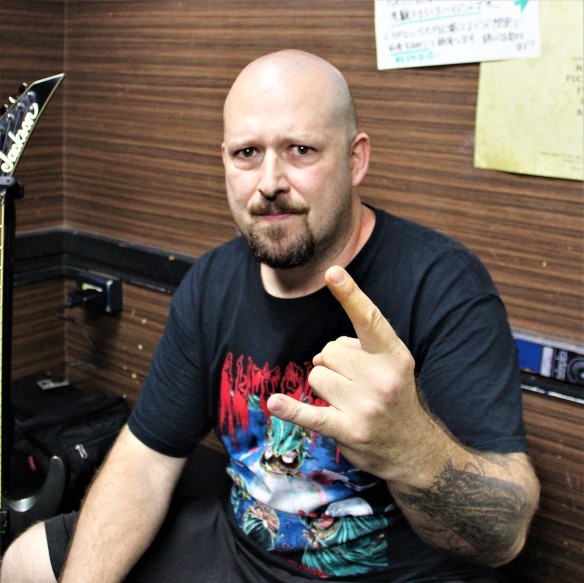 As a result of the Bangladesh situation, NervoChaos cancelled a few dates on its Asian tour as they worried about more trouble. "We decided that, after the Bangladesh experience, it is better not to risk it. We do it for the passion. We don't want to fucking die or go to jail because of that. We want to fight for freedom and metal is a big thing worldwide. Hopefully those kids in Bangladesh will get a better treatment and a little bit of freedom."
Edu continues: "We don't know what happened. What's normal for us, seems not normal for them. Long hair, tattoos, black shirts, you know? Not even pentagrams or something like that. I am not sure if they checked the lyrics or even went that deep on the search. I think they just looked at us and said: 'Nah!'"
NervoChaos has a partly new line-up, with Edu the only remaining original member. Notably Cherry Sickbeat (of Hellsakura fame) has added a dimension to the band with her guitar playing. The new line-up – consisting of Edu and Cherry plus Thiago Anduscias on bass and Lauro Nightrealm on vocals and guitar – seems to have had an impact on the band's sound. "I think so. We're trying to evolve as a band, always. I think that new members always bring their own baggage, their own touch, which is good. I try to keep our sound the same but evolving. Not being static, not even moving. I think they brought a new sauce to it. I think it is very good. They're experienced and I think it is working fine. I hope it lasts!"
With a new line-up and an evolved sound – do you concentrate on the newer songs when you play live or do you still play a lot of the old material? "In the set list we have more songs from the new album, like three or four. But we do play songs from each of the albums we have. We don't have a long set time, so it's kind of hard to squeeze everything – we have seven albums now! Tonight we have 40-45 minutes, so I think we can do it properly. Usually we try to play at least one song from each album and focusing on the newer stuff."
While NervoChaos has been a hard-touring band for two decades, the recent Tokyo gig actually was the band's first-ever gig in Japan. "Yes, it is the first time. We were supposed to play in Japan two years ago, but we had visa problems, so we couldn't make it. We did the Asia tour without Japan. But this time we managed properly with the visas and stuff."
The tour package bringing together Krisiun and NervoChaos has proven a popular one. "It is a good package. For us it is an honour to be touring with them. We did this package in Latin America together with them and that's how the Asian promoters kind of asked for the package over here. That's why we're here. We're friends for, I don't know, 25 years. It's an honour for us to be sharing a stage every night with those guys. I think it is a good combination. They have the more extreme, brutal kind of death metal and we play more the traditional, old-school metal."
Edu Lane is a busy man. In addition to leading NervoChaos as its drummer and founder for the past two decades, he is also the newly appointed Latin American representative of Alpha Omega, the international music management company which operates in partnership with EMP Label Group, a company led by Megadeth's David Ellefson. "It's very new. We were recording the new album in Italy and that's how I got the invitation to start working with them. I am doing the Latin American territory but I am not limited to it. I just booked a European tour for Ratos de Porão."
Latin America is a strong market for many metal acts but it is also a territory where it is difficult to do business for artists from other parts of the world. "It's kind of hard if you go down there with the wrong people. I don't want to see the bands that I like and that are friends getting screwed, you know?" explains Edu on what he and Alpha Omega bring to the table. The Alpha Omega-EMP tie-up has so far been a successful one. "That's why I joined them. I like the idea and the concept of Alpha Omega: a big network of experienced people working and trying to help each other."
Last year, NervoChaos celebrated its 20th anniversary with a limited edition box and followed that with the latest studio album in April this year. What's next for the band? "Lots of touring hopefully. After this we're gonna do a big Brazilian tour, around 65 dates. From there we'll go to Europe, probably around 60 to 70 dates in Europe. Then it's gonna be the end of the year already. Next year we plan to a lot as well. I think two years is a good amount of time to tour and to promote an album. We want to release a studio album every two years."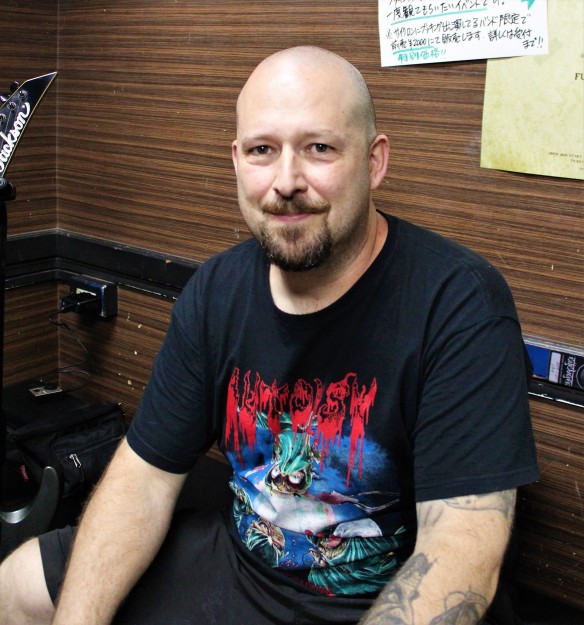 Relentless touring around the world is at the centre of NervoChaos' business model. "That's the only way to survive for us. Because if we don't do enough shows, we have to go back to regular jobs. Then it is a nightmare, doing double shifts and stuff. So we try to play as much as we can so that we can live out of the band and fully concentrate on our music and dedicate us to our passion."
Following our chat, NervoChaos puts on a great show for its Japanese fans. As I leave the gig, Edu stops me and says "Keep the flame burning!" Indeed. He's a man full of passion for metal and its fans. Certain authorities may throw some speed bumps on the road once in a while, but they can't stop NervoChaos and its fans.