Interview: Paul Shortino's unfinished business
Unfinished business: The former Quiet Riot frontman Paul Shortino is still raiding the Vegas rock vault, has a King Kobra live album coming out, a new Rough Cutt studio album in the making and a great Japanese collaboration. Roppongi Rocks' Stefan Nilsson recently sat down with Shortino in Tokyo to talk about his past and his future.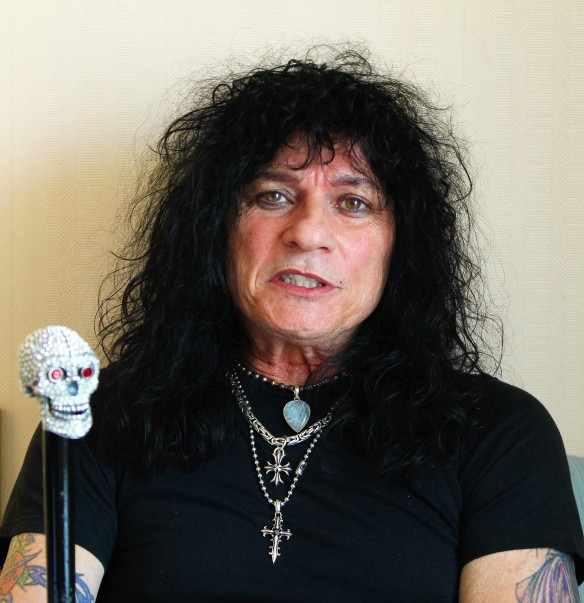 One of the nicest men in rock finishes our recent interview in Tokyo by giving me a big hug. That's Paul Shortino in a nutshell. A great singer who has both the vocal abilities and the stage moves to pull off a great show. But also a decent chap full of love and gratitude.
Shortino is in a great mood as we sit down in his hotel room in Shinagawa in central Tokyo. He has taken a brief break from his Las Vegas show Raiding the Rock Vault to come and do some gigs in Japan with his all-Japanese Paul Shortino Band.
Shortino started to make a name for himself as the frontman for Rough Cutt, one of the many LA-bands that appeared in the early and mid-80s. Rough Cutt's manager was Wendy Dio and her husband, Ronnie James Dio, also got involved in helping the band with some songwriting, production, promotion and guidance. Most crucially, he decided to include Shortino as one of the lead singers on the track "Stars" for the Hear 'N Aid charity project in 1985. This put Shortino next to not only Dio, but also rock stars such as Rob Halford of Judas Priest, Don Dokken and Kevin DuBrow of Quiet Riot. Shortino also landed a small role as Duke Fame in the cult movie "This is Spinal Tap!" Shortino eventually joined Quiet Riot (singing on the great "QR" album in 1988) and later Carmine Appice's King Kobra, in addition to many solo things and other projects. In recent years his main project has been the very successful Las Vegas show Raiding the Rock Vault.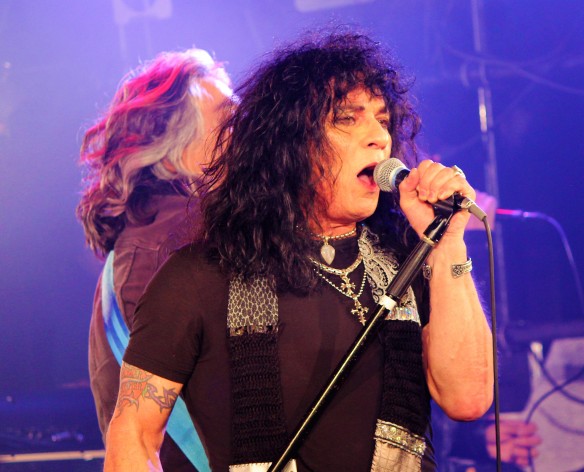 Touring in Japan
Shortino has successfully been touring Japan in the 80s, twice with Rough Cutt and twice with Quiet Riot. He returned to Japan to perform with the Paul Shortino Band in 2016 and 2017. "It's a pleasure to be here! I love it! I love this country. I love the fans, they're nothing like anywhere in the world. They're really loyal and just beautiful people," says Shortino who has great memories of his Japan visits in the 80s. "When I was here, we also did a two-week tour for Charvel Guitars with Grover Jackson. We got to actually see more of the country, outside of the cities. We went to Mount Fuji and went to the hot springs. It was nice to see Japan outside of the cities. Because when you come here to tour, you perform in the cities and – boom! – you're gone. This time we were actually able to see some of the beautiful cities and the countryside. It's so beautiful here."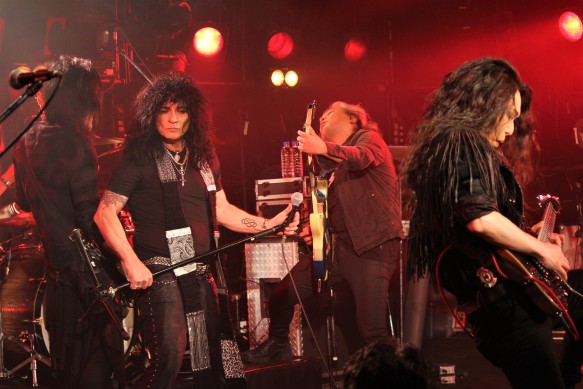 Leaving Rough Cutt to join Quiet Riot
Paul Shortino-fronted Rough Cutt, a great American band from Los Angeles, got a record deal with Warner and did well – including two successful Japan visits – but not quite as well as some of the other bands on the LA scene at the time. One issue was that they were waiting for their chosen producer to be available to record their debut album. "We waited so long that that window for that type of success that was going on in the 80s from Ratt, Dokken, Mötley… All those bands that at that time, they already had records out. Lovely Tipper Gore decided to put labelling on records. Our album didn't sound anything like… Maybe the cover with the spider and the heart and the knife. For people like W.A.S.P. and bands like that, the more gory the album cover was, it didn't matter if there was a sticker on it. They already had a following of fans and everything else." When the debut album finally came out, "We were touring with Ronnie on the 'Sacred Heart' tour in the States," explains Shortino who thinks the warning labels that were put on the band's album covers put off some people. "It had a stamp on there that is was evil. It was far from that. So, timing is everything."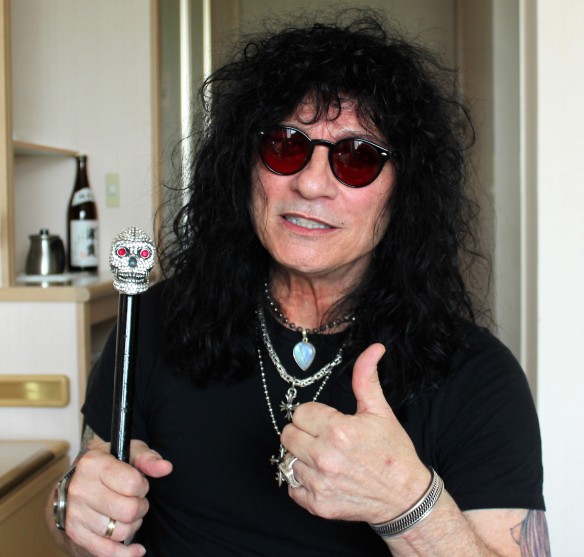 When the band's major break never happened, the record label dropped the band and Rough Cutt's members went on to play with Dio, Ozzy Osbourne and Quiet Riot. "The last time Rough Cutt were here in 1986, we were touring and Quiet Riot were touring right behind us. They were touring Japan at the same time." When Rough Cutt came home to the States following the Japan tour, Warner decided to drop the band and that is what opened up the possibility for Shortino to replace Kevin DuBrow in Quiet Riot.
"We went into the studio and started recording new songs to shop for a new label," explains Shortino how Rough Cutt tried to deal with the situation. "I got to meet all the guys in Quiet Riot when we did the 'Stars' thing. We became very close during that and getting to know each other. For me it was like a dream come true to be in a room with Ted Nugent, Carmine Appice… Even now I've done a few projects with Carmine, but at the time, I idolised all of these guys. We got to know each other and then I was approached when we got back to the States because they had discrepancies with Kevin here in Japan. So when I got home, someone gave me a call and asked me if I would be interested in checking out Quiet Riot. Kevin's voice was so much different than mine. He had big shoes to fill and he was a taller guy as well! Haha!! I checked it out." Although he was in the studio with Rough Cutt at the time, he joined Quiet Riot and spent a year working on material with them for the "QR" album.
Spencer Proffer produced the 1988 "QR" album and he brought out the best in Shortino. "When I got to meet Spencer, I really enjoyed what he brought out of me. He was the first producer that really focused on vocals." Shortino had previously recorded with producers Tom Allom and Jack Douglas during his time in Rough Cutt. "Tom Allom and Jack were really more focused on the production of the Rough Cutt stuff."
The manager Wendy Dio was the one who suggested that Shortino should replace Kevin DuBrow in Quiet Riot. In 1987, Shortino joined Quiet Riot which then consisted of Frankie Banali, Carlos Cavazo and Chuck Wright. Wright left shortly thereafter and was replaced by Sean McNabb. Jimmy Waldo (Alcatrazz, New England) also joined.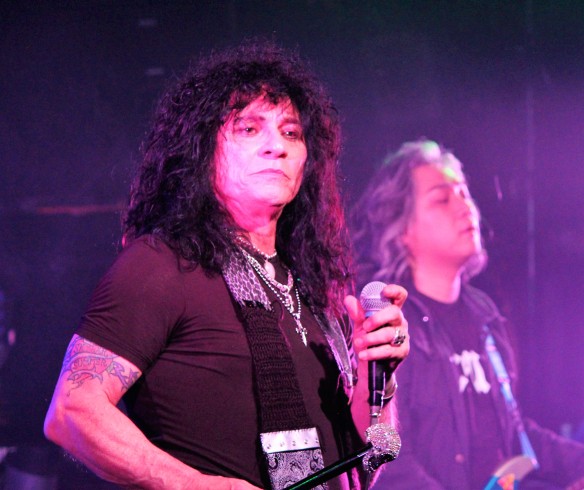 "Wendy thought it would be a great move for me. However, it seemed like it was more business than it was…. They had a lot of stuff that was going on. I respect them to the utmost and I don't have anything bad to say about any of that because it was a great experience for me. The one thing that I did miss was the companionship of Rough Cutt. We were a band. We went through hell and high water together. We were really tight friends and since I left that band, I've never experienced that feeling with any other projects. Even in the Quiet Riot thing, as we worked for a year on material at Jimmy Waldo's house after I had said to Rough Cutt I'm gonna join Quiet Riot. It was like a year of us doing pre-production. Then we came and did Japan Aid. What was interesting about that show, we were working on new stuff, so I didn't have any idea of the old stuff. Last minute, and Sean McNabb just got in the band, so I had all these lyrics for the songs on the stage and they put them in the wrong order. It was quite an experience. It was the first show that we did with Sean McNabb and myself and Frankie and Carlos. And James Brown was headlining that particular event. It was quite an experience! We went back home and then we worked on the record a little longer. I think we came out with a really good record."
Rough Cutt is back at it
While Rough Cutt might not have made it back then, they are now giving it another go. "We've actually touched base again. We've written some songs. It kind of went full circle," says Shortino. "It took a long time for us to come back. I did a King Kobra record with Carmine and all the original members except for Mark of course. After we did that record, Frontiers approached Rough Cutt to do a record. It wasn't the right time so we didn't do it. I did another record with King Kobra." Shortino also has released albums with The Rhythm Junkies, Badd Boyz and Jeff Northrup ("An incredible songwriter he is. I was only supposed to do a few songs and we connected and I ended up doing the whole record with him.")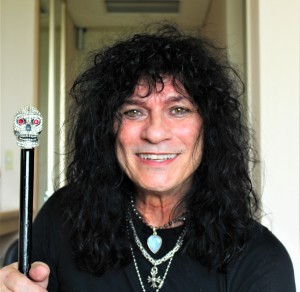 Rough Cutt is back with its classic mid-80s line-up and still with Wendy Dio as its manager. "We've been writing songs and Wendy and the band want to do something. We're thinking about calling the album 'Unfinished Business' because we did not finish what we started. It's something that I think we all agree upon, that this is unfinished business. She was managing Rough Cutt, and of course her husband Ronnie. Ronnie was already established so she was able to take him on a solo project to a new height and level of his career and at the same time, she was trying to break Rough Cutt as a new act. So, it's unfinished business for her. And because I stepped away from the band and now we have kind of connected again. It's really neat to work together again but on a different level. I live in Vegas, they live in California. Now that we have studios and technology, we can send ideas to each other. It's much easier to write songs than sitting in a studio. You know, everybody's banging away stuff and you're recording it on a Walkman or something. Then you go home and decipher it. Now it's a little more focus to writing songs. We've written some really great songs. Right now, she's actually been talking to a few labels and it's a possibility that we will be coming out with another album. Next year. And we're doing the Monsters of Rock cruise in February. That will be our first gig. We're hoping to have something to go."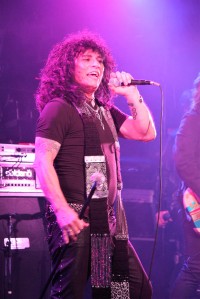 The Japanese Paul Shortino Band
For Shortino's Japan gigs in 2016 and 2017, he has performed with a fantastic all-Japanese backing band band led by Jun Senoue (Crush 40) on guitar and keyboards and consisting of guitar wizard Nozomu Wakai (Destinia, Ronnie Romero, Mari Hamada), Shoyo (Cross Vein, Jupiter, Hizaki Grace Project, The Powernude) on bass, Louis Sesto (Blindman) on drums and Shigeki Fujii (Slangrade) on vocals. "What's really cool about working with the guys here in Japan, it's taking me back to be able to do some stuff through my whole career. They are very talented and very humble guys. I'm honoured to be on stage with them as well. Mr. Fujii, he will be singing 'Stars' with me. I actually asked him to come out and sing some of the lines. I just don't want him to be in the background. He's such a good singer. It's enough room on the stage to share. I'm honoured that he is involved. Louis and Jun, I did a thing with Jun when I left Quiet Riot. I did a thing called 'Sonic Adventure' and did the 'E.G.G.M.A.N.' That's how I met Jun. I didn't know this until I was here last year, that they were at the Sun Plaza and they saw me with Quiet Riot. Those two guys. It was their dream to all of us play together. Which was something they shared with me the last time I was here. It's like a dream come true to come back to this country, because this is far away for a lot of people. I'm really honoured to be back here," explains Shortino. "And I've been talking to the guys here in Japan that I would love to do an EP. I would love to record with them. That's something that we're discussing. Nothing is solid yet."
Appice drum bros and King Kobra
Ever since Shortino performed with drummer brothers Carmine Appice (Ozzy Osbourne, King Kobra,Ted Nugent, Vanilla Fudge, Cactus, Blue Murder, Rod Stewart) and Vinny Appice (Black Sabbath, Dio, Heaven & Hell), their careers have crossed paths here and there. Carmine plays with Shortino in King Kobra and the brothers also have a new album coming out which Shortino is involved with. Since Shortino joined King Kobra in 2010, they have released two studio albums and done some touring. "We have a live album coming out. We only just did a few dates last year. We might be doing another record. I just did some songs for Carmine and Vinny, they have a record coming out together. I have a studio and Joel Hoekstra from Whitesnake sent me a song. A few songs I wrote with them. We recorded a song for the album and it was recorded for Ronnie. It's called 'Monsters and Heroes'. It was supposed to go out for a compilation album for Ronnie's cancer fund Stand Up and Shout. I took some of Ronnie's famous lyrics with my lyrics and told a story about Ronnie. The first line was 'Sing me a song, you're the singer. You're the man on the mountain who rocked the world with his songs'. Now that song is going on their album. The song is finally coming out and I'm really glad." The Appice brothers' album "Sinister" is scheduled for release on 27th October via SPV/Steamhammer.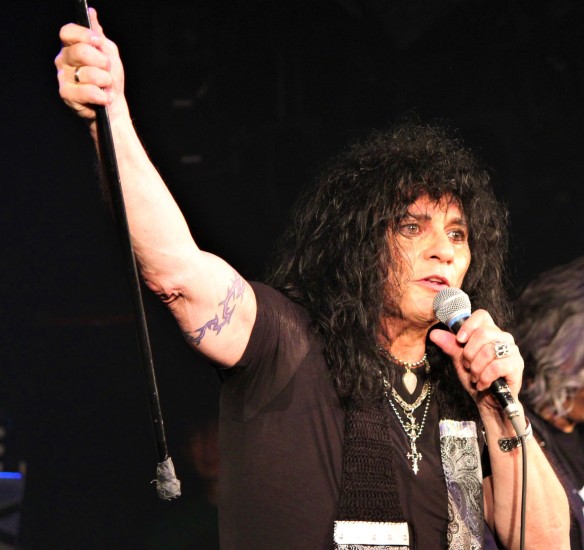 Raiding the Rock Vault
While Shortino has been busy in recent years with various bands and projects, his main gig has been with the successful Las Vegas show Raiding the Rock Vault. "I also want to try bringing 'Rock Vault' over here. To bring some of the classic rock guys that are in the show over here and bring the show over here. Maybe a week, or ten days, in Tokyo and Osaka and Nagoya, so people can see it. It's an amazing show, it really is. It's the history of rock from the 60s to 1989 and then grunge took over. There are 38 songs in the show. There is a lot of costume changes, because we kind of want to be with the time period. It started out really focused on that and it's changed. The show was two and a half hours when it started. No shows in Vegas go that long. They go 90 minutes, because corporates are thinking about how much they are losing when people are watching a show. So, we went and cut it down. Now it's down to 90 minutes. There was acting before, now there is just dancing and music." The show has been housed at a few different hotels in Vegas and is currently at the Hard Rock.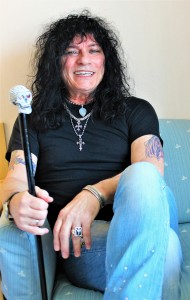 "We have Robin McAuley from MSG and Survivor, and Mark Boals, who was with Yngwie and have done stuff with Dokken, and myself, and then also a new young lad who is working with Vinny and Vivian Campbell and the late Jimmy Bain, Andrew Freeman. They have a project called Last In Line. They have a great record. Great singer as well. We have a few girls that come in. We had Stephanie Calvert from Starship, now we have Cian Coey who's been working with Dweezil Zappa and also Meat Loaf. She's a power house. And a local girl who comes in, Lily Arce, and she does other Vegas shows. We're the only rock show with real rock stars. Paul Dexter, who did a lot of stuff for Ronnie, the 'Sacred Heart' stuff, all of that stuff. He's designed the set."
Part of Rock Vault's success, in addition to that it features real rock stars, is that it is an all-ages show. "So, young people they're learning about classic rock. It is something that is cool for the new generation because there is so much history in that time period. The music today is not like it was yesterday, you know? I mean, I like some of the stuff that is out there and some of the new bands, but it's not like the old days."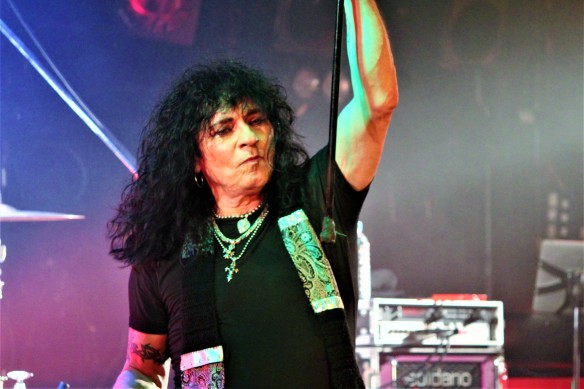 64 and still got it
Shortino is now 64 years old but, unlike some other singers of his generation, he still has a golden voice. "I'm so grateful to God and the universe for giving me my voice. I don't have some of the range that I used to, but my voice is better than it's ever been. I listen to some of the old Rough Cutt stuff, even Quiet Riot stuff, and I sing it differently now. You become more seasoned. Instead of showing off everything you can do… When we started to put this set together, listening to some of the stuff I did back then, 'How in the heck am I gonna sing that now?' Haha!! So there are some things that I don't do the same, only because I would have done it differently because I'm older now and I'm more seasoned. Some of the stuff I did was overkill. You just kind of get in the studio and 'I want everybody to hear what I can do', you know? I don't play over the solo in "The Night Cries Out (For You)" even with Rough Cutt. I let the guitar player have it. You learn through time."
Love and gratitude
Love and gratitude are nowadays at the centre of Shortino's daily life. It is very obvious that he is so grateful for being able to live the life he lives. He's a world-class performer who loves doing what he does. "We take so much for granted as people on the planet that we get lost in our own little world. The more grateful I am for things, my health gets better. My voice gets better because I am so grateful that I can still sing, that I have been given a gift. I'm really grateful for that. I'm sorry, I'm a little emotional. It means a lot to me to share this. The world needs to know how love can change everything. Because there is so much hate in the world right now. It breaks my heart to see. Mankind could do better for others," says a teary-eyed Shortino. "I don't believe in religion. I was raised a Catholic, but I don't believe in religion. I think that religion is something that wants to control people, political things. I believe in spirituality. It's been a great journey for me. I am getting a second chance at life, in my career, everything in life. It's been a magical journey. I feel for all my other rock guys, who are struggling with addiction. I pray for all of them, because they could find true happiness. Maybe I am supposed to share the things that have changed my life that could maybe change others', you know? A movement of love and gratitude. I live by that every day."
Ladies and gentlemen: Paul Shortino! The real deal. Great voice, great guy.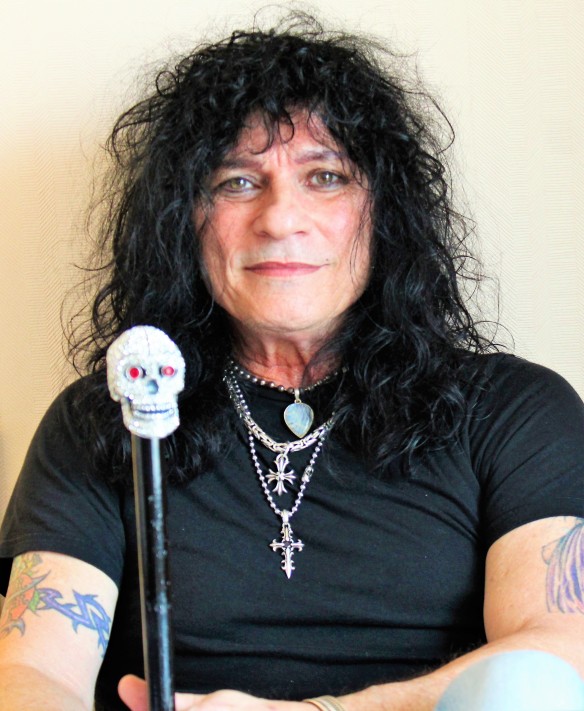 www.facebook.com/paulshortinoband
www.facebook.com/roughcuttofficial