Album review: The Lightbringer of Sweden "The New World Order"
Lars Eng delivers the goods on his Herbie Langhans-fronted band's second album.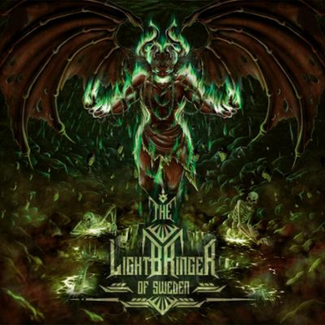 Swedish musician Lars Eng has done it again! The man has talents that put him ahead of the also-rans: his excellent songwriting skills and his ability to make his musical vision a reality by bringing together the top-level musicians needed to perform and record the music. It is one thing to have a song idea in one's head and quite another to be able to deliver that idea as a finished product in the studio. With the new The Lightbringer of Sweden album, Lars has pulled it off. Lars started writing music for The Lightbringer in 2017 and in 2019 the first single was released. That was followed by the debut full-length album "Rise of the Beast" in 2020. Lars – the band's leader, guitarist, songwriter and producer – has brought in both talented local musicians and foreign artists to realise his vision for The Lightbringer of Sweden. Some years ago, the then-unknown Lars contacted German powerhouse singer Herbie Langhans and somehow managed to convince him to give this project a chance. Herbie is known for his vocal contributions to bands and projects such as Avantasia, Firewind, Sinbreed, Sonic Haven, Steel Rhino, Seventh Avenue, Radiant and many more. What started as a project has now become a proper band. In the current line-up of the band, we find Lars Eng on guitar, Tobbe Jonsson (Angeline, Band of Brothers, Blue Mountain) on drums, Johan Bergqvist (Trail of Murder) on bass and Carsten Stepanowicz (Sonic Haven, Radiant) on lead guitar. I have known Tobbe since the mid-1980s and always admired his playing. It is a joy to see him take his talents to another level in a top-level band. The Lightbringer's music is melodic metal with a pinch of power metal. Herbie's powerful voice is a perfect fit for this music. Some of the standout tracks on the new album s include "The Beast is Rising", "Strike Back", "Heroes of the Past", "Lucifer" and "Back from the Dead". "Where the Eagles Fly" and "The Caveman" are power ballads with some White Lion vibes which work well, although I prefer the heavier and faster side of The Lightbringer. Lyrically, Lars has created a concept album that builds on the stories from the debut album. So far, this has been a studio-only band. But in 2023, there seem to be some plans for the band to play live. With two great studio albums under their belt, this band now has a great treasure trove to pick from when it is time to put together a setlist.
The Lightbringer of Sweden's new album "The New World Order" will be released on 18th January.
www.facebook.com/thelightbringermetal