White Empress: Paul Allender returns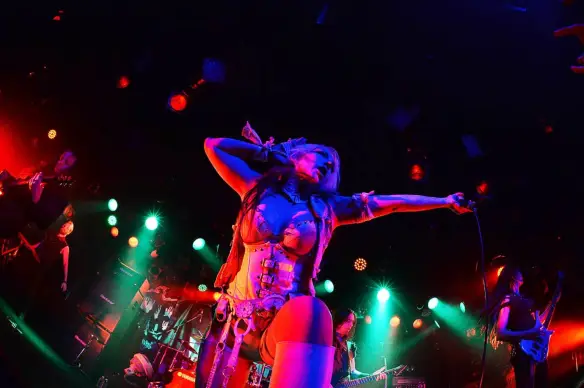 Englishman Paull Allender was bored and needed new energy. A few years ago the long-time Cradle of Filth guitarist decided to move to the US. He continued to record and tour with Cradle for a while but soon decided that he wanted to do something new and left Cradle. When Allender recently visited Tokyo for two gigs with his new band White Empress, Stefan Nilsson of Roppongi Rocks sat down with him for a chat.
"I wanted a change. At the time I was in Cradle of Filth and, for me, it was going downhill. I was getting bored. That buzz wasn't there, the vibe wasn't there. I needed a fucking change so I moved to the States," says Paul Allender as we sit down at Astro Hall in Harajuku in Tokyo ahead of his band's second gig in Japan. Two nights earlier they have successfully introduced themselves to a Japanese audience for the first time with a gig at Club Quattro in Shibuya, Tokyo.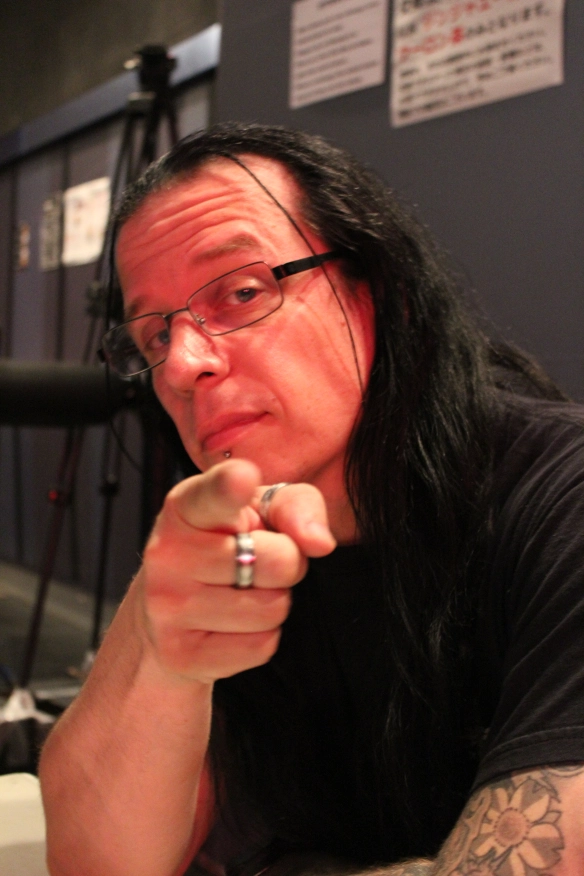 Allender wanted to create something new. Something that hadn't been done before. The result is White Empress. It's great stuff. I really like it, but how can it be described? Allender has described it as "Heavy as hell, rocks like fuck and it grooves along like a possessed freight train". I'd say it's sort of like the opposite of easy listening: a powerful, rather complex and thrashy heavy rock band with great melodies and a haunted atmosphere. Extreme symphonic metal, perhaps? There is a lot going on here – it's a busy wall of sound. White Empress is quite a mix, it is organised chaos. But it works, it really does. It sometimes has a hint of Tarja-era Nightwish in the mix as well as a dose of Arch Enemy (if one should compare to other bands, which one shouldn't), but also so much more and very different ingredients. The vocals are very diverse – there's plenty of angry growling but also a fair bit of clean singing and some opera-like sections. Weird and wonderful. White Empress is something new, but there are of course certain echoes of Cradle in there and that is not such a big surprise. Apart from Allender being one of the major creative forces in Cradle for many years, White Empress is also home to keyboardist Will Graney who has worked with Cradle and the debut album is produced by Kit Woolven who, yes, has worked with Cradle. Also, Cradle's drummer Martin Skaroupka was involved in the early stages of the creative process and recordings for White Empress' debut album "Rise of the Empress". "It's different. It's nothing like anything out there at the moment. We've actually managed to capture our own sound. We definitely have got our own sound. I found that hole. That hole in the scene," explains Allender proudly.
In White Empress Paul Allender has put together a great band where especially bassist Chela Rhea Harper (ex-Coal Chamber) stands out. She's sort of a Canadian version of Taiwanese Chthonic's Doris Yeh. Bloody hell, this is a fierce bassist who on stage looks like she could kill you – either with her eyes or her bass. The other band members are vocalist Mary Zimmer (ex-Luna Mortis), keyboardist Will Graney (Damnation Angels), guitarist Jeremy Kohnmann (The Awakening) and drummer Zac Morris (Ugly Kid Joe).
During a couple of formative years, White Empress has evolved from a Paul Allender project into a proper six-member rock band. "It started off as my thing. When I first put it together, I was very open minded. I am not one of these people who 'Fuck this! I wanna be the head of everything and I wanna do this, it's my project. It is me, me, me!' Fuck! I'm not into that. The band only works if every single person, the six people, have got exactly even say in everything. Obviously, I did this first album. That was just the nature of the beast, it was just default the way it was put together, because there wasn't a band. I was just putting ideas and stuff down. I was doing it with Will, the keyboard player, and Martin, the drummer who plays in Cradle, he did the drums for it. Once I realised it was going to be a band, that's when I started finding the right people. It has to be the right people, the right attitude, not selfish, no egos, all of the above. When these people came into the band, then I turned around and said 'Have a listen to it. The album is already done. If you want to change stuff you are more than welcome to do it'. I got Chela to write all her own bass parts. The guitars had already been done and the drums had already been done but the bass wasn't. And I said to Mary, with the vocals, I gave her the initial idea of how I wanted them to sound and what styles I wanted to put in there. Then eventually she tweaked it and that's how she does it all the time now. So we have a band of fucking incredible people. Really, really good people," says Allender proudly.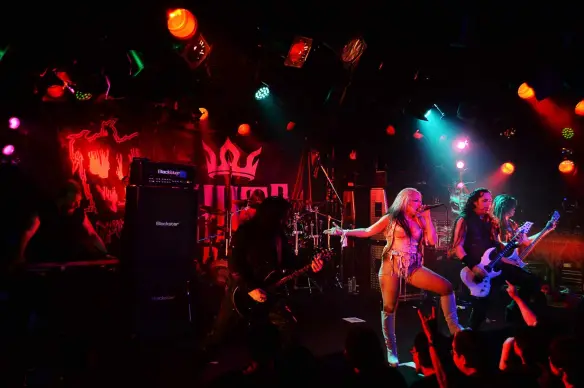 White Empress members are based in several different countries and this has an impact on how the band works together. "We do it over the internet. Everyone has their own studio," explains Allender how they record things as a band with riffs and music being sent back and forth across the world. "It's so much easier to use the internet, to have people in different countries, than actually to sit in the fucking rehearsal room. It's a lot more productive. If you're at home, you can just take a little bit of time over it, work on it, think about it, have your own space to concentrate on stuff."
White Empress is now the top priority for Paul Allender who believes in focusing his efforts. "You can't be in two bands. There's no way of doing it. You can't do it. You either concentrate on one or you concentrate on the other. For me personally, I wanna put a billion percent into a band that I am completely into. If you're in another band, you can't put the same effort into it and one always suffers. When I started really getting into Empress, I thought 'Yeah! Fuck off, bye Cradle.' I'm really into this. I'm gonna start this up from the ground, build it up. I'd rather build something up from the bottom and put 100% into it, where it can grow and you can make it fucking great, instead of a band that's been around for fucking God knows for how many years. You still put 100% in it and it doesn't get any bigger."
Several of the White Empress members have other projects and bands they're involved in. "This is first, this is absolutely first. They've all agreed with it as well. The singer Mary is not in another band. She's just solely concentrating on this," says Allender of how they prioritise. But Allender also has something on the side to do when he's not busy with White Empress. "I do some easy listening music, like chill-out stuff. Really laidback like trip hop type thing. We've had music on 'Sons of Anarchy', a TV show, 'The Nine Lives of Chloe…' something which is on ABC in the States, we've had stuff on 'Sleepy Hollow'. Yeah, we do music for films and TV and that's what the chill out music is for. I really like doing it."
The band White Empress is based around the concept of the female figure of the White Empress, something which has been built around singer Mary Zimmer. "I came up with the concept. I like being in bands which are theatrical, obviously coming from Cradle. I like doing that sort of stuff. I wanted a figure, I wanted someone which fans could look up to, this really strong figure. This time I said I wanted a female singer involved. I want someone that can do the harsh vocals, punk-rock vocals, normal singing, opera vocals, everything. I want to find someone who does all of that in one person. Mary – she is a fucking God send for this band, it's as simple as that. I wanted someone to do that so I could have vocals – if it's a heavy part of the riff it goes extreme, if it is a softer part she sings normally. The vocals are actually arranged specifically on parts of the music on purpose. It catches the atmosphere," explains a very excited Allender. "I wanted to come up with a figure, someone the fans could look up to. I was thinking 'What can we do?' I think we can go for a real bad old fucking warrior – strong, hard female presence figure, someone who doesn't take any fucking shit, who cut your throat without thinking about it. This is before I thought of the name. I didn't want to do anything in black again or that type of thing because of Cradle. I wanted to go the complete opposite way. Hence the reason I got Mary dressed up in white and the solid black eyes which adds some sinister edges to it. Then it kind of built from there. Then the artwork and everything, it kind of expanded. I wanted a strong female presence that when you look at her you're gonna be scared. She's gonna kick the shit out of you. That's what I was after. We're still working on it. Because we're a new band, we're still working on it and refining it and stuff. The image is slightly changing, I'm making the image a lot darker as time goes on. When the next album comes out, the image will be a lot darker, a lot more sinister, a lot scarier."
Paul Allender and his White Empress gang are off to a great start with their debut album and gigs in the US and Japan. This will for sure be a band to keep an eye on as they keep evolving as a band. Hail the Empress!
White Empress – the band
Paul Allender (guitar)
Mary Zimmer (vocals)
Will Graney (keyboard)
Chela Rhea Harper (bass)
Jeremy Kohnmann (guitar)
Zac Morris (drums)
Album
Rise of the Empress (2014)