Loud Park gig report: L.A. Guns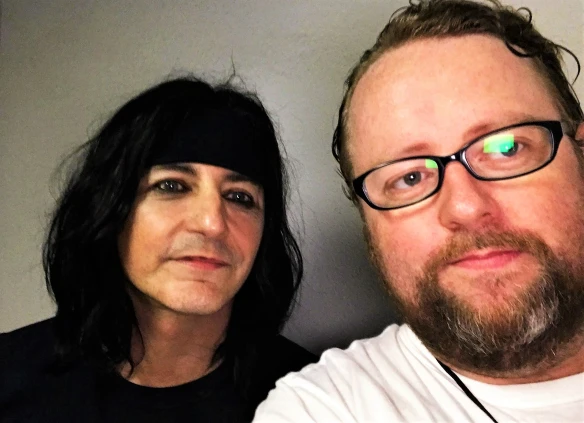 L.A. Guns exceed expectations at their Japan gig with Phil Lewis and Tracii Guns reunited once again.
Sleaze/glam rockers L.A. Guns have had many ups and downs and many different line-ups in their career (for a few years there were even two different versions of L.A. Guns touring at the same time). With vocalist Phil Lewis and guitarist Tracii Guns now reunited in the current version of the band and a brand new album out, there is a good level of interest in their performance at the Loud Park festival. I didn't really know what to expect ahead of the gig, but when L.A. Guns perform on stage I am pleasantly surprised. L.A. Guns certainly exceed my expectations.
It is obviously Lewis and Guns who are the main leaders in this classic sleaze rock band, but the newer additions – guitarist Michael Grant, bassist Johnny Martin and drummer Shane Fitzgibbon – all do their bits to make L.A. Guns in 2017 a relevant band and not a mere nostalgia act. The band's new album, "The Missing Peace", was released the day before they walk on stage at the Loud Park festival on Saturday 14th October.
Englishman Phil Lewis has turned 60 and has now lived half his life in the US, but his English accent still shines through as he talks on stage between the songs. He sings great. He doesn't seem to have lost any of his vocal skills with age. Guitarist Tracii Guns is also in fine form and his guitar playing reminds us that he is an underrated guitar wizard. He has a lot of guitar in him and deserves more recognition than he normally gets. During L.A. Guns' early days Axl Rose briefly fronted the band and then Tracii Guns was in the very first line-up of Guns N' Roses before he was replaced by Slash. Tracii has also had brief stints in Poison and Quiet Riot. Additionally, he played with Nikki Sixx in Brides of Destruction and Michael Schenker in Contraband.
L.A. Guns open this gig with "Over the Edge" from the 1991 album "Hollywood Vampires". As this is a short festival gig at noon we basically get a short "best of" set list, but we do get to hear the new track "Speed" as the second song of the set. We then get "No Mercy" from the band's 1988 debut album, before we get treated to the fab 2002 song "Don't Look at Me That Way". "Killing Machine", a fast rocker from the 1994 album "Vicious Circle", follows before we get the terrific "Never Enough" from the 1989 album "Cocked & Loaded". What is labelled as "Jelly Jam", is an instrumental session where the band's guitarists get to shine. They finish their set with two of their most memorable songs: "The Ballad of Jayne" and "Rip and Tear", both from "Cocked & Loaded". L.A. Guns have reloaded once again and they sound great, here and now.