Album review: Aborted "Retrogore"
Belgian extreme metal band Aborted is back with its ninth studio album, "Retrogore". Top stuff if you're hooked on furious, fierce, intense, smash-your-face, bulldozer-like extreme metal.
Aborted, founded in Belgium in 1995, has worked hard by releasing many albums and touring the world and in the process built up a reputation and a cult following of loyal fans. Previous members include Dan Wilding of Carcass and Dirk Verbeuren of Soilwork. Vocalist Sven de Caluwé is the only member who has been on this entire two-decade journey.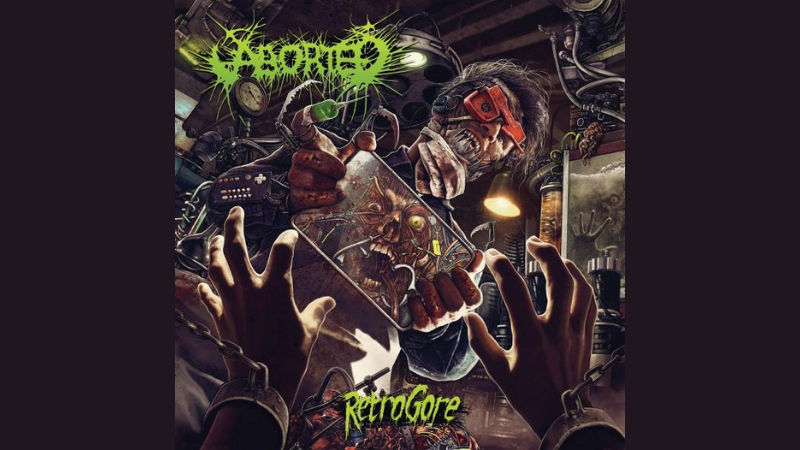 Aborted often refer to themselves as a death metal band, but make no mistake about it, this music is very far from the mainstream melodic death metal bands. This is brutal and fast death metal, some kind of sinister grindcore-like extreme metal.
The great title track is gloriously fast and brutal as is much of the rest of the album. "Termination Redux" is a favourite which, among all the fast chaos, has some calmer black metal-like parts to it. "Divine Impediment" sounds almost like something Belphegor could have recorded. "In Avernus" is a terrific track to close a great album with.
When the band played Tokyo last year, I was impressed with their ferocity and energy on stage. While most of the band members look like Suicidal Tendencies' younger brothers, vocalist Sven de Caluwé looks and acts like he's escaped from a mad house. His singing style and stage moves are insane. Think Jack Nicholson in "One Flew Over The Cuckoo's Nest" but with more aggression boiling over. Is Sven growling? Yeah sure, but this is more like grunting with evil intent. A wild roar from an angry wild boar, perhaps? Aborted's members are a bunch of very talented musicians led by one of the best frontmen in the extreme metal business. Join the joyride, but fasten your seat belt.
Aborted's new album "Retrogore" is released by Century Media on 22nd April.
Aborted "Retrogore" – track listing
Dellamorte Dellamore
Retrogore
Cadaverous Banquet
Whoremageddon
Termination Redux
Bit By Bit
Divine Impediment
Coven Of Ignorance
The Mephitic Conundrum
Forged For Decrepitude
From Beyond (The Grave)
In Avernus
Aborted – band members
Sven de Caluwe – vocals
Mendel bij de Leij – guitar
JB van der Wal – bass
Ken Bedene – drums
Ian Jelekis – guitar
Albums
The Purity Of Perversion (1999)
Engineering The Dead (2001)
Goremageddon (The Saw And The Carnage Done) (2003)
The Archaic Abbatoir (2005)
Slaughter & Apparatus: A Methodical Overture (2007)
Strychnine.213 (2008)
Global Flatline (2012)
The Necrotic Manifesto (2014)
Retrogore (2016)