Gig review: Pretty Maids came to rock Japan with special "Future World" shows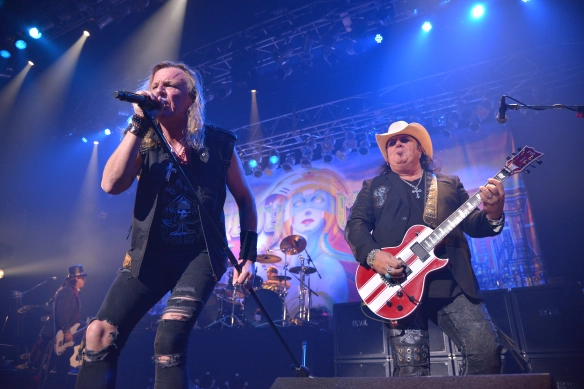 Melodic heavy metal band Pretty Maids from Denmark came to rock Japan with catchy riffs and a guitar case full of classic songs.
Pretty Maids at Club Citta, Kawasaki on 17th November 2018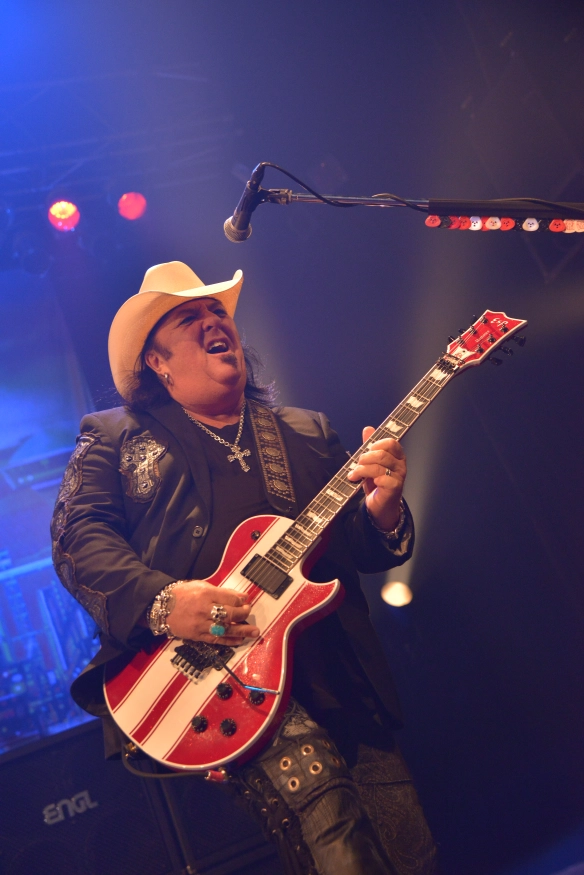 I first saw Pretty Maids in concert in Sweden in 1990. Since then I have seen them on all their recent Japan tours. Ronnie Atkins on vocals and Ken Hammer on lead guitar – who together founded the band in 1981 – are still there and they still got it. Bassist Rene Shades has been in the band since 2011. The newer recruits – drummer Allan Sørensen (ex-Royal Hunt) and Chris Laney (ex-Zan Clan, Randy Piper's Animal) on keyboards, rhythm guitar and background vocals – have added a dimension and helped this band back to where they should be. The line-up is the same as for the band's last Japan tour in 2017. They were very good then, but they are even better now.
This time they're in Japan for two special gigs at Club Citta in Kawasaki to celebrate the band's classic Eddie Kramer-produced album "Future World" from 1987. They're doing it by playing the album in its entirety and then adding some more goodies from the Pretty Maids back catalogue. On the first evening we get about two hours and 15 minutes of Danish metal with great melodies. They open the evening with "Future World" and gets the crowd going. They follow with "We Came to Rock" – indeed they came from Denmark to rock Japan. It's a solid band and Ronnie has a terrific voice that is better than ever. When it is time for songs like "Yellow Rain" and "Eye of the Storm" we really get to hear Ronnie shine with his stunning voice. He has a great voice to sing energetic rock, but it is during calmer ballads we are reminded what a splendid vocalist he is. "Love Games" is a huge crowd favourite while "Loud N Proud" is one of the evening's musical highlights. 
Following the nine tracks from the "Future World" album – which have aged well and do not sound dated – the band keeps giving an already very excited audience plenty of more good stuff from the band's career. They kick off the second half with the terrific "Mother of All Lies" and follow it with the equally great "Kingmaker". "Pandemonium" is another obvious favourite of mine in the show while "Savage Heart", from the 1990 album "Jump the Gun", is perhaps the show's highlight for me. For most of the song, the performance is just Ronnie's voice backed up by Chris on keyboards. Towards the end of the song, Ken Hammer steps in with a guitar solo and he brings the rhythm section back on stage in a proper power-ballad crescendo. The band continues with plenty of fan favourites until they finish the set with "Back to Back" from their 1984 debut album "Red, Hot and Heavy". They return to do a great encore consisting of "Sin Decade", "Rock the House" and the John Sykes cover "Please Don't Leave Me" before an overexcited band keeps on jamming some silly Christmas carols.
This was quite an exquisite evening for those of us who like our Nordic melodic metal.