Interview: Riot vocalist Todd Michael Hall discusses his solo album
Having recently reviewed Riot vocalist Todd Michael Hall's beautiful solo album, Roppongi Rocks' Stefan Nilsson decided to check in with the American musician during Christmas to discover more about the thinking and work behind the album. "I am a bit nervous about what some people might think, but then again, it is impossible to make everyone happy," says Hall.
Todd Michael Hall started playing with former Virgin Steele guitarist Jack Starr in Burning Starr a decade ago and a few years later joined the latest version of the classic American hard rock band Riot. Recently he released his first-ever solo album, "Letters From India". Hall's album is quite different from Riot's hard rock music, but the album features several hard rock-related guests: Francisco Palomo of HolyHell, who has also played with Manowar and Jack Starr's Burning Starr, and Riot guitarists Mike Flyntz and Nick Lee.
You have been in the music business for many years and released albums with several different bands. Why did you decide to do your first solo album now? "I don't think it was possible for me to release a solo album before now. At least not a true solo album where I wrote all of the music. I have learned things over the years that made me more capable of doing a solo album, but I also started working with Francisco Palomo and that was really the biggest thing that made it possible for me. I took piano lessons when I was very young, so I can read sheet music, but I am not much of a piano player. In my first original band, Harlet, my brother Jon and others wrote the music and I concentrated on lyrics and vocal melodies. In 1996, when I stopped working with my brother on music, I decided to take guitar lessons. I had musical inspirations, but did not feel capable of writing music for myself. Unlike my earlier years when I took piano lessons, this time I forced myself to study the theory behind the music and learned how keys were constructed. I also learned about chord extensions, i.e. adding other melody notes to chords. Both of these things made writing and playing my own songs much easier for me. During this time, I was also corresponding with Lumpeny, who would later become my wife. I wrote my first song, 'Kathmandu', within a few months of starting to take guitar lessons. In fact, 8 of the 12 songs on my album were written during the later 90s while we were corresponding, which is why I decided to call my album 'Letters From India'."
Francisco Palomo seems to have played an important part in making this solo album happen. "So I had these songs, but never really had any musicians to help me bring them to life, until I started working with Francisco. I met Francisco in 2008 when I was recording the 'Defiance' album for Burning Starr at Magic Circle Music studios in Auburn, New York. Francisco developed the harmony guides for the album and I had heard him solo on a keyboard, so I knew he was well-trained and incredibly gifted. I never really thought about working with Francisco again until November of 2015, when I approached him about turning my guitar demo for 'The Best I Can' into a choir piece so that I could record it, like I do for SATB (Soprano, Alto, Tenor, Bass) 4-part choir pieces every year for Christmas. I asked Francisco to create a beautiful piano line for it as well and I thought the resulting piece was incredible. I did a second choir style song with him, 'From The Father', and it turned out really nice also. At that point, I started to think about the songs I had written back in the 90s and I asked Francisco if he could program drums and bass. He said yes and we worked on 'Whole Again' together. Once again, I thought it sounded great, so we just kept going. I was so inspired by Francisco that I actually wrote two more songs, 'If Today Were My Last Day' and 'Open My Eyes', during 2016 while we were working on all the other songs. These songs are special for me, because they are the first songs that I ever wrote on the piano. I normally play guitar. When I first started working with Francisco, I was recording all of these songs primarily for my own enjoyment. It is difficult to describe the joy I experienced after having these songs in my head for all these years and finally getting a chance to hear them come to fruition. At the end of 2016, I had a set of 12 songs recorded and that is when I started thinking that it would be fun to release a solo album. I spent most of 2017 getting a final mix of the songs, shooting a couple of videos, and arranging the things necessary to do the release. Albums take time when you only work on them as a hobby. I had no specific time line and I just wanted things to be right."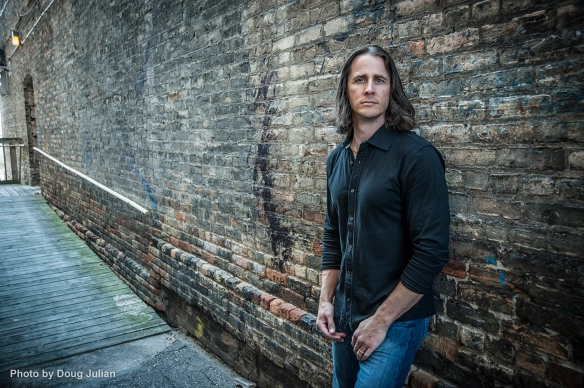 You are well-known as a hard rock vocalist, but your solo album is more of a singer-songwriter kind of ballad album. Was it an obvious style choice for you or were you a bit nervous to face the feedback when performing a different style of music? "This may sound a little silly, but I never learned how to play hard rock music on the guitar and definitely not power metal. Metal sounds like a wall of noise, but often there is picking of one or two strings in the middle of all six strings and you need to be really accurate with your strumming and picking. In addition, there are lots of little techniques and riffs that need to be part of your skill set, and this is not something I have worked to develop. I really only play an acoustic guitar and I am mostly a strummer, so when I write it tends to come out sounding like singer-songwriter kind of stuff. I actually hear metal songs in my head, but I don't have much ability to play them, so it is difficult for me to finish the ideas. I am a bit nervous about what some people might think, but then again, it is impossible to make everyone happy. My songs were written and performed with passion and come from my heart, so I hope people can hear that and it resonates with them. The interesting thing is that after years of writing metal, this different genre of music, as well as the inspiration from working with Francisco, has really opened the floodgates for my creativity. I have written about 20 more songs just in the last year."
The theme behind the album is an intriguing love story of how you met your wife: letters, many trips to India and, eventually, marriage and kids. Was this inspiring story the basis for your songwriting when you started out the work on this album? "Lumpeny was definitely the inspiration for these songs and you can tell in some of them it is my family as well. I was raised Catholic, but had quit attending church. When Nono and I were engaged, she asked me to consider becoming American Baptist, so that we could be married in her church in Kohima, India. I joined a church near where I live and the pastor at that church really helped me resolve some of the issues I had with the church and made me see value in it again. Consequently, I see the Christian themed songs on my album as being inspired by or at least a product of my relationship with Lumpeny also."
Did your wife know about the theme of the album and that you would share part of your private lives before you finished the album? "Lumpeny was certainly aware of the songs, because I had played them for her on guitar for years. She is actually quite private and prefers not to be in the spotlight, so she has actually been incredibly tolerant of me doing this project. She did not want to be in the videos, which is why I hired a model for the two videos. When I gave Lumpeny the first official copy of my new album, she opened it and said 'I didn't know you were going to include photos of me.' And I said: 'Exactly, because I knew you wouldn't let me do it.' She wasn't really upset, but she is shy about people seeing her photos. Handing her the album was a very special moment for me and for us."
You have two of your band mates from Riot guesting on the solo album. Obvious choices, shrewd marketing move or something else? "Well, it is not exactly a shrewd marketing move, because I'm not really leveraging that so much in trying to promote the album. Although, I suppose that is not a bad idea and perhaps I should. More than anything, I just wanted the songs to be great and I knew they could do an awesome job on the guitar solos. I play acoustic guitar on the album, but the piano and all other instruments are by Francisco. His musicianship is incredible and he does some unbelievable piano playing on the album. When it came time for guitar solos, Mike was an obvious choice. On two occasions, I had the band at my house, because we were playing shows near my home. I 'forced' Mike and Nick into my studio and they laid down solos really quickly and they had only just been shown the songs. These guys are incredible guitar players."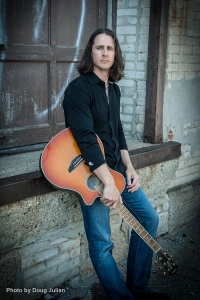 Are you doing any live performances with your solo material or are you too busy with Riot? I think this could work very well in a scaled back acoustic setting. "I doubt I will play live shows any time soon as a solo artist, because I don't have a band of musicians organised to help me do so. I don't really want it to be just me and an acoustic guitar, because I would prefer it to sound more complete like the songs do on the album. Although, if you ever catch me with an acoustic guitar in my hand, then I would gladly play a song for you. Just ask Mike. During rehearsals, when I stay at his house, I am constantly showing him my latest songs. I'm not sure he is so appreciative though…"
You will return to Japan for two gigs with Riot in March. How do feel about the loyal support that you and Riot enjoy in Japan? "Getting the opportunity to play shows in Japan is an incredible blessing in my life. The Japanese people are very kind and I definitely feel the love when we are there. I am certainly looking forward to returning in March."
On 10th and 11th March, Todd Michael Hall will perform with Riot at Club Citta in Kawasaki. Get your tickets here: http://clubcitta.co.jp/001/riot-2018/
www.toddmichaelhall.com / www.facebook.com/toddmichaelhallsolo