Album review: The Dead Daisies "Burn It Down" | Catchy hard rock of the best kind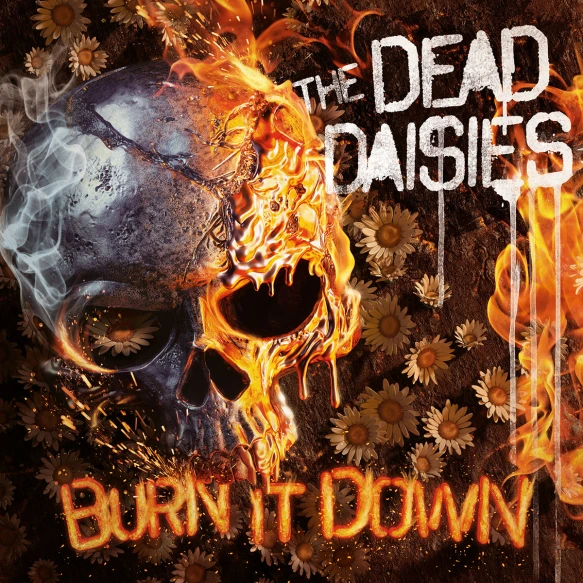 The Dead Daisies are back with a new album that is as good as we have come to expect of this terrific band.
At the end of 2017, just as it seemed that The Dead Daisies had finally established a stable line-up, drummer Brian Tichy decided to leave the band. He was quickly replaced by Deen Castronovo (ex-Journey, Bad English, Ozzy Osbourne) who was already playing with Doug Aldrich (ex-Dio, Whitesnake) in Revolution Saints. The current line-up of The Dead Daisies, in addition to Deen and Doug, consists of Marco Mendoza (ex-Whitesnake, Thin Lizzy, Ted Nugent) on bass, John Corabi (ex-Mötley Crüe, Union, ESP, The Scream, Ratt) on vocals and Australian founder David Lowy on guitar.
Immediately when Deen joined the band in November they started writing songs and record. The result is now here. "Burn It Down", the band's fourth full-length studio album, is a fabulous bluesy hard rock album. The are some immediate favourite tracks here, such as the title track "Burn It Down" as well as "Rise Up", "Resurrection", "Leave Me Alone" and "Dead and Gone". Fantastic catchy hard rock of the best kind. This is one groovy rock band. "Judgement Day" starts off slow and then goes back and forth tempo-wise with some subtle but terrific guitar work going on. "What Goes Around" will no doubt be a great addition to the band's live set. "Set Me Free" is a slow song but a great one with plenty of emotion.
There is so much talent and playfulness in this band that it bubbles over. And the chemistry is there too: they're having fun together and it shines through in their music. But while these lads seem laidback and fun-loving, they have the songwriting skills and the musical talent to perform as well. Somehow, and thankfully, the producer Marti Frederiksen manages to maintain the rawness and straightforwardness of this rock'n'roll circus in the studio. With a band like The Dead Daisies, an animal that feeds off raw talent, energy, chemistry, war scars, personal chemistry and attitude, the magic can easily be destroyed in a sterile studio environment. Not the case here. It sounds as if this merry band of rock brothers brought their tour bus into the studio. There is road dirt in the production and that is a good thing.
John Corabi has really grown into a seasoned frontman whose voice fits the Daisies' blues-based hard rock like a glove. It is now hard to imagine the band without him (most listeners now don't remember that he didn't sing on the band's debut album). This is a band who is having fun performing for its fans. The band's shows are laidback but high-energy festivals of rock'n'roll. This studio album captures a lot of that spirit. Another solid album from a terrific rock band. Well done.
The Dead Daisies' album "Burn It Down" will be released on 21st March via Ward Records in Japan.
www.facebook.com/thedeaddaisies