Album review: H.E.A.T "H.E.A.T II"
Sweden's H.E.A.T returns with a fabulous new album filled with melodic hard rock of the best kind. This is the band's best album to date.
Sweden has perhaps produced more melodic hard rock bands per capita than any other country. Among the best of the current Swedish offering is no doubt H.E.A.T. Formed in the Stockholm suburb Upplands Väsby (home to Europe, Yngwie Malmsteen and Candlemass) in 2007, "H.E.A.T II" is the band's sixth full-length studio album. A what a cracking album it is!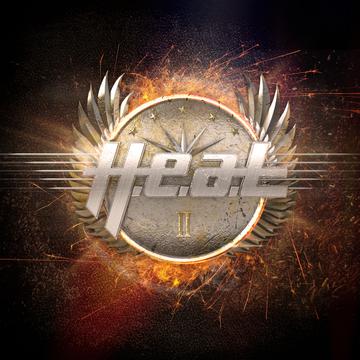 The album kicks off with the smoking high-energy track "Rock Your Body". Like many of the other Swedish bands, H.E.A.T has great songs and great musicians. What really sets them apart from the pack is frontman Erik Grönwall. He has the voice, energy, attitude and fearless craziness to be a world-class frontman. He's a proper entertainer who knows how to keep his audience engaged. It's most evident on stage, but even in the studio, his quality shines through. Just listen to his voice in the intro to "We Are Gods", a song which is the absolute highlight on this fab album. As part of a proud Swedish tradition, H.E.A.T delivers melodic hard rock filled with great guitars and wrapped in plenty of keyboards. Jona Tee on the keyboards is another of the band's differentiators. His keyboards play a more prominent role in most of the songs than is usual for other melodic hard rock bands where they are more of a decoration. On a song like "Victory", for example, we get an exquisite combination of keyboards and guitars. H.E.A.T is not a band afraid of pushing the boundaries. They are a melodic hard rock band, but throughout their career, they have included many different influences in their songs and they are good enough to get away it. Another highlight is the rocking track "One by One", which no doubt will become a live favourite. "Nothing to Say" is the obligatory big power ballad of the album. Original guitarist Dave Dalone returned to the band a few years ago and his guitar work has matured and really is smoking on many of the songs here. The rhythm section – drummer Crash and bassist Jimmy Jay – is as steady as ever. "H.E.A.T II" is the band's best album to date. Wow! They've done it.
H.E.A.T's new album "H.E.A.T II" is out today in Japan via Marquee/Avalon and will be released internationally on 21st February via earMUSIC. H.E.A.T will tour Japan again in March.