Interview: Jonas Björler of The Haunted | "We've always had thrash elements in our music"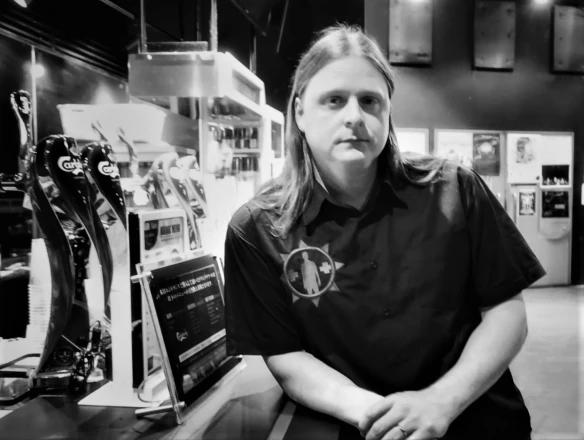 When the extreme metal band The Haunted from Sweden returned to Japan for some shows in support of their latest album, Roppongi Rocks had a chat in Tokyo with co-founder and bassist Jonas Björler.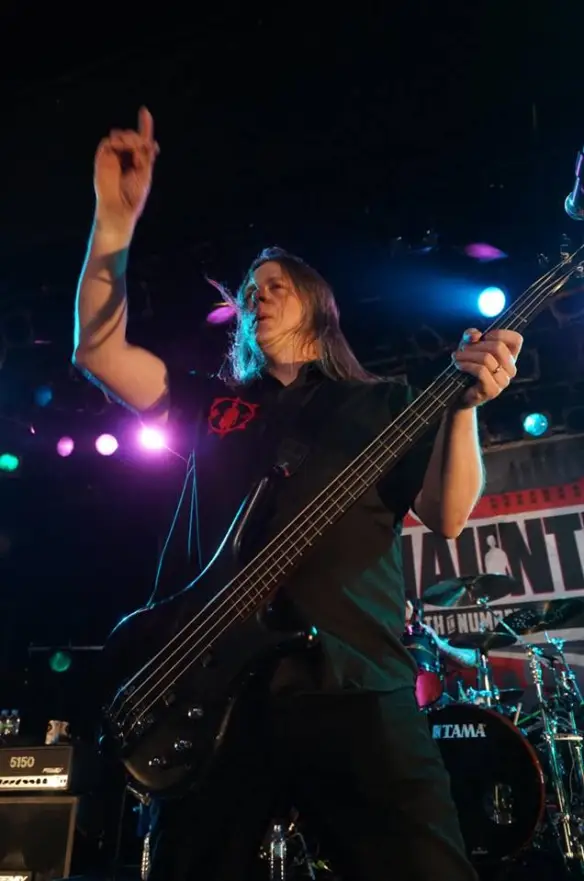 Jonas Björler, how do you feel being back in Japan with The Haunted? "It's nice to be back in Japan. This is like the fourteenth time. I'm always looking forward to Japan," says Jonas Björler with a big smile as we sit down at Liquidroom in Tokyo during soundcheck.
The Haunted has fantastic thrash metal-style guitars mixed in with your extreme metal. Would you say that it is the thrash guitars that define your signature sound? "We have always had our roots in thrash metal. You'd notice that on the first album. We have never really left thrash metal behind us. The album where you have the least amount of thrash probably is 'One Kill Wonder' and perhaps also 'The Dead Eye' when we started to experiment with more prog and heavier things. But we've always had thrash elements in our music."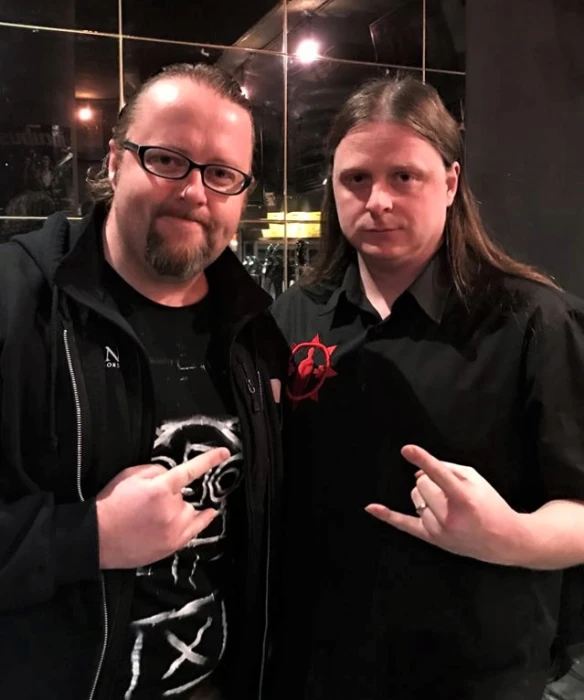 The Haunted's members are busy not only with this band but also many other bands and projects, including At The Gates and Witchery. How do handle all the commitments? "We try to have a shared calendar and make it work somehow. It's first come, first served, kind of. If someone has something he really wants to do, then we let him do that and we plan everything else around that. We all have jobs back home, so it becomes a bit hard to plan things. That's why we book things a year in advance. At the moment we're booking January and February next year. We have to be ahead in order to plan things," explains Björler who, together with drummer Adrian Erlandsson will return to Japan already in May for gigs with At The Gates.
With a fantastic new album, "Strength in Numbers", released in August last year, it must be tricky to put together your set lists? "We will play four or five of the new songs. We try to mix all kinds of songs, trying to include something from every album. I don't think we will play anything from 'Versus' today, but other than that we have things from all our nine albums. You can't please everybody. We just play whatever we want. Play something from all albums, except one perhaps, but with emphasis on the new album."
When you write music does it differ between the different bands? Do you compose for a specific band or do you just write new music and then use it where it fits? "I have just finished the new At The Gates album. I did all the music for that one and thus I kind of feel like I am out of ideas. Let's see. Often when I sit at home riffing I normally hear that this is probably cooler for that band. My wife also has opinions: 'That sounds like that band' and so on. It can be a bit tricky. I am one person with my influences. I think that with both bands… Sometimes things overflow the borders between the bands. With At The Gates I try to make it a bit more death metal with a melodic atmosphere. With The Haunted it's more thrashy. That's kind of how I think about it."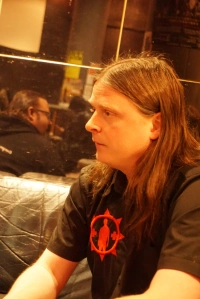 For many years you played together with your twin brother Anders Björler in both The Haunted and At The Gates. But Anders is no longer a member of the bands. Do you miss him? "I am used to it as he left The Haunted in 2012. I've gotten used to it. I miss him on stage and playing together, but we see each other quite a lot privately. Perhaps we get less tired of each other now."
Danish producer Tue Madsen has produced many of The Haunted's albums, but the latest album was done by British producer Russ Russell who famously has worked with Napalm Death. Was he chosen because you wanted to make a really heavy album? "Yes. Tue has been great on the earlier albums, but we felt that Russ has even more of the sound that we want, the brutal kind. Yes, we wanted something new after Tue. He has done all of them really since 'Revolver'. Thus we thought it was time for a change, to try to get some variation in the sound."
Do you feel any constraints when you write music? Do you feel that what you write has to fit within certain parameters or external expectations? "No. We have never written music in that way. At least not me. I don't start the work on a new song with 'What will people think?' or 'How will they react to this?' I can't work like that. It's better to just write freely and not have any ulterior motive. Otherwise I think one will hinder one's creativity and get stuck. It's better to do as we have done with The Haunted where we have at least tried to expand the sound and the ideas. With 'Dead Eye' and also on 'Unseen' we took a step to make it progressive and darker. Many people didn't like that, but we did it anyway. We felt that we wanted to do it. Try it out." You kind of did an Opeth! "Yes, but perhaps not completely, just a bit. We have been sniffing at a few things. I really think that 'Dead Eye' is one of our better ones, even if not everyone likes it. Music is about feelings, I think. If you're not communicating something, a good feeling or something that makes people react, then there is no point in creating music. Even if you do grindcore and that kind of music, you have to deliver some kind of feeling."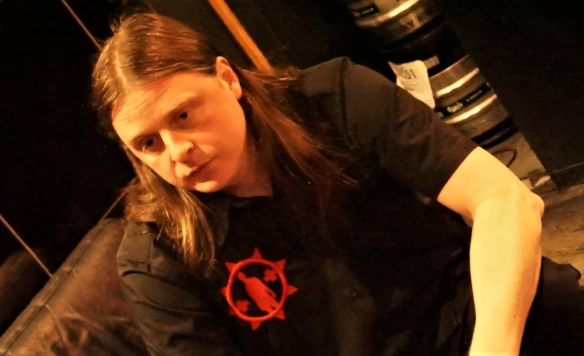 Apart from founders Jonas Björler and Patrik Jensen, The Haunted has had quite a few line-up changes with people coming and going and returning as well. Drummer Adrian Erlandsson and vocalist Marco Aro are both on their second stints in the band while Ola Englund joined in 2013 to replace Anders Björler. With these personnel changes, how do you maintain the band's sound? "I've played with Adrian in At The Gates too and Marco has been in the band before. Because we know them and how they are as musicians too, it is kind of easy. Ola is a great guitarist too and that also makes it kind of easy to work with these people. It hasn't been any problem."
The Haunted has a great history with Japan. You've recorded a live album here ("Live Rounds in Tokyo", recorded in 2000 when on tour in Japan with In Flames) and you've also had great success with At The Gates here. "We like coming here whenever we get the chance. We have been here with all the album releases with The Haunted, I think. Yes, we have and even one year I was here three times, two with The Haunted and one with At The Gates."
The latest album was released in August last year and you have been out playing to promote it. What's next for the band? "We played Sweden, Norway, Finland and now we're here and then we're doing Spain and Portugal. After that we have a few festival gigs in Germany and such. We take it as it comes. We don't do any long tours as we have jobs back home. We'll see what happens. We've had a few offers for the autumn, some bigger things as well such as support slots for tours."
The Haunted is closely associated with the Swedish city of Gothenburg. That is where the band formed in 1996 and the band and its members have also to some degree been part of the legendary Gothenburg Sound scene. But nowadays the band has left Gothenburg. "No one actually lives in Gothenburg anymore. Before we all lived in Gothenburg, apart from Marco. I moved to Örebro. Adrian lives in London. Jensen has moved to Helsinki, Finland. Ola and Marco live in Stockholm. It's a bit spread out now and thus we don't rehearse much. Hahaha!! We have to rehearse at home and at soundcheck!"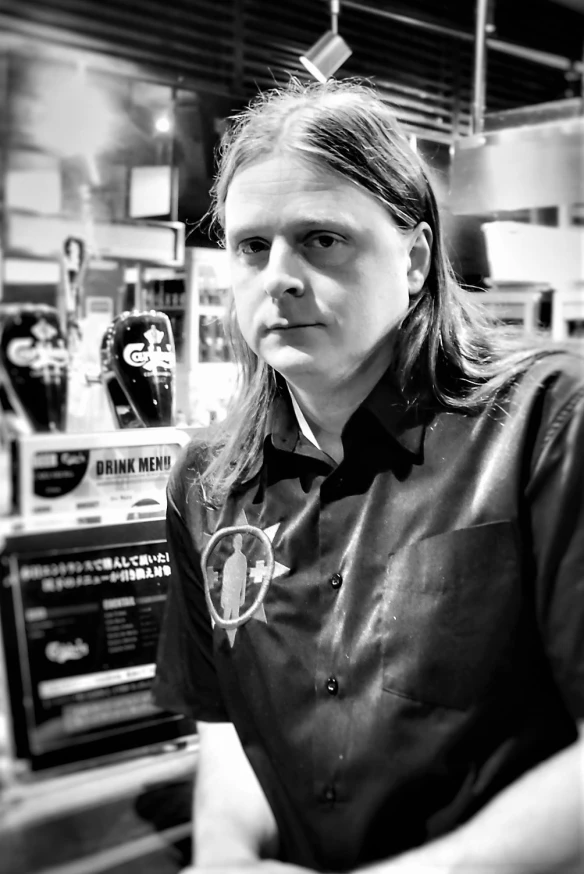 As mentioned The Haunted's Jonas Björler and Adrian Erlandsson will be back in Japan already in May to play with At The Gates. And no doubt they will return with The Haunted at some point.
www.facebook.com/hauntedofficial