Gig review: Slash featuring Myles Kennedy and The Conspirators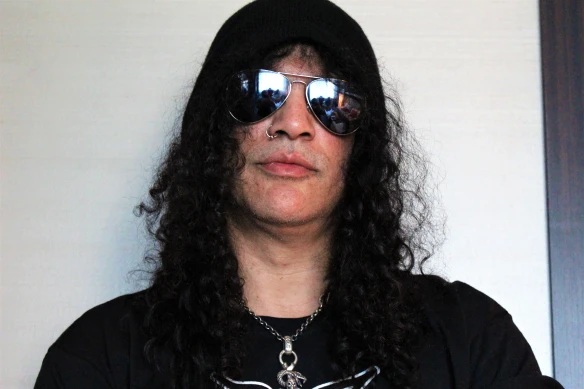 Slash puts on a great show in Tokyo focused on his solo material.
Slash featuring Myles Kennedy and The Conspirators and H.E.R.O. at Studio Coast, Shin-Kiba, Tokyo on 17th January 2019
The evening kicks off with promising new Danish rock band H.E.R.O. as support act. They have just been signed by Sony Music Japan and their short set gets them noticed and no doubt creates some interest in their debut full-length studio album which will be released in April.
I first saw Slash live with Guns N' Roses in 1991 on the "Use Your Illusion" tour. Since then I have seen him numerous times solo. What sets this evening's gig apart from all the previous ones, is that he is no longer relying on playing old Guns N' Roses hits. This evening we only get one GNR song, "Nightrain". We also get one Velvet Revolver song, "Fall to Pieces", but the show is primarily built around Slash's solo material. It is a fantastic night of good-fun quality rock'n'roll delivered by a world-class band. Unlike in Guns N' Roses, here Slash gets to do what he wants. He can be more relaxed and have a more laidback approach. It looks like he is having more fun and it feeds into the music too. Slash has a fabulous and very tight band. It's the same line-up as when they last toured Japan four years ago: vocalist Myles Kennedy (Alter Bridge), bassist Todd Kerns (Bob Kulick, Hookers & Blow, Sin City Sinners), drummer Brent Fitz (Union, Vince Neil, Alice Cooper, Bruce Kulick) and guitarist Frank Sidoris (The Cab).
They open the show with "Call of the Wild", a track from the latest album, "Living the Dream", and follow it with crowd favourite "Halo", one of the best songs from Slash's solo catalogue. Other highlights of the 22-song show include the terrific "World on Fire" and "Shadow Life". In the splendid "Wicked Stone" we get one of a series of excellent extended guitar solos by Slash. The man and his guitar are in love and they are having a good night. If one were to look for areas of possible improvement, perhaps we could wish for a little more variation in the song material. A majority of the songs are of a similar kind. We do get a couple of slower songs and a few songs that are a bit more blues rock, but for the most part, Slash's show is made up of guitar-based melodic hard rock. Having bassist Todd Kerns sing lead on a couple of great songs ("We're All Gonna Die" and "Doctor Alibi") is a smart move. It mixes things up and Kerns is a hell of a showman – his stage moves reminds me of Gene Simmons in the 1970s. A great evening of rock finishes with the catchy "Anastasia" and one more fantastic guitar solo by Slash.