Album review: Crashdiet "Automaton"
Sweden's melodic hard rockers Crashdiet shine on their sixth studio album which combines catchy tracks with sleazy swagger.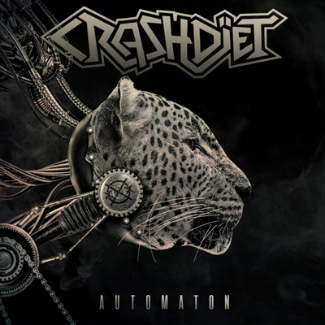 Crashdiet formed in Stockholm, Sweden in the early 2000s and released its first full-length studio album, "Rest in Sleaze", in 2005. Japanese fans may remember that Crashdiet opened for Europe and Treat on their Japan tour in 2015. The core of the band remains Martin Sweet on guitar and Peter London on bass. The band's lead vocalist since 2017 is Gabriel Keyes. Drums on the new album are played by long-term member Eric Young but he is now taking a break from the band and has been temporarily replaced by former Hanoi Rocks drummer Lacu. Visually the band looks like a gang of tough guys. But when it comes to the music, it is mainly harmless but very good melodic hard rock. The band's music combines catchy tracks with sleazy swagger. This is melodic hard rock, a genre which includes many great Swedish bands. The track "Together Whatever" is very catchy and comes with a shout-along setup made for live shows. A song like "No Man's Land" is essentially AOR with some added contemporary musical twists. And there is nothing dark about "Darker Minds", it's sunshine AOR that your mother might approve of. "Resurrection of the Damned" is one of the album's best tracks, with a more hard-hitting contemporary sound and yet it is still very catchy. The acoustic guitar-driven power ballad "I Can't Move On (Without You)" rounds off a solid album. If catchy Scandi hard rock with big choruses is your thing, this album won't disappoint.
Crashdiet's new album "Automaton" will be released in Japan on 6th July via Avalon/Marquee.
www.facebook.com/realcrashdiet