Album review: Myles Kennedy "Year of the Tiger"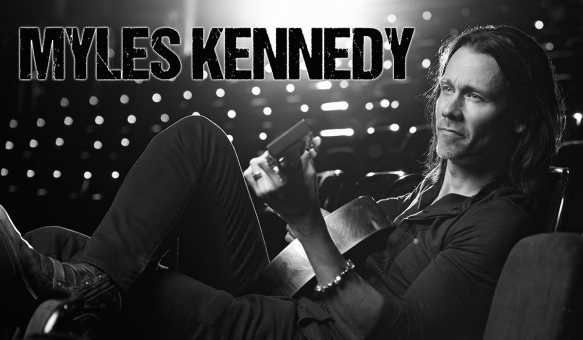 Myles Kennedy the solo artist stands up well without Slash and Alter Bridge on debut solo album.
Myles Kennedy has an instantly recognisable voice. He has made a name for himself with his band Alter Bridge, but it is his work with Guns N' Roses' guitarist Slash that has most impressed me to date. Slash featuring Myles Kennedy and The Conspirators released the fabulous "World on Fire" album in 2014. Myles got to shine on that album on some fabulous rock songs. When I then saw him perform a couple of gigs with Slash in Japan in 2015, it was even better live. He's a true performer with a great voice.
On the "Year of the Tiger", his debut solo album, we get Myles Kennedy the solo artist. This is an album on which that voice is rightly at the centre. Here it gets to do what it does without having to adjust to what's around it. "Year of the Tiger" is a grown-up rock album in a proud American tradition of storytelling singers. Here we have some subtle country and blues influences in music that is built around Myles' voice. There are some decent rock songs on here, but the overall feeling here is more of a relaxed and slightly seasoned singer-songwriter. A bit like a travelling bluesman of yesteryear. That Myles the solo artist lives in a slightly different musical landscape than Slash and Alter Bridge is a good thing. Myles Kennedy the band frontman already exists and we already like him. If Myles the solo artist were just more of the same there wouldn't be any reason for his existence.
The title track is rather catchy and one of the album's better songs. Another favourite is the beautiful and emotional  "Love Can Only Heal". "Devil on the Wall" is a fun and somewhat different kind of track. He has plenty of emotion is his terrific voice and he knows how to use his voice to fit in with whatever style he sings. Lyrically the songs are rather personal, much of it relating to his parents. This is an album filled with grown-up rock. Myles plays it kind of safe (there are no radical surprises on this album), although he still manages to keep it interesting with all kinds of influences shining through in his music.
The three acoustic bonus tracks are great additions to the album. "Nothing But a Name" in an acoustic demo version is the album's best moment.
Myles Kennedy's solo album "Year of the Tiger" will be out on 9th March via Ward Records in Japan and via Napalm Records internationally.