Interview: Marko Tervonen of Swedish death metal veterans The Crown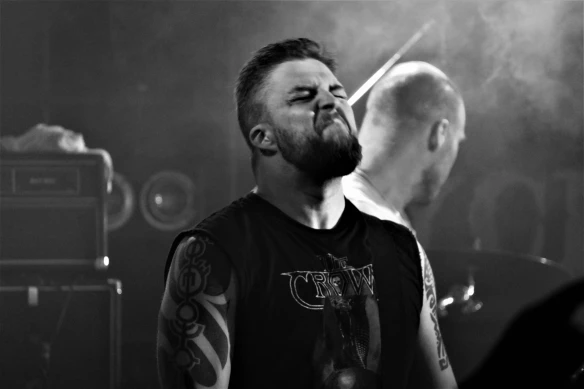 Swedish death metal veterans The Crown have released a fab new album and are putting on some terrific live shows this year. Roppongi Rocks caught up with co-founder, rhythm guitarist and songwriter Marko Tervonen when the band recently did its third Japan tour.
Founded in 1990, The Crown was one of the early death metal bands in Sweden. Now, 28 years into the band's career and with ten studio albums under its belt, The Crown is back in fine form and with what seems like its best-ever line-up. Co-founders Marko Tervonen (rhythm guitar), Magnus Olsfelt (bass) and Johan Lindstrand (vocals) are joined in the band's current line-up by newer additions Robin Sörqvist (lead guitarist since 2013) and drummer Henrik Axelsson, who joined in 2014. The new album "Cobra Speed Venom", released earlier this year, is one of the band's best and live they are absolutely killing it.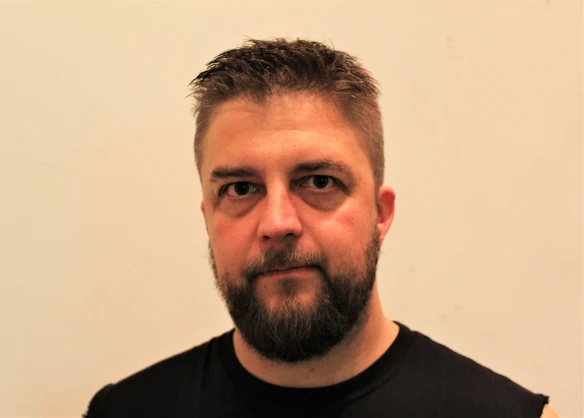 "We are a veteran band that's been rejuvenated with the new album," says Marko Tervonen when we meet backstage in Tokyo during the band's recent Japan tour. This is the third time the band is touring Japan. "It's great. Everything is upside down in this country. It is great fun being here. This is our third visit. The first time I was just walking around with my mouth open in amazement. I didn't understand anything. The last visit was very intense. Just Osaka and Tokyo and then back home. We hardly had time to pack down our gear after the show before we were back home. This time we're doing four gigs and start seeing the everyday reality underneath the surface. It's a wonder we make it work. Financially it is harder for us to tour in Europe. But here in Japan, it works, on the other side of the planet! It's great!" 
The new album is a big step up from the prior couple of albums. Did you approach "Cobra Speed Venom" in a different way? "The previous two albums we worked on in a different way. That is why they ended up being different. I shouldn't complain about the previous two albums. Well, yes, OK, I will. There are various reasons why they ended up being the way they are. The previous album was a nightmare in many respects. I filled in as drummer. That alone is insane! Sure, I muddled through, but not at the level where it should be when it comes to intensity and so on. It sounded a bit too much like an old man playing. With this new album we realised that we should do things the way we used to back in the days. First of all, we decided to rehearse. 'Doomsday King' was done without any rehearsals. I learnt the riffs in the studio when we were about to record. That obviously means that you get a certain end result. This time we rehearsed all the album. I produced the earlier two albums. What that means in reality, because it sounds flashy, is that I sit alone in the studio trying to finalise things while all the others are out having fun. Thus, we decided to use an external studio this time. I didn't want to produce or be responsible for the production at all this time. I just want to play guitar and do things like we used to. This time we did like we did all those year ago and went into the studio and acted like a band. There are many things in that process that shouldn't be underestimated, such as those 2:00am ideas that pop up. Things like that."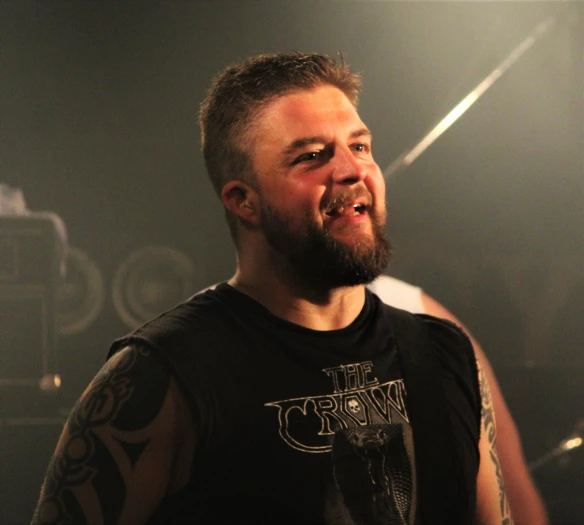 Was it a planned move to go back to the old classic The Crown sound? "I hear what you're saying and I agree. It turned out that way. But we didn't have a meeting where we decided the direction. This is the first album where we have Henrik involved from the start. He is really fast. The first song we wrote was probably 'Iron Crown' which became the first single. Already with that song it was like, shit, this is the level we want to be at. We also had Robin involved properly and not just for the solos. We became a band acting like a band. That's when we are at our best. Then the song ideas just started to happen and we formed all the parts into an album. Somewhere there we realised that, shit, this will be great." 
You now have your greatest line-up ever with three original members and a couple of newer additions. "I agree. I absolutely do not want to criticise our earlier brothers. Everything and everybody have been there for a reason, it's as easy as that. Robin is such a musically-gifted guitarist. I am so grateful because I am not a solo guitarist. I am first and foremost a songwriter in this band. That is my role. Henrik is younger than the rest of us and he is drumming in a different way. And he's using modern expressions that I don't even understand. Gravity blast? I don't even know what it is! It all forms into a very strong unit. Robin is a long-time friend. He's the cousin of my ex-wife. I have also known Henrik for a long time. It all works very well."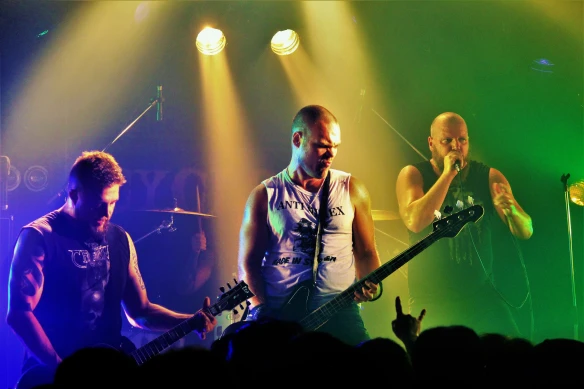 Your version of death metal sounds like it has a fair bit of thrash metal influences in the mix. "Yes. I think that after 'Hell is Here', sometime after 'Deathrace' we started to include those parts in the music. The whole heritage of old-school thrash and death metal – we can't avoid it. It's in our backbones. It is still what inspires us the most. It is music that was around in the 90s that has the biggest impact on us. It is still what shapes us and is still at the centre when we talk about music. We are very open with what ideas we steal…or borrow! If we go back to 1997 and the second album 'Eternal Death', that was very much inspired by Nordic melodic death/black metal music, such as Dissection. It was really inspiring. It was on the verge of being black metal. We don't shy away from developing and taking in different influences. If we're rehearsing and we think it sounds good, then it is good. It's nothing to think about too much."
The Swedish death metal scene, while very influential and successful, consists of a small group of people. Two former The Crown vocalists are now members of At The Gates and the new album has been produced by Fredrik Nordström who is best known for his work with At The Gates. Have you ever considered a joint At The Gates and The Crown tour? "At The Gates are now very busy with bigger things. But The Crown, Witchery and The Haunted are not too far apart. That would be a really cool tour package! A few of the people would have to pull double duty in that case, but what the hell! It would be cool as fuck."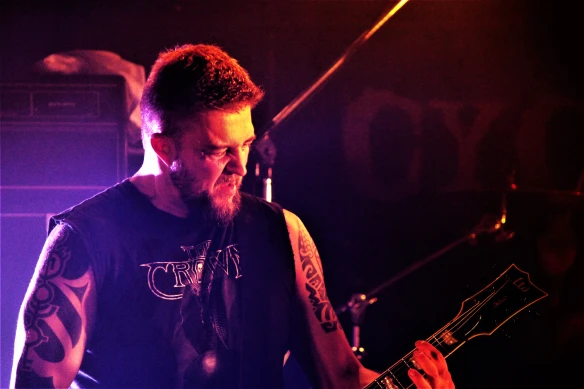 You are now back on the Metal Blade label. Does it feel like you're back home where you belong? "Exactly! When I look back at this with hindsight, I see how many pieces of the puzzle fell into place: back to using Fredrik Nordström, back in Studio Fredman and back with Metal Blade while still managing to create something fresh and new. Our deal with Century Media came to an end. Our first thought was: perhaps Metal Blade would be interested? We decided to enter Studio Fredman to record four songs and then play them to the label. I felt that we had a lot to prove. The last two albums could have been so much better. They showed us in a very strange way. With me drumming it didn't come across as very serious. Now we wanted to do it the old-school way and play a few songs for them and see what they think. They went for it straight away. There was no discussion. We have a long history with Metal Blade and many of the people are still working there. Andreas who is in charge of the European operations is a major fan of ours. When he heard the new songs, he knew immediately that this was great, some of our strongest material. Via USA we then got a world-wide deal with Metal Blade, which is really cool."
What's next for The Crown? "In December we will do a week-long European tour. We haven't done that in a very long time for various reasons. That will be a great. Then, after December, we will start working on new material. It's mad, but we already have 13 new songs. We just need to start rehearsing and work on them. Magnus wrote 13 new songs. It's sick! I am way behind. I have to start writing so that we can get a balanced album. Because our latest album gio such great response, we're psyched. Often with us things take a long time. Back in the day we used to rehearse three days a week. Now it is fantastic if we manage to do once a week. That's the way it is." 
If you want to get royally crowned, buy "Cobra Speed Venom" and don't forget to catch the band live.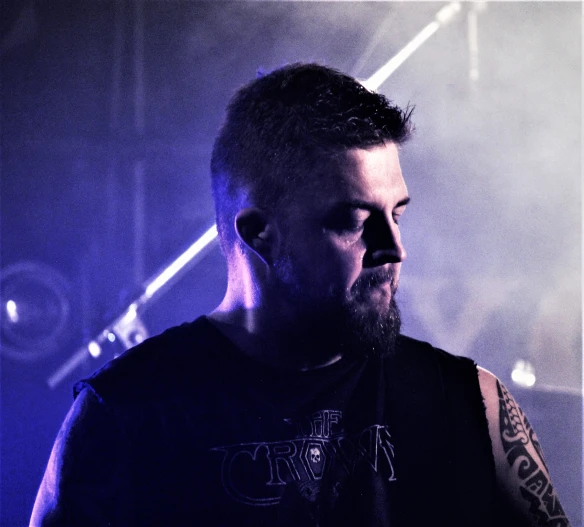 www.facebook.com/thecrownofficial