Album review: Michael Monroe "I Live Too Fast to Die Young"
Michael Monroe has been Finland's biggest rock star since the early 1980s. In 2022, he remains the leader of the pack.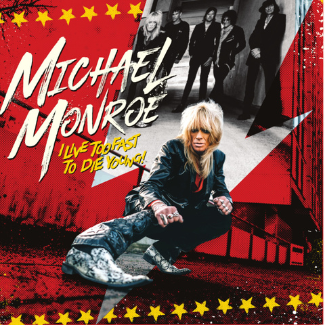 Whenever, and wherever, Michael Monroe arrives, you can count on a rock'n'roll party happening. The man looks and sounds rock'n'roll. He is rock'n'roll. Hanoi Rocks, which he fronted, was probably the first Finnish rock band to make a name for themselves internationally. When Hanoi Rocks broke up in the mid-1980s, Michael Monroe embarked on a solo career. He also fronted two terrific, but short-lived, bands: Jerusalem Slim and Demolition 23. Hanoi reunited in 2002 which resulted in some great tours and new studio recordings. Hanoi finally called it quits in 2009 with a Japan tour and a bunch of final gigs in Finland. Michael has since soldiered on as a solo artist. His solo band has always included some interesting characters. His current line-up features Hanoi Rocks legend Sami Yaffa (bass and guitar), Steve Conte (guitar), Rich Jones (guitar) and Karl Rockfist (drums). There are also some guest appearances, including Guns N' Roses' guitarist Slash on "I Live Too Fast to Die Young"
Michael is an entertainer. He's the Frank Sinatra of rock'n'roll. But he is also Elvis Presley, Steven Tyler, Paul Stanley, Mick Jagger and Clarence Clemons all baked into one explosive Finnish rock star. His albums and stage shows tend to be sweaty and high-energy rock'n'roll shows. His new album "I Live Too Fast to Die Young" continues that tradition. The album is overflowing with energy, guitar riffs, catchy rock and Michael himself bouncing around all over the music. It is rock'n'roll sprinkled with glam, punk and blues. Of course, Michael is from Finland, a nation where there are no bandages (they don't need them) and the undisputed home of melancholy. Thus, we do get some mellow, slower tracks such as the excellent "Derelict Palace" and "Dearly Departed". But then, in true Monroe style, those slower songs are countered by smoking rock'n'roll tracks like "All Fighter" and the punky "Pagan Prayer". The beautiful ballad "Antisocialite" is terrific with great lyrics ("Stop the train because it is heading nowhere"). Michael Monroe and Hanoi Rocks fans won't be disappointed. Michael has delivered another terrific rock'n'roll album. No matter what musical sub-genre Michael takes on, his characteristic voice and swagger colour the song and we can instantly recognise it as a Michael Monroe song.
Michael Monroe's new album "I Live Too Fast to Die Young" will be released on 10th June via Silver Lining Music. A Japanese edition of the album will be released by Victor Entertainment.
www.facebook.com/michaelmonroeofficial