Album review: Arallu "Desert Battles 2018"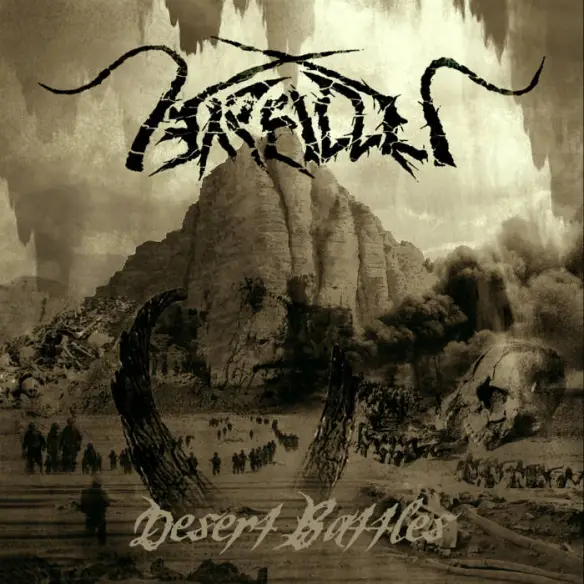 Arallu gives us Israeli black metal with Middle Eastern influences on its new album "Desert Battles 2018".
Being based in Jerusalem, extreme metal band Arallu has two local influences that can be easily identified in its music: local folk music from the Middle East and the struggles of living in a conflict zone. Both of these ingredients are crucial in Arallu's music. Formed in 1997, the band, led on and off stage by bassist and vocalist Daniel "Butchered" Moti, has released many albums and several live DVDs over the years. This latest album is a reworked version of an album initially released in 2009. The band has recorded new vocals, changed the track order, remixed the songs and included a different closing track on the album as well as changed the cover art. The result? Splendid!
Arallu's music is hard to define, but extreme desert metal might be one way or Mesopotamian black/thrash metal from Jerusalem which is how the band describes itself. Instead of the cold, dark and deep Norwegian forests that helped to shape the second wave of black metal in the early 90s, Arallu has the desert, the sun and oppressive heat as a layer over its take on black metal. There is a foundation in black metal here mixed with some folk metal (including the use of regional Asian and Middle Eastern instruments) and avant-garde influences (a bit like a Middle Eastern answer to Japan's Sigh). The album has a fabulous underground feel to it. The music is often chaotic, raw and brutal. But at the same time it is also rather complex and sophisticated music with frequent tempo and style changes. This is different from almost everything out there and it's great. It is so refreshing to hear something that is a bit different. The album opens with an intriguing instrumental piece called "Al Macbara" before the black metal mayhem breaks out. "Millchama" is a crushing highlight on the album. "Old Form of Evil" is spectacular with so much going on that I discover new details every time I listen to the track. "Possessor of the Code" is another track that stands out on this album and so does the title track "Desert Battles". The bonus track "Desert Genii Storm" is a great addition to an already very good album.
Arallu's "Desert Battles 2018" is out now via Raven Music.