Album review: Destruction "Diabolical"
Destruction marks 40 years as a band with a fab new album. German bassist/vocalist Schmier leads what is now an international band overflowing with skilled musicians. This is an album that makes my neck hurt.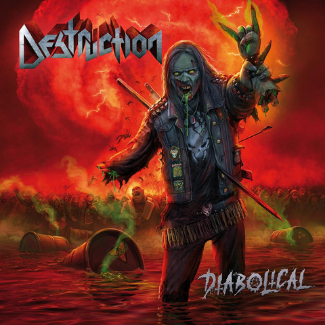 Veteran German thrash metal band Destruction celebrates 40 years as a band with the release of a fab new album. Bassist and lead vocalist Schmier soldiers on and leads this international thrash machine from the front. Behind him, the band has gone through some changes in recent years. Rock steady Canadian drummer Randy Black (ex-Annihilator, Primal Fear, W.A.S.P.) joined in 2018. He was followed by Swiss-Bosnian lead guitarist Damir Eskić in 2019. Then original guitarist Mike Sifringer left the band and was replaced by Argentinian Martin Furia (Bark, Furia) in 2021. Well, Destruction may nowadays be a rather international band, but make no mistake about it, musically they are still a very German thrash metal band. Metal they bleed! The new album, "Diabolical", is full of uncompromising thrash metal. It's relentless and the guitar work is on another level. Destruction's classic sound remains but they have added some exotic spice to the German meat-and-potatoes. Martin Furia's appointment as guitarist may have come unexpected but the band knows him well. He has been part of the band's touring crew for several years. Not only is he a great live sound engineer but he is also an accomplished studio producer who has worked with Nervosa. As he has demonstrated in his other bands, he is a bundle of heavy energy and to me, it sounds as if he has brought a fair bit of his skills and personality into the band's sound. Damir is a smashing lead guitarist that adds some flair and Randy's drumming is world-class. The new blood has been great for the band and has also pushed the mighty Schmier to new heights. Among all the thrash metal, they have some heavy metal parts that sound very much like old-school Accept. My neck hurts. That is always a great sign when one is reviewing a new thrash metal album. The quality of the album is very even but the music is quite varied within the broad scope of thrash metal. My favourite track on the album is the fast and heavy "Hope Dies Last". All four members get to shine on this song. But that's basically the case on all 13 tracks on the album. What a solid effort from a relentless metal machine. The punky GBH cover "City Baby Attacked by Rats" is a fun and laidback (but fast!) way to round off a terrific and sweaty album.
Destruction's new album "Diabolical" will be released on 8th April via Napalm Records.