Album review: Slash featuring Myles Kennedy and The Conspirators "Living the Dream"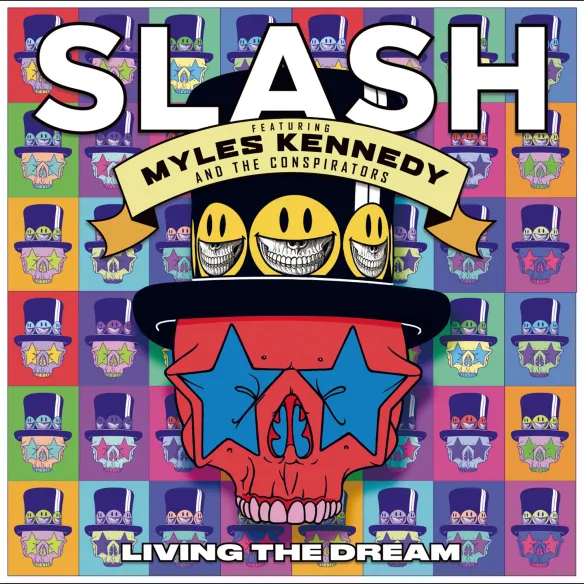 With Guns N' Roses on a short break from their ongoing multi-year world tour, guitarist Slash has found time to put out a new album with Myles Kennedy and The Conspirators.
In essence, this is more of the same that Slash and his men created on their last album, 2014's splendid "World on Fire". Since the last album, the major difference is of course that Slash has rejoined Guns N' Roses. Guns N' Roses is a rather complex band where Axl Rose has a say in everything and where the partly reunited classic line-up of the band has not yet produced any new music. The GNR live set has been focused on playing classics as well as some covers. This, I believe, is why Slash needs to put out an album like Slash featuring Myles Kennedy and The Conspirators' "Living the Dream". Here he gets to do what he wants to do without too much pressure or too high expectations. Because of this, we get quality rock'n'roll by a terrific band of rock brothers who play well together, seemingly without too much drama. The world-class band line-up remains the same that toured the previous album – in addition to Slash there is vocalist Myles Kennedy (Alter Bridge), bassist Todd Kerns (Bob Kulick, Hookers & Blow, Sin City Sinners), drummer Brent Fitz (Union, Vince Neil, Alice Cooper, Bruce Kulick) and guitarist Frank Sidoris (The Cab). As is the case with many of the world's truly great guitarists, Slash never goes too far. Sure, he shows off his guitar-playing skills, but he makes sure he is part of the songs. His guitar never overstays its welcome. It never overshadows the songs.
"Living the Dream" offers us straightforward and catchy rock'n'roll built around Slash's guitar and Myles Kennedy's characteristic voice. It's radio friendly and won't scare too many parents. "Sugar Cane" is a clear favourite of mine with trademark Slash guitar riffs. So is "Mind Your Manners", a straightforward rock'n'roll track. "Lost Inside the Girl" is terrific – the album's best track – and "Driving Rain" is another strong track. "The One You Loved is Gone" and "The Great Pretender" are power ballads where not least Myles Kennedy gets to shine. The album "Living the Dream" is great fun. This is a band playing melodic rock'n'roll, music that they love and have produced without overthinking things. That laidback, casual feeling is what makes this rock album a good one.
Slash featuring Myles Kennedy and The Conspirators' new album "Living the Dream" is out now via Roadrunner Records.