Gig review: Arch Enemy's original line-up reunited onstage in Japan as Black Earth – bleeding terrific!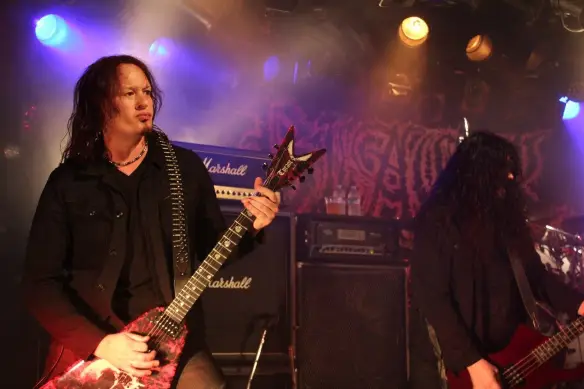 Brilliant live comeback by Arch Enemy's original line-up onstage in Japan. Bleeding terrific old-school death metal!
Arch Enemy and Japan have had a special relationship ever since the band formed 20 years ago. The band's first single, "Bury Me an Angel" and the debut album, "Black Earth", quickly became popular in Japan. It was also in Japan the band recorded its first live album, "Burning Japan Live", which was recorded in 1999 and released the year after.
The band has remained very popular in Japan and has made countless tours here, as headliners as well as making several appearances at the massive Loud Park festival outside Tokyo. It was at the Loud Park festival in October 2015 that the current Arch Enemy line-up brought up former members Johan Liiva and Christopher Amott onstage as guests on a few songs. The fans loved it and the Japanese promoter, Creativeman, offered the band to do a Japan tour with the original line-up.
The Japanese reunion tour is done under the name Black Earth. Michael Amott (guitar), Johan Liiva (vocals), Christopher Amott (guitar) and Daniel Erlandsson (drums) from the band's original line-up are reunited onstage for this tour. They're supported by bassist Sharlee D'Angelo (who joined Arch Enemy in 1999 from Mercyful Fate) as the bass on the debut album in 1996 was handled by Michael Amott.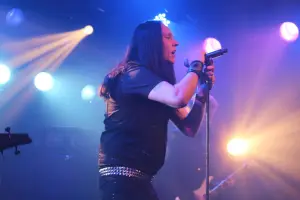 This evening, Black Earth kicks off their seven-date Japan tour at Club Quattro in Tokyo, with a two-hour old-school death metal attack consisting of 22 songs of the finest quality.
This Japan tour marks the 20th anniversary of the release of Arch Enemy's debut album. They exclusively play songs from the first three albums – "Black Earth" (1996), "Stigmata" (1998) and "Burning Bridges" (1999) – the era when Johan Liiva fronted the band. The band were more aggressive and less melodic in the early days. In 2000, Johan Liiva was replaced by Angela Gossow and reportedly Liiva was devastated at being kicked out of the band. Well, tonight he clearly is very happy to be back performing with his old bandmates in front of their Japanese fans.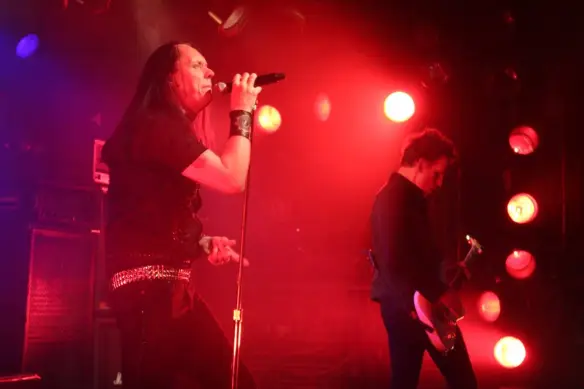 Black Earth are sensational this evening. Bleeding terrific! This is no mere nostalgia act. They sound fresh, modern and brutally good. Some of the gig's highlights are fantastic versions of "Diva Satanica" are "Let the Killing Begin".
Seeing them reunite for a few songs at last year's Loud Park was great. But seeing them tonight doing a full set on their own with the original line-up is nothing short of brilliant. The sold-out Japanese crowd obviously loves it. The gig is a full-on metal assault. Things don't calm down (very briefly) until the intro of "Bury Me an Angel". Then it is quickly back to the fast and furious death metal world.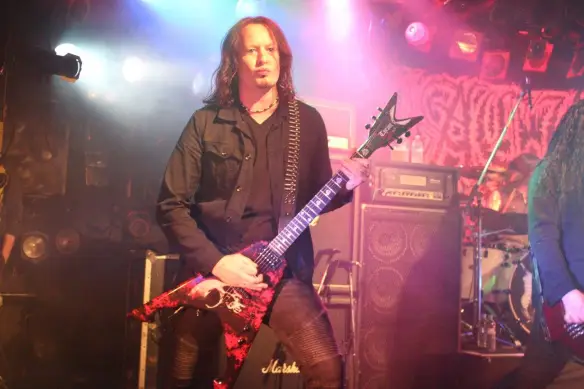 "Fields of Desolation" kicks off with a beautiful guitar solo by Christopher Amott (which could easily have been a Gary Moore solo) and then goes into one of the evening's best and most brutal songs.
While Arch Enemy has always been a death metal band, they have frequently had some great NWOBHM twin guitars on their songs. Thus it is no big surprise to hear them play the Iron Maiden classic "Aces High" as their first encore (a track recorded in the studio by Arch Enemy back in 1996). This is followed by "Beast of Man", "Silverwing" and "Bridge of Destiny" (featuring a fine guitar duel between the Amott brothers).
Johan Liiva has some peculiar stage moves going on. He's trying to look tough and angry but he's so obviously excited to be back performing with his old band that his happiness shines through. Liiva's voice fits this old-school death metal like a glove. The early material played on this tour is less melodic than what Arch Enemy sounds like nowadays.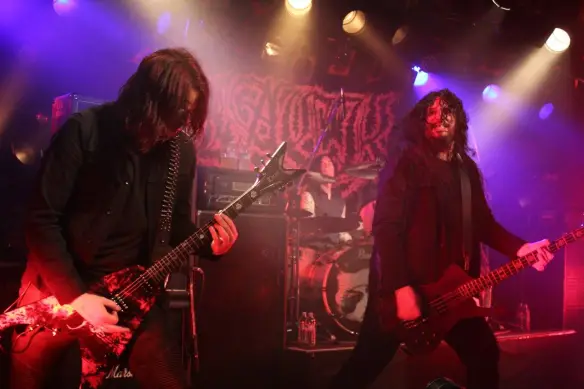 The rhythm section is rock solid and the whole band is brilliantly tight. This is one hell of a collection of talented metal musicians. Michael Amott, as always, moves and sounds like a death metal version of Michael Schenker while his brother Christopher lets his guitar do the talking.
This was a classic death metal knockout in Shibuya. A top night for anyone who likes proper old-school death metal. What a terrific reunion!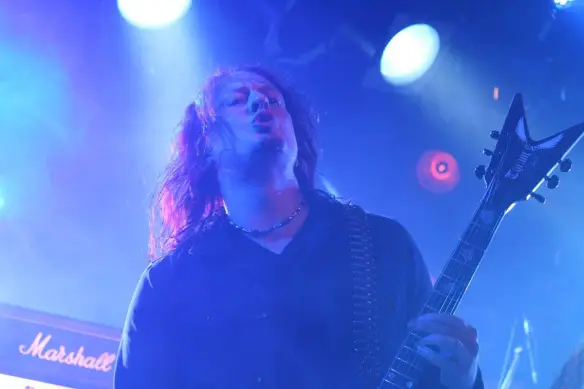 Black Earth – set list, Club Quattro, Shibuya, Tokyo, Japan, 17th May 2016
Black Earth
The Immortal
Dead Inside
Pilgrim
Sinister Mephisto
Diva Satanica
Tears of the Dead
Let the Killing Begin
Angelclaw
Bury Me an Angel
Dark Insanity
Eureka
Idolatress
Cosmic Retribution
Demoniality
Transmigration Macabre
Time Capsule
Fields of Desolation
Aces High
Beast of Man
Silverwing
Bridge of Destiny