Album review: Spirit Adrift "Chained to Oblivion"


Spirit Adrift's mainman Nate Garrett has created a psychedelic doom rock album, "Chained to Oblivion".
Spirit Adrift plays gloomy and heavy doom rock. This is, for the most part, more rock than metal. Most of the music is very slow (verging on comatose at times) but still heavy. It certainly has been influenced by Black Sabbath but the band has also added bits and pieces from 80s doom metal bands and some 60s psychedelia. Some of this is drenched in progressive rock and we also find some Thin Lizzy-style twin guitars in there. Parts of the songs on this album are rather "out there", such as part of the opening track, "Psychic Tide". The title track, "Chained to Oblivion", has a beautiful instrumental intro before the heaviness takes over and the song floats away in a sea of oblivious hopelessness. It is perhaps the album's best track.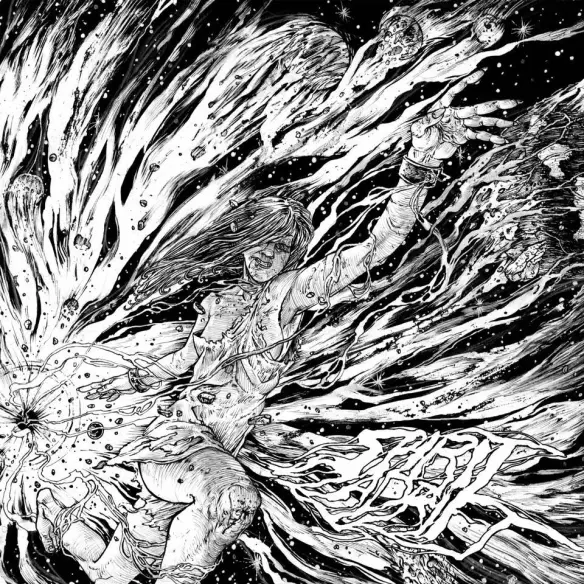 Spirit Adrift's mainman is Nate Garrett comes from Arkansas, USA. He relocated to Arizona a few years ago and played with some local bands before he founded Spirit Adrift in 2015. An EP came out in early 2016 and now Spirit Adrift has a debut album ready. It's a good debut that promises an interesting future for Spirit Adrift as Garrett continues on his journey. Perhaps Arizona's desert landscape has influenced Garrett, because this music is painted on a big and wide canvas. It sounds and feels like "Chained to Oblivion" is an album which Garrett had to do, perhaps a matter of keeping sanity and/or staying alive. Let's see what he has to do next.
The album, like the EP, has been produced by Bob Hoag at Flying Blanket Studios in Arizona. In the studio, this is a one-man band with Garrett playing all instruments as well as singing and writing all the songs. For the live version of Spirit Adrift, Garrett is joined by Jeff Owens on guitar, Christopher Coons on bass and Marcus Bryant on drums.
Spirit Adrift's "Chained to Oblivion" album will be released on 12th August on Prosthetic Records.