Album review: Amaranthe "Helix"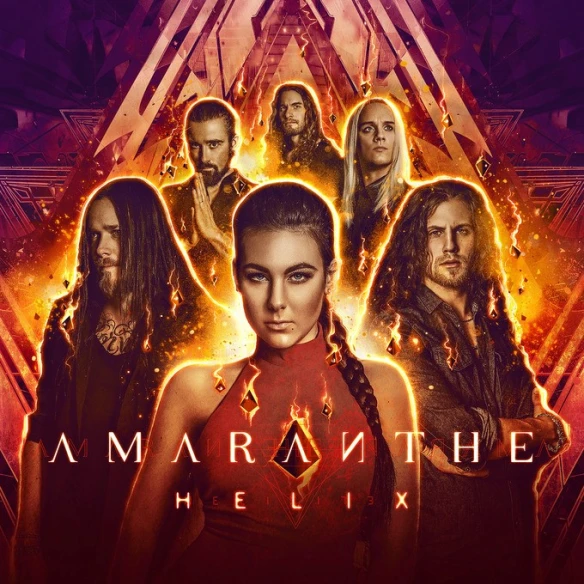 Amaranthe is back with its fifth studio album. It's everything you'd expect from this band and more: fast-paced and catchy modern metal bursting with energy and with some great new twists.
"Helix" is a logical next step for Gothenburg, Sweden-based band Amaranthe. It's the band's fifth album in seven and a half years. Since they debuted in 2011 with "Amaranthe", they have kept themselves busy with countless tours around the world and frequent album releases. Amaranthe had its signature sound established already on the debut album but they keep evolving and refining the sound. The solid musical foundation of the band – Olof Mörck on guitar and keyboards, bassist Johan Andreassen and drummer Morten Løwe Sørensen – remains intact since the very first album. The band has since the beginning fielded three vocalists with distinctly different vocal styles. Now only Elize Ryd remains of the original vocal trio. She's the one that takes centre stage in Amaranthe, but on this album, we also get to hear the other two singers – Henrik Englund Wilhelmsson and Nils Molin – really staking out their own kingdoms in the futuristic Amaranthe world.
The three vocalists are working in great harmony here. Elize Ryd gets to shine as usual – she's a great vocalist and an entertainer who likes to rock out. Growler Henrik Englund Wilhelmsson, who joined the band after the first two albums, sounds fiercer than ever. He sounds angry which adds an edge to his splendid performance. Nils Molin, previously best known as the voice of Dynazty, shows here why he was chosen by Amaranthe as Jake E's replacement in 2017. He adds something new to this band's sound. He has a great voice and he sounds very relaxed when he's singing. His singing seems to come naturally. He was born to sing music like this. His big moment on this album is the terrific power ballad "Unified" where he really gets to demonstrate the refined side of his voice. On other tracks, such as the album's first single, the massive "365", Molin gets to demonstrate the less polished, rockier side of his vocal abilities. He can handle both styles which is why he is a perfect fit for Amaranthe.
Musically, many of the songs on the album are very much trademark Amaranthe: fast-paced and catchy modern metal bursting with energy and with heavier parts thrown in here and there. But we also get plenty of new stuff, not least in the smaller details. Amaranthe is a band with a signature sound built on contrasts. Some of the turns in the songs are very fast and sharp – from commercial pop-like choruses to extreme metal anger. They always manage to keep things interesting. They never shy away from adding things from different musical genres and making it part of Amaranthe's music. Parts of the music on this album is grittier, heavier and darker. It's less perfect, it's dirtier and…better. Some of it is less direct, it requires the listener to pay attention. I like it a lot. There's still plenty of modern, melodic and catchy metal with pop hooks, but this time with more twists and frequent tempo changes. Henrik's growling plays a bigger and more crucial role this time, a musical direction which I particularly like. To put it in simple terms: they manage to get me to headbang and do some disco moves with my feet at the same time. Genre purists will hate this as they can't define what this is. But I love it. It is obvious that Olof Mörck and producer Jacob Hansen have spent a great deal of effort on getting the arrangements and production just right. I love the many small details in the soundscape. On a track like "GG6", one of the album's best tracks, we find the essence of Amaranthe: terrific growling, hard-hitting drums, guitar riffs and keyboard wizardry, all tied together by a catchy chorus. The fast and furious "Iconic" is terrific, combining aggressive extreme metal verses with a melodic and catchy chorus. Amaranthe at their very best.
Following the last Amaranthe album, 2016's "Maximalism", I thought they had peaked. Not so. This is a step up. Where will Amaranthe go from here? Now that they have former Arch Enemy vocalist Angela Gossow as their new manager, who knows what's next? Clearly, Gossow is ready to take on the challenge: "Yes, different kind of band for me. I really dig their sound and they are lovely people. They have a lot of potential, will be exciting to see how far and big I can make them", comments Gossow as I check in with her regarding her new Amaranthe collaboration.
Amaranthe's album "Helix" will be released on 19th October via Spinefarm Records/Universal Music.
www.facebook.com/amarantheband