Gig review: Marduk delivers a black metal assault on Tokyo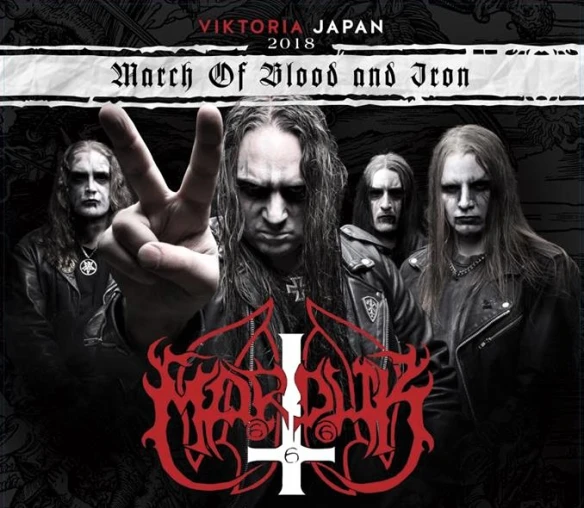 Swedish black metal band Marduk conquers Japan with a no-nonsense battle of a show. 
Marduk at Cyclone, Shibuya, Tokyo on 25th November 2018
Most foreign artists who tour Japan do so without any opening acts. But occasionally we do get the opposite, acts who tour Japan with several support acts. This evening in Shibuya, Swedish black metal band Marduk has no fewer than five support bands on the bill. Best of the opening acts is no doubt the American black metal band Abigail Williams. This fascinating band manages to very effectively create a terrific mix of black metal brutality with a twisted and haunted soundscape that combines heavy doom with blast-beat drumming. The sound of vocalist Ken "Sorceron" Bergeron helps to take the whole package into horror movie soundtrack land. There are also hints of a fair bit of influences from the 1990s Nordic black metal scene. Excellent stuff and a very good way to prepare the ground for Marduk.
The mighty Swedes in Marduk, still led by founder and guitarist Morgan Steinmeyer Håkansson, hit the stage and give us exactly what we want: an energetic one-hour set of brutal Swedish black metal. Marduk's music is to the point, precise and without any compromises. Speaking between songs are kept to an absolute minimum. Only frontman Mortuus speaks and when he does, it's limited to a few words. Marduk is all about delivering its brutal music. It's sinister, it's dark and it is bloody good. The whole show has a dark atmosphere, both visually and musically. The overall impression of the show is that this is music performed in the middle of a war zone. The band's lyrics primarily focus on second world war history and anti-religious themes which adds to the overall doom and gloom. Everything is bleak and hopeless. 
They open the fourth and final show of this Japan tour with "Panzer Division Marduk", the title song from the band's 1999 studio album. They continue with "Baptism by Fire" from the same album and from there they never let go of their grip around the audience. The current tour is in support of the band's most recent studio album, the fantastic "Viktoria", from which we get to hear a few songs this evening, including "Werwolf" and "Equestrian Bloodlust". We also get older crowd favourites, such as what I consider the highlights of the show, "Burn My Coffin" and "Wolves", both songs taken from the 1993 album "Those of the Unlight". There are no dips, no weak parts, no fillers. It is one hour packed with quality black metal performed with energy and conviction by a veteran band who knows how to deliver. 
www.facebook.com/mardukofficial