Gig review: Gus G and Elize Ryd set Tokyo on fire
Ozzy Osbourne and Firewind guitarist Gus G stands firm on his own two feet as a headline act. On stage in Japan he shows that he has a bright future as an artist in his own right.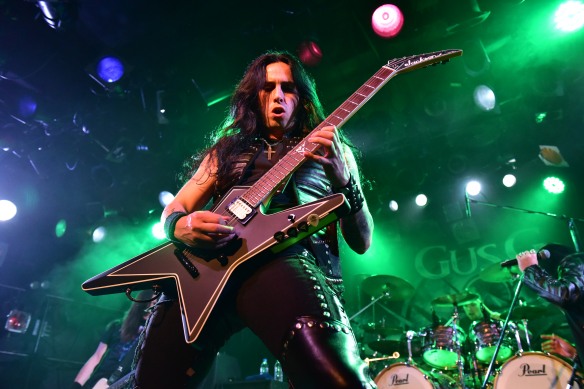 Greek guitarist Gus G has made a name for himself as Ozzy Osbourne's guitarist and with his work with bands such as Firewind, Nightrage and Dream Evil. In recent years he is also building up himself as a solo artist. While he has played in Japan many times before, this is the first time he is doing headline gigs as Gus G.
Gus G is the best kind of guitar hero. He has extraordinary talent as both a performer and songwriter. Like Michael Schenker, Gus G finds a great balance between showing off what he can do with a guitar and creating great songs. Despite his extraordinary talent, he doesn't let guitar wankery destroy his songs.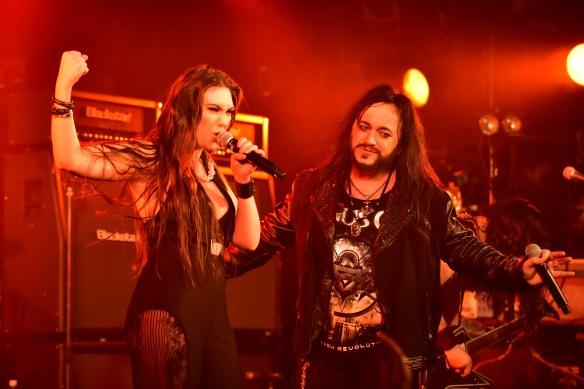 With three Firewind members on stage and a great new Firewind album recently released, we do of course get a fair share of Firewind music this evening but also a lot of other good stuff from Gus G's career so far. This evening's Gus G show gives us great modern melodic hard rock. The rhythm section – Firewind drummer Johan Nunez and Greek bassist Strutter – is rock solid, while Firewind singer Henning Basse shows us that he has a voice created for this type of hard rock singing. His voice fits the material like a glove.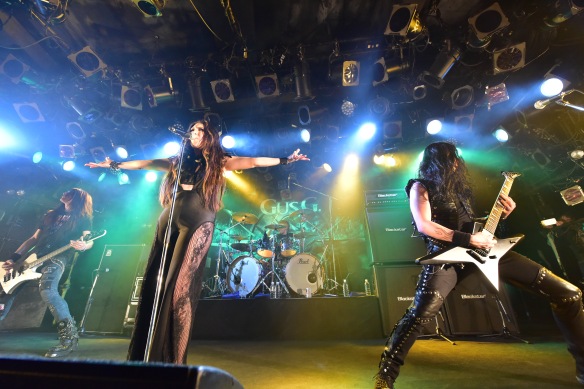 On Gus's 2015 solo album "Brand New Revolution", he brought in Swedish vocalist Elize Ryd from Amaranthe on one of the songs, "What Lies Below". Amaranthe has had tremendous success in Japan over the past six years and it certainly doesn't hurt Gus G's popularity to bring along Elize as a special guest for these Japan gigs. She comes with her own Japanese fans as well as a stage presence and vocal skills to lift this Gus G show to another level. Already during the afternoon's soundcheck it is obvious that that these two talented musicians make a fantastic combination.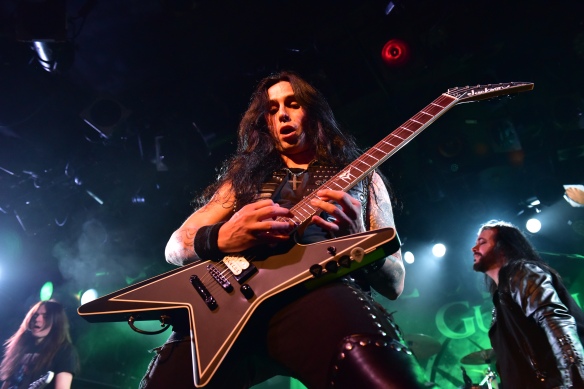 This evening in Tokyo, Gus and Elize perform a great version of "What Lies Below". This is also the first time ever that Gus and Elize perform together on stage. They didn't even record the song together back in 2015, but met for the first time when they shot the music video for the track. During the gig, Elize also provides vocals on a fantastic version of "Long Way Down" and she gives us a terrific duet with Basse on "Breaking the Silence". When the band finishes a great gig with Ozzy Osbourne classic "Crazy Train", Elize rocks out with the rest of the band to the fans' delight.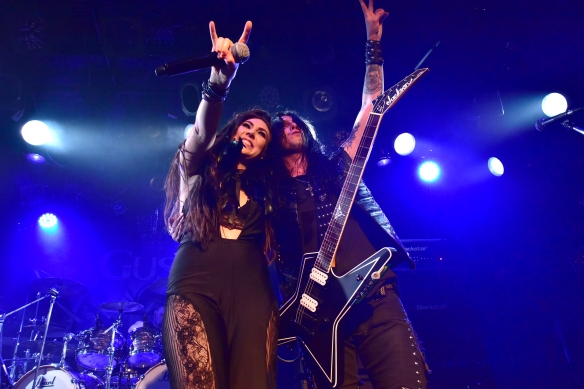 The combination of Gus G and Elize Ryd is too good to not continue. I hope that these two Japan shows are not the last thing these two talented musicians will do together.
Gus G – Club Quattro, Shibuya, Tokyo, Japan – 22nd March 2017 – set list
My Will Be Done
Burn
Brand New Revolution
Hands of Time (Firewind)
Back on the Throne (Firewind)
Eyes Wide Open
Come Hell or High Water
Vengeance
World on Fire (Firewind)
The Fire and the Fury (Firewind)
The Quest
Drum solo by Johan Nunez
Terrified
What Lies Below with Elize Ryd
Long Way Down with Elize Ryd
Children of the Night (Dream Evil)
Redemption
I Am the Fire
Breaking the Silence with Elize Ryd (Firewind)
Crazy Train with Elize Ryd (Ozzy Osbourne)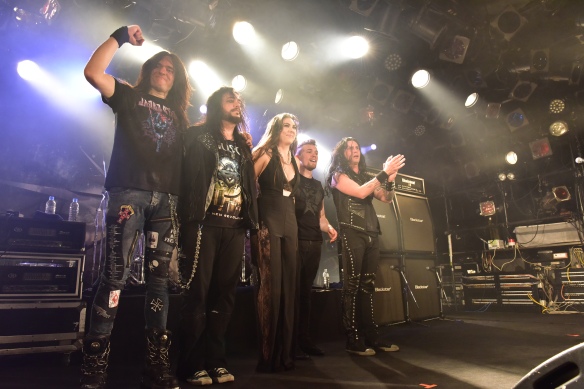 Gus G solo band members
Gus G – guitar
Henning Basse – vocals
Elize Ryd – vocals
Strutter – bass
Johan Nunez – drums
www.facebook.com/officialgusg / www.gusgofficial.com