Interview: ex-Nazareth vocalist Linton Osborne on teaming up with Manny Charlton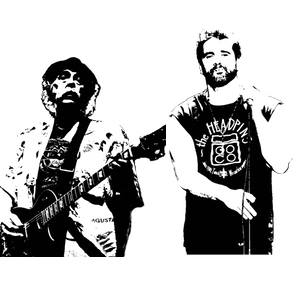 Two Nazareth veterans unite and create musical magic once again with the Manny Charlton Band. Linton Osborne, the former vocalist of legendary Scottish rockers Nazareth, is back in the business as frontman of the Manny Charlton Band. Roppongi Rocks' Stefan Nilsson decided to have a chat with Osborne about the new band and the Nazareth legacy.
Linton Osborne took over as frontman for legendary Scottish rockers Nazareth when Dan McCafferty retired after more than four decades. During his year with Nazareth, Osborne toured in Russia, throughout Europe and North America and recorded a live DVD, "No Means of Escape", with the band in London. Now Osborne is back in action and has teamed up with former Nazareth founder, guitarist, songwriter and producer Manny Charlton in a new version of the Manny Charlton Band.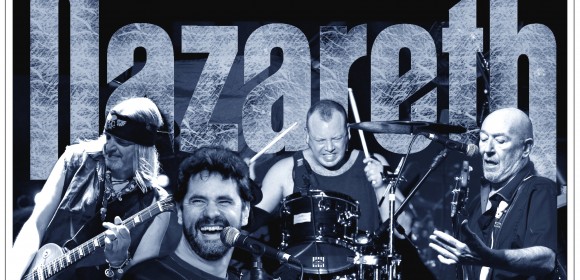 Both you and Manny Charlton have played in Nazareth – but not at the same time. How did you end up playing together? "Whilst on tour with Nazareth, I had a conversation with Lee Agnew about Manny. It gave me food for thought and after my departure from the band he was my first point of contact. We instantly connected on a personal and on a musical level and the rest, as they say, is history."
The Charlton-Osborne partnership first surfaced in the spring of 2015 under the name Sonz of Bitchez. "The name Sonz of Bitchez was a working title, but we soon dropped it and simplified it. It's now just The Manny Charlton Band."

You replaced the legendary Dan McCafferty as lead singer in Nazareth and did a great job. As a life-long Naz fan I was pleasantly surprised to see what a great job you did fronting the band. Were you at all nervous about taking on the challenge of stepping into the shoes of one of rock's most distinctive and legendary voices? "I've known Dan for years, and we're still in touch. I wasn't nervous about replacing him, or playing in front of the fans. The pressure I was under came from the rest of the band's high expectations – that was the hardest thing for me. Things are a lot more relaxed with Manny. He's not told me what to sing or how to sing it once. He just let's do my own thing" explains Osborne with a hint at why he left Nazareth.
What can you tell us about the other current members of the Manny Charlton Band – guitarist Kevin Wilson, bassist Finlay Cable and drummer Derek Lindsay? "Kevin and Derek have played together for 100 years. They were in a band called Garrison back in the 80s. Kevin messaged me last year to start a rock band for fun, and I always say yes to these things, it just keeps everything ticking over. He's a phenomenal guitar player in his own right and one of the most creative players I've worked with. I've played in bands with Derek before and he's got the best groove of any drummer I've ever played with. Derek has other commitments though and was kind enough to help us out. We're auditioning some other drummers in January, and I'm pretty sure we've got the right new guy, but can't confirm for a few weeks yet. We'll still be playing with Derek in our Dunfermline band. Finlay was part of a three-piece unit that the agency we use recommended. We had to replace our original second guitarist and drummer due to logistics, but we kept Finlay. Finlay is a great musician and has a great ear for harmonies. He's also really easy to get on with. We've all grown close as friends and tight as a band. There's a lot of laughter in this band."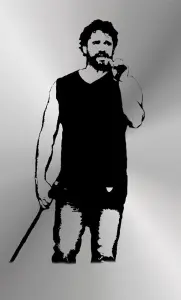 With two former Naz members in the band, your audiences will obviously expect to hear some Naz classics during your gigs. Apart from Naz songs, what can be expected at a Manny Charlton Band gig? "Obviously there will be a lot of Naz tunes at a Manny Charlton Band gig, as Manny was the main songwriter in the band. Those riffs are his, and very much part of his DNA. It's great having Manny change the songs up a bit too. It's his right as the writer/co-writer to breathe new life into them. 'This Month's Messiah' is a great example of how he likes to change things, it stops it becoming stale for the fans and for the band. It's one thing hearing Manny playing on a recording, but it's amazing live. Whilst we were in Russia, the stage tech just stood open mouthed at the side of the stage and said 'It's like hearing God play'. It's an amazing buzz to be stood next to the man, but it doesn't go to his head. He's just a regular guy off stage and a great personal friend. However, Manny isn't really one for living in the past, forward motion it is. New songs, Manny's solo material and some classic Naz can be expected. We've been lucky enough to get away with not having to do 'Love Hurts' or 'Dream On'. In my opinion, those are exclusively Dan's songs, no one does them like McCafferty".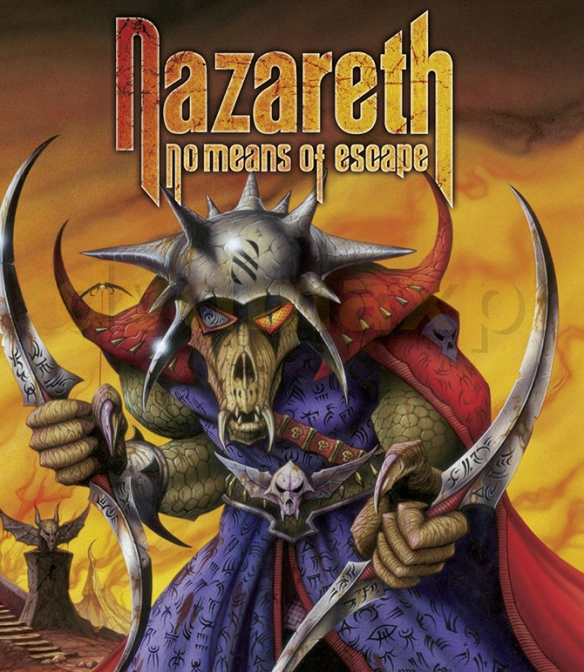 You and Manny have already recorded a few songs: a cover version of Julie Miller's fantastic "All My Tears" and a great contemporary version of Nazareth classic "Expect No Mercy" appeared on SoundCloud earlier this year. What's your creative process like? "Manny heard it and asked me to give it a try," says Osborne about "All My Tears". "We exchanged files over the internet for that recording. We have original material we've been dabbling with too, but we'll be going into Manny's new studio in Spain once it's finished to re-record 'All My Tears' and see what else happens. Manny likes to get everyone involved, so it should be interesting."
The band has successfully done some gigs in Russia and you plan to be back there later in 2016. Was Russia a natural choice for a test run of the latest version of the Manny Charlton Band because it is a market where Naz has done well? "Nazareth are huge in Russia and Eastern Europe. Manny hadn't been to Russia in 25 years and I watched him patiently sign at least 1,000 autographs. It was the perfect place to start the ball rolling for this band. You can rehearse as much as you like, but nothing tightens a band up like a live performance and Russia was the perfect place to do it. We had a great time, even if Manny did keep us up all night!"
Osborne is a proud Scot and still resides in Scotland. He's never considered relocating to London to get closer to the global music business. "I'd never move to London. The more I travel the globe, the more I like it here in Scotland. I'd say there's probably more great musicians in Dunfermline than in any other UK city. Also if you live in Scotland, you're not allowed to be famous. Our culture keeps you grounded. No one bothers Bruce Watson (Big Country) or myself as we go shopping at Aldi in Dunfermline and that's how we like it. Modern technology means you can write songs and connect globally at the click of a mouse, so there's no need to relocate like in the old days. Plus, I've got three children, I wouldn't want to uproot their lives."
2015 has been a great start for the new version of the Manny Charlton Band. What's next? "Touring wise we've got some pretty exciting stuff in the pipeline for 2016. We may even achieve the impossible and that's all I'm saying at the moment. Musically, we'll hit the studio and record new material and see where it takes us. Forward motion is the key. I've never met anyone as creative or as driven as Manny, so we're in good hands there, and rumour has it he's not too bad as a producer either. Manny and myself may have both been in Nazareth, but we're not interested in being Nazareth. This band will find its own, unique sound, although there's no denying Manny's Naz-like presence running through the music."
The Manny Charlton Band will no doubt keep delivering both old favourites and new music to the many loyal fans of Manny Charlton and Linton Osborne around the world. Catch 'em if you can.
www.mannycharltonband.com / www.lintonosborne.com