Album review: Resonance Cascade/Järnbörd "Hyperakusi"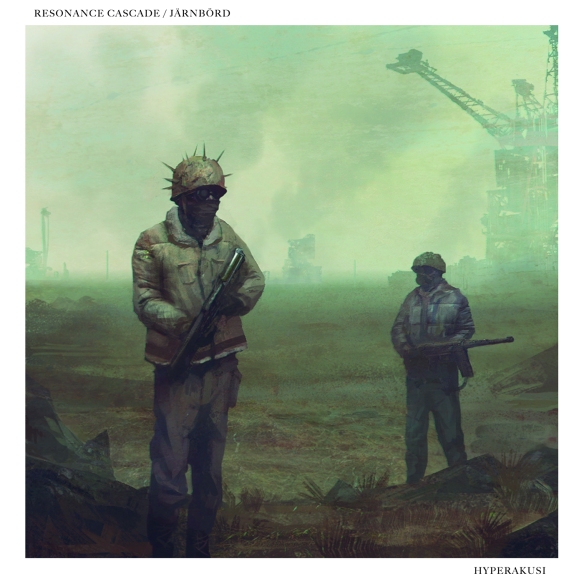 A new split album featuring Swedish bands Resonance Cascade and Järnbörd gives us splendid earsplitting crust punk and grindcore.
Split records, a phenomenon which has been part of the hardcore and extreme music scene since forever, can be a bit hit and miss as they lump two different bands together on one record. On the upside of course is that plenty of great bands have been discovered this way by new fans. On this split album, "Hyperakusi", we get to know two quite different Swedish grindcore bands, both of them rather good.
Resonance Cascade plays grindcore which is closer to extreme metal than punk. The sound seems to have a foundation in the early 1990s death metal scene. The songs are aggressive, fast and short. "A Message to Joshua" is a clear favourite of mine among the nine Resonance Cascade songs on this album. "Death Approaching" is a brutal and furious musical slap in the face. There is no breathing space here, this band's in a hurry on all of their songs.
Järnbörd is a bit more crusty, old-school punk. Here we get seven Swedish crust punk songs with screaming vocals. They're a talented trio delivering songs with Swedish lyrics at the top of their lungs. Fast and furious, pissed off, in your face hardcore punk. It's an interesting blend of traditional British crust and Swedish punk rock. It's gritty and bloody good with great melodies offering plenty of shout-along opportunities for the fans. They are not making this too accessible. They are doing it their way. Lucky us that their way is also our way. "Kvarnstenen" is punk heaven and "Du och ditt arbete" is so fast it's fantastic speed metal punk.
Throughout the album, the bands make smart use of soundbites (in Swedish!) of political commentary on society and capitalism, reminding the listeners of the grindcore scene's "anti most things" roots.
"Hyperakusi" will be released on 24th February via WOOAAARGH in Germany and Downfall Records in Sweden.