Album review: Flames of Fire "Flames of Fire"
Flames of Fire is a new Nordic heavy metal band fighting the good fight with a strong debut album.
Nordic metal band Flames of Fire plays powerful and melodic heavy metal. What we get from this new band formed by veteran musicians is modern metal based on a sound foundation of classic 70s hard rock. At times the band wanders into power metal land, but without the over-the-top bombastic tendencies that many bands of that sub-genre often display.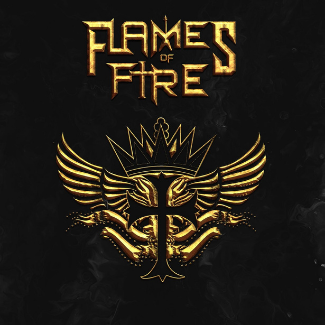 Lyrically, the band follows the well-established good vs evil tradition with a lot of kings, soldiers, battles and fire appearing throughout the album. This band is squarely on the good side of the battles, standing up to the evil forces out there. On some songs, such as the previously released singles "Gloria" and "Madness", we get very catchy melodic music. On others, especially on tracks such as "Solution" and "Soldiers of the King", we hear echoes of Rainbow, MSG and other classic hard rock bands. On the album's title track, we get a combination of both the catchiness and the classic hard rock guitars. The band's debut album is a solid effort that will appeal to fans of melodic hard rock. The members of the new heavy metal band Flames of Fire come from Sweden, Norway and Finland. The band consists of vocalist Christian Liljegren (Narnia, The Waymaker, Audiovision, Wisdom Call), guitarists Mats-Åke Andersson (Zaragon) and Stephen Carlson (Brotthogg, Peter Carlsohn's The Rise, Viva), bassist Per Schelander (House of Shakira, Astrakhan, Royal Hunt, Pain of Salvation) and Jani Stefanovic (The Waymaker, Solution .45, Miseration) on drums, guitar and keyboards and drummer Alfred Fridhagen (ReinXeed, The Waymaker).
Flames of Fire's self-titled debut album is out now via Melodic Passion Records. A Japanese edition will be released via Bickee Music on 23rd March.
www.facebook.com/flamesoffireofficial