Album review: C.B. Murdoc "Here Be Dragons"
Terrific Swedish technical death metal band C.B. Murdoc is back with a great new album, "Here Be Dragons".
The heavy metal world is full of great Nordic extreme metal bands. Among the better ones are Stockholm-based C.B. Murdoc. The band, formed in 2006, has previously released a couple of EPs as well as 2012's full-length album "The Green" on Spinefarm.
It is rather evident that the members have a background in black metal, although this album is somewhat different. Essentially it is bloody good and rather complex tech death with some hardcore touches to it. As with most great tech death bands, C.B. Murdoc has a very busy wall of sound and that is a big part of why this band is exciting and bloody good.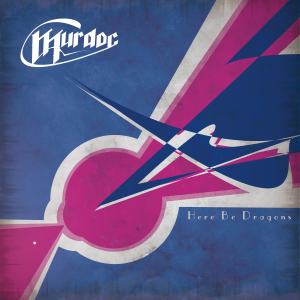 This is music that doesn't care. The music sounds as if it has a life of its own. It has been created and performed without trying to fit in, without trying to please anyone. This is uncompromising extreme metal. It is intense, nervy, noisy, heavy and quite different from what's out there. There are frequent tempo changes and unexpected turns – you never know what's around the corner with this band. The energy seems to be never ending. It's sort of chaotic but actually in a very organised way. These are no off-the-cuff songs, these are carefully masterminded and destructive extreme metal tracks backed up by great musicianship.
The album has been recorded and mixed by producer and engineer Sverker Widgren (Diabolical, Demonical, Centinex, Interment, etc) at Wing Studios in Sweden.
"Here Be Dragons" will be released by ViciSolum Productions on 24th June.
C.B. Murdoc – band members
Johan Ljung – vocals
Calle Bäckström – drums, guitar
Johan Larsson – guitar, synth
Thomas Hellgren – bass
"Here Be Dragons" – track list
Debt of Guilt
Brood and Roaring Fires
Nonplus Ultra
The Green
Rage Enabler
The Violence of Illumination
Diamonds
Everything is Going to Be OK
Dither
Objecting Projection
11